The not so smooth operator
West Bengal chief minister Mamata Banerjee said that the Calcutta municipal elections held on Saturday were one the smoothest she has ever seen. Sure, if you consider crude bombs exploding, gun shots going off, political opponents beating each other up and thugs and goons threatening voters with dire consequences "smooth" then yes, it was as smooth as butter.
At least 80 incidents of violence were reported from across the city as 144 wards went to polls, with political observers terming the elections a replay of the 34-year-old Left regimes' notorious legacy of mass scale rigging, muscle flexing and voter intimidation. "I was told by a group of boys not to 'venture' towards the booth when I went out to vote," said an elderly woman recounting how she was prevented from exercising her democratic right to franchise. "They said, 'Mashima, apnakey koshto korey oto dur jetey hobena…amrai apnaar hoey vote diey debo.' (Auntie, don't take the trouble, we'll cast your vote for you.). They looked so rowdy I didn't dare argue."
Several candidates and workers from opposition parties had been subjected to violence of different kinds, including being thrashed with sticks, slashed with blades, thrown on the ground, kicked and punched and even shot at. The police were not spared either and many on-duty cops were injured in the clashes. In fact, what is interesting is that the CM made her smooth-election claims as she was coming out of a hospital after visiting a police officer who had been shot in the lungs allegedly by ruling party goons. (He has been operated on and is said to be in "stable" condition.) Finally after much denial of violence by the ruling party, the state election commissioner, Sushanto Ranjan Upadhyay, himself admitted that "the elections did not take place under ideal conditions." Repolling may take place.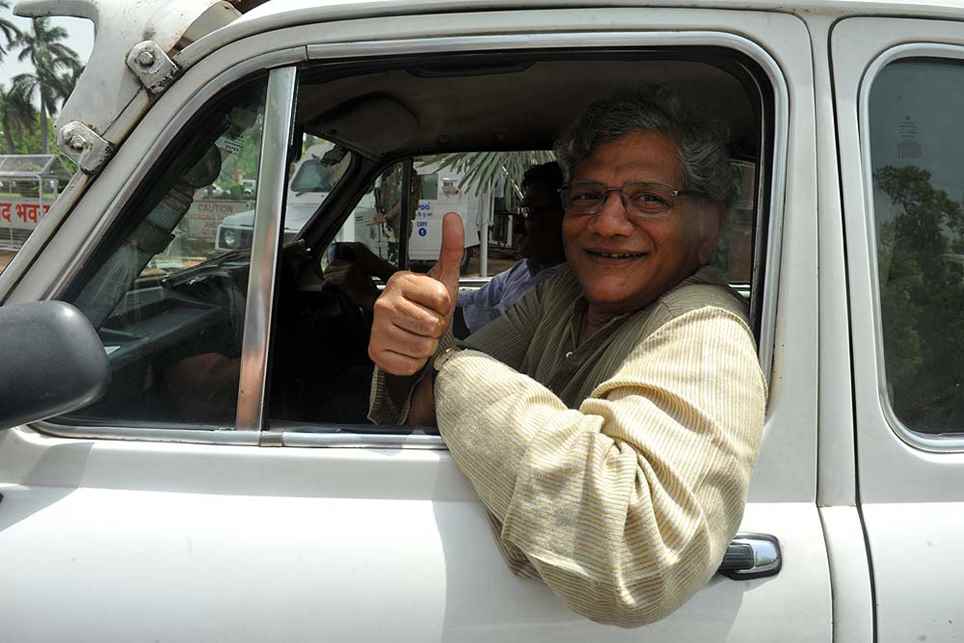 Revenge of the damned
The Bengal CPI-M finally got what they wanted. They have been seething with anger for sometime. Ever since their debacle in the 2011 assembly elections, that is. Because the blame for the rout was squarely placed on their shoulders. However, according to them, it was former general secretary Prakash Karat who was responsible for CPI-M's defeat because it was his decision to withdraw support to the UPA II in 2008 which paved the way for an alliance between the Congress and the Trinamool, which worked against the Left.
Last week, at the party congress in Vishakhapatnam things came to a head when the Bengal comrades engaged in a bitter debate with Karat's supporters over who would succeed Karat as general secretary. The Bengal faction — led by former Left Front chairman, Biman Basu — wanted Sitaram Yechury but Karat nominated S.R. Pillai of the Kerala CPI-M. So peeved was the Bengal faction with Karat that when it was becoming evident that his nominee would succeed him, they considered insisting that voting take place (knowing that Yechury commanded greater support). Traditionally successors to party posts are decided by "unanimity" and "consensus". Finally, sensing the dissent within the party, outgoing general secretary Karat announced the name of Yechury and he was "unanimously" elected general secretary.
On the horns of a dilemma

Calcutta's industrialists are in a fix. They are not quite sure how to handle a sticky situation. They don't know whether they should be meeting, far less hosting formal dinners and luncheons for Rajasthan Chief Minister Vasundhara Raje who is in Calcutta this week, as some of them have been invited to do. While most of them don't want to miss the opportunity of discussing business and investment opportunities with the visiting CM, whose party, the BJP, controls power at the centre, they also know that any kind of cosying up with her would not go down well with Bengal chief minister Mamata Banerjee. Though the state of industry in Bengal is far from lucrative, industrialists are loath to rub Didi the wrong way if they want to survive in the state. At least one industrialist has turned down a request by the state BJP to host a dinner in Raje's honour. How it plays out is worth tracking. Watch this space for a report.
Bengal's avante-garde mishti
If you thought that the roshogolla was the ultimate in Bong sweets, think again! The latest craze in sweetshops is the "bhapa mishti" or baked sweets. "While the roshogolla will never go out of style and various versions of it — including chocolate and molasses roshogollas — have made it big, Bengalis are notorious for their sweet tooth and are always willing to try new things," said a manager at Bancharam, one of Bengal's biggest sweetshop chains. "So we are always trying to innovate. Sometimes they catch on and at other times they just don't. But the baked deserts seem to have really hit the bull's eye."
Though no one would part with the secret recipe, a staffer agreed, strictly on condition of anonymity, to reveal the "gist" of it. "Essentially you have to take the sweets — be it roshogollas, chomchoms, pantuas or any other," he revealed reluctantly, "marinate it in sugar syrup and put it in the oven and cook until it acquires a sticky consistency." That simple? "It doesn't have to be complicated in order to taste good," he chides. "Look at the basic roshogolla. All you have to do is make cottage cheese balls and throw them in boiling sugar syrup." Easier said than done!

Flowery feuds
Though Calcutta municipal elections are now over…campaign slogans continue to rent the air as elections to municipalities in the rest of Bengal draw nearer (scheduled for 25th April). A TMC slogan: "Ghasher opor jora phool…ei chhaara aar shob bhool" (Stamp on the grassroots symbol…everything else is a mistake); A BJP counter: "Poddo phool, ekmatro phool…aar shob bhool, bhool" (The lotus is the only flower…everything else is a mistake, a bad mistake)."
---
For in-depth, objective and more importantly balanced journalism, Click here to subscribe to Outlook Magazine
---