Crash Of Civilisation
Two weeks ago an 11-year-old girl was locked up for several hours in her school bathroom by her cruel seniors who allegedly demanded 100 rupees from her. The incident so psychologically traumatised her that she had to be hospitalised. She died a couple of days back. A mob of hundreds of people – mostly parents and school children – went on a rampage in the premises of the school in north Calcutta's Dum Dum area, not just hurling verbal abuses at teachers and school authorities but also physically attacking them. They picked up chairs, tables and other furniture and hurled them at the school staff, who locked themselves in rooms and hid behind cupboards. The Principal, who issued an apology from the terrace of the building was later forced by the mob to write and sign a resignation letter. It is sometimes hard to believe that Calcutta is a civilised city. The horror of three teenage girls torturing their junior for money makes one wonder if the laws protecting minors, even when they commit violent crimes should not be reviewed. It was the minor among the Delhi gang-rape convicts who was reported to be the most brutal. But more than amendments to make laws stricter, it makes one wonder why our young adults are turning increasingly violent and what can we do change this? And what about the barbarism of mob attacks? In Calcutta the public taking the law into its own hands is not a new phenomenon. Maybe they do so because they don't have faith in the system. And maybe the young commit crimes because they are an integral part of this faithless system. Calcutta has a long way to go before it can be called civilised.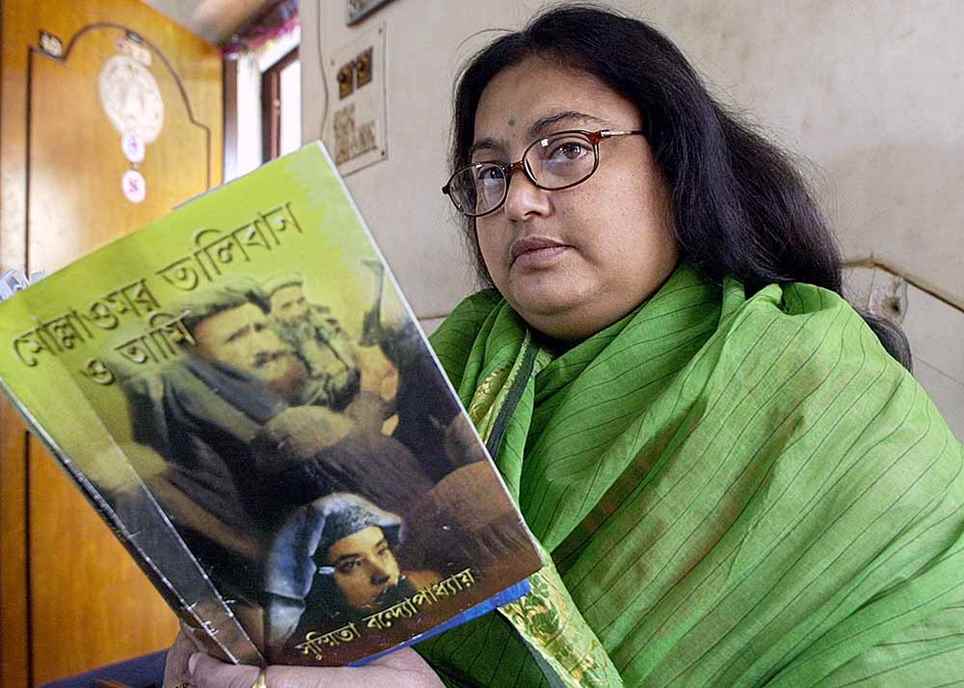 Kabul's Calcutta Girl
A week has gone by since Calcutta girl Sushmita Banerjee was murdered in faraway Afghanistan. But her family here claims that they are still in the dark about what really happened. Her younger brother Gopal Banerjee told us that the conflicting reports about who was behind the murder is very frustrating. He said, "As it is we are unable to go to Afghanistan. Not just because it's far away, but the threat of Taliban is something that my sister had told us about. We have never ventured there even when she was there. But she is lying in some grave in a distant land. And we cannot do anything about it." Sushmita who wrote Kabuliwalar Bangali Bou (Kabuli's Bengali Wife) an autobiographical account of her escape from an abusive husband and a repressive family, not to mention the threat of the Taliban, did not listen to her family's plea not to return. "She was very stubborn. She didn't listen to anyone. My parents told her not to marry a Kabuliwala. He was from a different religion, a different culture. But she eloped with him," Gopal explained. After escaping from Afghanistan in 1995, Sushmita returned to Calcutta and stayed here for 17 years. "Then she was driven by a desire to do something for the oppressed women of Afghanistan. And to write about them. She reassured us that things were different now in Afghanistan and that nothing would happen to her." Gopal sighed. "If we knew things were still so dangerous we would never have allowed her to leave Calcutta."
Vacant Darkness
Unemployment maybe a national concern but in Bengal, there are lucrative positions lying vacant with no one in sight to fill them. This week saw the announcement from the West Bengal State Electricity Regulatory Commission saying that it has been rendered practically defunct. Among the regulator's areas of activity is decision-making about tariffs of state-run and private utilities. Left with only one panel member, important decisions on tariff and other issues related to electricity in the state will just have to wait. A state that is accustomed to being plunged into darkness because of rampant power cuts, the electricity regulatory body's present status is cause for more concern. Surely, there are many qualified persons who could fill the vacancy.
War For The Wheel
In a previous post dated October 8, 2010, I had expressed hope that the "bicycle" might one day be considered the solution to Calcutta's traffic (and pollution) problem. Though I was not optimistic enough to believe that this would actually happen anytime in the near future, not for once did I think that the opposite would take place. But that's exactly what has happened. Instead of promoting the bicycle as the eco-friendly and cost-effective alternative to the fuel-guzzling, pollution-spreading vehicles we have grown accustomed to, the Bengal administration has imposed a ban on the two-wheeler. Fortunately, the Calcutta Police's order to cyclists to keep off the roads (174 thoroughfares across the city have been named) is being met with stiff resistance and not only from environmentalists and social activists but from the general public. A number of protest rallies in Calcutta and other parts of the country are taking place. This week environmental activist Medha Patkar wrote to Bengal chief minister Mamata Banerjee urging her to revoke the ban. It must be remembered that Medha and Mamata were on the same side of the fight against the former Left government's land-acquisition drive in Singur and Nandigram. Let's hope Didi will heed her good advice.
Dishing Out For Durga
The downside of Durga Puja rears its ugly head a few weeks before the festivities start. With a little over a month to go before the Festive Season begins, roads get blocked with under-construction pandals cropping up like mushrooms. Some of them even look like mushrooms. The doorbell rings around the clock as groups of boys (women for some reason still don't collect chanda) go from door to door collecting donations. It all begins with a friendly "ja parben deben" (give what you can) and moves gradually onto "matro panchsho taka?" (only 500 rupees?), to finally end at what could appear like veiled threats: "eto komey hoy?" (Isn't this too little?). This is also the time for bakshish seekers, with everyone, from the vegetable vendor to the taxi driver, wanting you to dish out just a little extra for everything. Then of course there is the mad shopping rush. Every shop, every story, every market, every mall is bursting at the seams at all hours of the day.
Gautam Deb? Which?
In the credit titles of a Bengali movie, Minister in charge of North Bengal Gautam Deb was mentioned. Just so that there is no confusion with the other famous Gautam Deb who belongs to arch rival CPI-M, a note in parentheses clarified exactly which Gautam Deb was being thanked.