In arguably one of the most romantic films of the golden period in Hollywood, Now, Voyager (1942) Paul Henreid asks Bette Davis at the end "Shall we just have a cigarette on it?" This was an emotional end when Paul lights two cigarettes in his mouth and then passes one to her, still warm from his lips. They both take long drags and the smoke from their mouth mingle — a metaphor for sexual intimacy which they were denied physically.
In the same year, Hollywood's one of the all-time hits Casablanca had Humphrey Bogart puffing on to his cigarette in his most inimitable style. For Bogart and for many top Hollywood stars of his time, smoking was in effect a personality statement associated with the male ego which is out there to conquer — not just the lovely heroine on screen but also the hearts of million viewers.
Smoking had been the on-screen representation of the male potency and chauvinism substituted only by the gun in crime films and thrillers albeit a bit later. Essentially, it is the control of cigarettes of the characters on screen which sets the dominance matrix between them. Over the years anti-smoking campaigns and awareness programs have robbed the Hollywood hero from swaging the white stick from his lips and thereby reducing his star quotient quite significantly without a doubt.
In the Indian context Dev Anand (note his 1954 film Taxi Driver) naturally picked up the cigarette as an extension of his male pride as he was notably more 'western' than his other two famed compatriots in Raj Kapoor and Dilip Kumar.
However, much earlier in 1943, Ashoke Kumar breezed the screen as an anti-hero puffing a cigarette in the Hindi film Kismet. Though the film was criticised for overtly romanticising crime and criminals, the film became a box-office hit. The image of the Western-dressed Indian caught the fancy of the film directors and soon paved way for a number of productions with central characters sporting western outfits including hats and cigarettes. Howrah Bridge, Night Club, Inspector and CID are some of the hit films of the 1950s that treaded the crime genre in Hindi cinema which was heavily inspired by the Hollywood thriller films of the time.
Much later with the emergence of Amitabh Bachchhan as the angry young man, the cigarette did feature as the rubric of power for the lower-middle class Indian in Coolie (1983), Deewar (1975) and Sholay (1975). Then in the 1990s, cigarette was used to typify the anti-hero again in the films like Baazigar (1993) and Khalnayak (1993) with Shah Rukh Khan and Sanjay Dutt respectively sporting it as their second character. Down South, India's one of the biggest superstars of all times Rajnikant takes smoking to an altogether new level. After flipping a few times in the air the cigarette manages to land up between his lips waiting for him to light it with his revolver!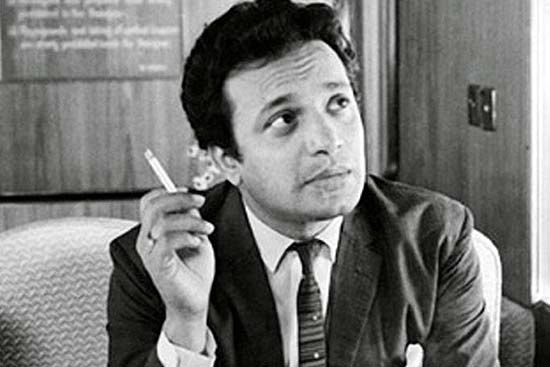 Cigarette as an agency of power
In Satyajit Ray's Nayak (1966) Uttam Kumar plays the role of Arindam, a matinee idol on screen who oozes his romantic charm with coquettish elegance. The first time we find Arindam smoking a cigarette is when his heroine calls him up before his leaving for New Delhi to accept a President's award. Though the heroine (who is of course not visible in this scene) is not in a position to witness Arindam's smoking, for the audience the dialogue between the two along with Arindam's charismatic posing with a 555 cigarette drives the point that the hero quite naturally exercises his dominance in conversational transactions with mostly everyone around him.
In the same film at a later time we find a business baron Mr. Ghosh in conversation with a nagging advertiser Pritish Sarker (who boasts that his name rhymes with 'British'). Ray quite deftly puts them in different hierarchical positions by handing Ghosh's character a pipe as opposed to Sarkar's mere cigarette.
In Ray's first detective film on his own story Sonar Kella (1974), the way the sleuth Felu-da (Ray's favourite Soumitra Chatterjee who was the other leading man of Bengali cinema along with Uttam Kumar in the '60s and '70s) was introduced almost in the same way Ray introduced Arindam in Nayak. In both the films the two central characters who are more like 'super-heroes' than actual real 'characters' (note Ray is famous for portraying grounded reality in his majority of films) are introduced from the back — the camera holds the posterior of their heads before they turn sideways and are in the process introduced to the audience. In Sonar Kella, for instance, that establishment scene progresses and we find Felu-da lighting his Charminar in front of his client in an explicably dominant sweep.
In Mahapurush (1965) in the last shot after the conman is made to flee, we find Nibaran lights his cigar and from the same matchstick Paramartha lights his cigarette and Nitai-da lights his 'beedi'. This is in accordance with their societal structure and economic prowess but at the same time also indicates that even if they sit at different levels they can work together for a common goal. In Kapurush (which along with Mahapurush is treated as one film) however Amitava, the young screenplay writer is shown smoking a cigarette as opposed to the tea-planter who drags on a pipe. This again helps to profile the respective characters and also acts as a medium of balance between the two who form the two arms of a triangle converging to Karuna — Amitava's ex-lover and the planter's wife.
Cigarette as a companion in solitude
Not only does cigarette work as a currency of power exchange between characters, it also serves as a companion in times of solitude. Even in real life, cigarette for many is that friend with whom one wants to be alone when any human interaction is not welcome or at times not possible.
In Ray's Nayak again, half a way into the film we find Arindam speaking to Aditi (Sharmila Tagore as a modern middle class woman) about his first experience of film acting. Arindam lights a cigarette yet again but this is not to exude any power equation with Aditi — but here the cigarette acts as his friend, the catalyst of a lonely man who wishes to bare his mind to any human being whatsoever who will not judge him but listen to his troughs with empathy. In the last leg of the film, a drunk Arindam asks for Aditi to meet him near the rear exit of the train. He lights a cigarette again as his last resort as he moans pointing his finger at his chest — "There is so much here but there is no one whom I can say". You suddenly feel sorry for the 'hero' who is almost worshipped like a god and put up in the pedestal – so high that he can't get back his life even if he wants to do so. The very next day, when the train reaches New Delhi, the composure is back as if the last night's journey was nothing but a bad dream. The cigarette comes up again for the hero but now as a confident gesture who uses his sunglass as the second prop to hide his emotions.
Cigarette also acts as an agency of friendship and camaraderie. Remember the early scene in Ray's Apur Sansar (1959) when childhood friend Pulu comes to meet Apu at his dilapidated den. The profiling of Apu as a loner is complete by then and we find Pulu being a friend to whom Apu confides and opens up as well. After a sumptuous meal they both take a long walk in the darkness of the night when Apu shares his dream of becoming a novelist and in sheer sublime innocence he utters his name alongside the likes of Goethe, Dostoevsky and Dickens. They both smoke cigarettes here — it is not a measure of dominance in this shot, rather it is one small common bonding between the poet and the engineer.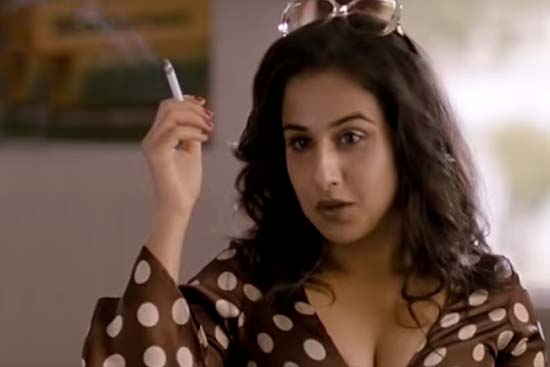 Cigarette as a symbol of liberation

In the US and the other Western countries major tobacco companies have always attempted to position cigarette as the signifier of the independent woman. As the popular representation of the confident man in the form of an on-screen star was almost always defined by him fiddling with his cigarette, for women it was associated with their liberation. So much so that in 1929 during New York's annual Easter Parade the 'Torches of Freedom' campaign started off as a leveling ground for the women smokers — apparently granting them the license to smoke in public and at their own will. Though smoking sooner than later seemed a natural extension of the free-minded woman in the Hollywood representations, in the Indian context it was still a far cry.
In Satyajit Ray's Pratidwandi, the prostitute (whose social identity is that of a nurse) lights a cigarette and releases the smoke straight on Siddhartha's face. In none of the other films by Ray there is any Bengali female character who is shown as smoking in public.
Even in Hindi films, a cigarette-flapping woman is either shown as vile or from a profession where the questions of morality seem ambiguous in the popular perception. Hence we find the woman lead characters who are also the heroines in Mausam (1975) and Chameli (2003) – both prostitutes and both sporting cigarettes. Similarly the dancing girls of Chandni Bar (2001), the high-flying socialite journalist Naila and the sizzling soft-porn queen Silk in The Dirty Picture (2011) all shed their inhibitions elsewhere and pick up the cigarette as the mark of a token disillusionment of the society which makes them prey in the first place.
As part of the Cigarette and other Tobacco Products (Prohibition of Advertisement and Regulation of Trade and Commerce, Production, Supply and Distribution) Rules, 2005 the Ministry of Health and Family Welfare prohibited advertisement of cigarettes in any form in the media — "No individual or a person or a character in cinema and television programmes shall display tobacco products or their use. Where, however, cinema and television programmes which have been produced prior to this notification have scenes with smoking situations and use of other forms of tobacco, it shall be mandatory to place a health warning as a prominent scroll at the bottom of the television or cinema screen with font in black colour on white background which is legible and readable. The text of the warning shall be "Smoking Causes Cancer" or "Smoking Kills" for smoking form of tobacco use and "Tobacco causes cancer" or "Tobacco Kills" for chewing and other form of tobacco. The health warning shall be in the same language/s as used in the cinema or the television programme." [Refer to this]
Beedi jalaile leh jigar se piya...
There is a lot of debate on whether this restriction is justified, whether this will in effect reduce smoking or will it just add to interruptions during a cinema viewing. Notwithstanding the debate, it is safe to conclude that the role of cigarette will eventually diminish in Indian cinema.
Be it as a propeller of power dynamics or a comrade of an individual who wishes to be alone in the melee, cigarette had so far stood its ground. But, may be as the lyrics of the item number of Omkara (2006) 'Beedi Jalaile' suggest, it is time we need to light out cigarettes from the heat of our hearts. 

**All Pictures are from the Internet**