Full text of the handwritten letter by Swami Aseemanand, an accused in the Samjhauta Express blast case, who is lodged in an Ambala jail, in which he has denied a report published in The Caravan magazine in which he has been quoted as saying that RSS chief Mohan Bhagwat sanctioned terrorist attacks between 2006 and 2008: "It is very important that it be done. But you should not link it to the Sangh."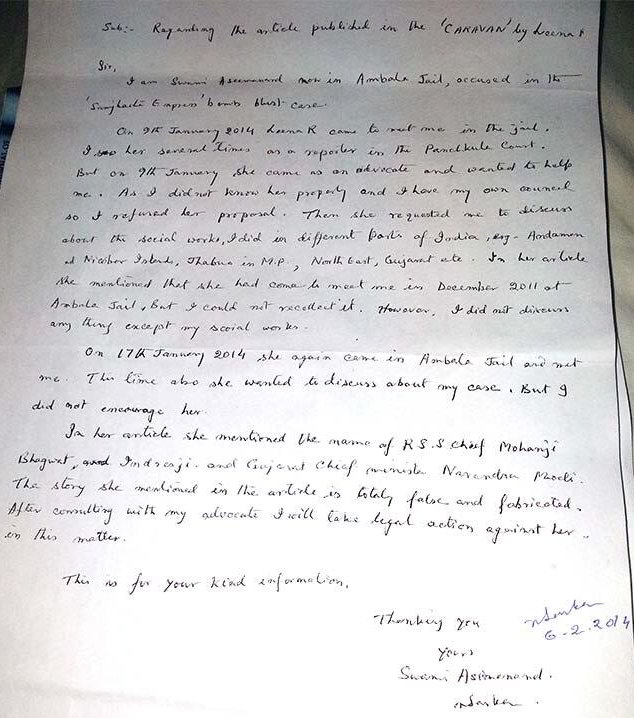 February 6, 2014

Sub: Regarding the article published in the 'CARAVAN' by Leena R

Sir,

I am Swami Aseemanand, now in Ambala jail, accused in the 'Samjhauta Express' bomb blast case.

On 9th January 2014, Leena R came to meet me in jail. I saw her several times as a reporter in the Panchkula court. But on 9th January she came as an advocate and wanted to help me. As I did not know her properly and I have my own counsel I refused her proposal. Then she requested me to discuss about the social work I did in different parts of India, eg. Andaman and Nicobar Islands, MP, North-East, Gujarat etc. In her article, she mentioned that she had come to meet me in December 2011 at Ambala jail, but I could not recollect it. However, I did not discuss anything except my social work. 

On 17th January 2014, she again came to Ambala jail and met me. This time also she wanted to discuss about my case. But I did not encourage her.

In her article, she mentioned the name of RSS chief Mohanji Bhagwat and Indreshji and Gujarat CM Narendra Modi. The story she mentioned in the article is totally false and fabricated. After consulting with my advocate I will take legal action against her in this matter.

This is for your kind information,

Thanking you,

Yours,
Swami Aseemanand
Meanwhile, the Caravan also clarified on its website:
This press release previously stated that the reporter's first interview with Aseemanand was in December 2011. The reporter met Aseemanand at a hearing that month. The first interview took place on 10 January 2012. This has been corrected on the page.
Vinod K Jose, executive editor of The Caravan, said the magazine stood by the report:
"We stand by the complete story. There are four interviews we have done with him over the past two years and all are tape recorded. The recordings run up to over nine hours. And this was done with the full consent of Aseemanand… So far, no agency has approached us asking for the tapes, but we believe the NIA should now step in, obtain the tapes and send them for forensic examination."
Jose added that Aseemanand was well aware that she was a reporter who had a law degree as well. "Aseemanand suggested the reporter to take advantage of her law degree and meet him as lawyer," he said.
Jose claimed that Aseemanand said that he wanted his side of the story to be heard and that he appreciated the efforts taken by the reporter to travel to various places to do the story.

Jose further added that the Caravan will soon release the audio transcript of the entire interview that was done in four parts and is of nine hour duration. "We are going to release the entire transcript of Aseemanand. We did four interviews with him of a total duration of 9 hours," he said.

Meanwhile, there were protests against the story at the Caravan office in New Delhi.
The Indian Express has quoted a senior Haryana prisons department official as saying that Aseemanand, who is lodged in the Ambala Central Jail for the past two years, has not been getting many visitors, except his counsel:
"As any other undertrial, Aseemanand is also allowed to meet relatives or counsel. But there had not been many people visiting him. As far as the magazine's correspondent is concerned, she met him as an advocate. She approached the jail superintendent and submitted an authorisation letter from a counsel to meet Aseemanand. She also showed an advocate's licence as proof of her identity and met Aseemanand on four occasions," a senior official told The Indian Express.
Read the Caravan's Press Release
Read the original Caravan Article