Two States
It happened at last. The squabbling Chief Ministers of Telangana and Andhra Pradesh met at the Raj Bhavan under the watchful eye of Governor ESL Narasimhan to hold talks on certain controversial matters. Both K. Chandrasekhar Rao and N. Chandrababu Naidu who briefed the media separately sounded upbeat and toned down their criticism of each other. The two leaders have agreed to sort out the issue of bifurcation of the 67,000 government employees, primarily to avoid a clash in holding of the budget session of both Assemblies. Apart from this, the Telangana government will have access to the ports of Andhra Pradesh while AP will be given 96 of the 207 institutes in Hyderabad such as the Andhra Pradesh Academy of Rural Development and the Marri Channa Reddy Human Resource Development Institute. The two Chief Ministers have agreed to meet again to resolve contentious issues such as special powers to Governor over Hyderabad, power and river water sharing.
Advertisement opens in new window
Vastu Matters

Chandrababu Naidu who was earlier highly critical of KCR dropping the fee reimbursement scheme for college students, said it was a decision of the Telangana government. "I hope he will take care of Andhra students as well," Naidu said. Elaborating further on the recent bonhomie, Naidu added, "I have known him (KCR) since 1984. We worked together for many years. He has served as a Minister in united Andhra Pradesh. Our talks were cordial, we are both ready for adjustments on any issue."
Meanwhile, KCR, who is a firm believer in vastu and astrology is said to have dished out some advice to Naidu on locating the new capital of the state of Andhra Pradesh. The Telangana CM told his counterpart that the best place to locate a new Capital would be between Mangalagiri and Amaravathi in Guntur district. As the river Krishna flows here, it would be appropriate as per vastu, KCR is said to have told Naidu.
Survey Fears
Advertisement opens in new window
The citizens of Telangana are all set for the mega household survey being conducted by the KCR government on August 19. The government has declared a holiday so that citizens stay put at home and give their details. KCR says that the primary goal of the survey is to boot out bogus beneficiaries of government schemes. "It is not intended at identifying Seemandhra people or troubling anyone," says KCR. I want to identify bogus beneficiaries and those who siphon public money or grab government lands. If this implies that I am a Hitler, then so be it," he stresses.

Among the checklist are documents such as water bill, property tax receipt, LPG connection bill, electricity bill, post office, savings bank passbook, Aadhaar card, caste certificate, birth certificate, RC book of vehicles, title deed copies, ration card, voter I Card, mobile phone bill, Pan card, pension passbook etc. Following a court order, KCR has however said that the survey is voluntary and citizens need not part with documents such as bank passbook, mobile bills and PAN card if they are unwilling. But the survey has created a fear among many citizens that it is xenophobic in nature and is intended to drive non-locals out of their homes.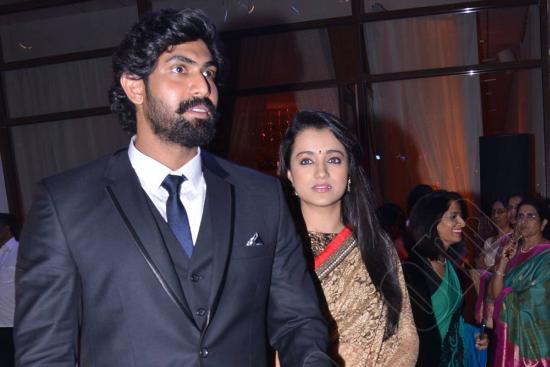 Advertisement opens in new window
Wedding Guests
Among the spate of many marriages in Hyderabad, one high-profile marriage was that of director K Raghavendra Rao's son Prakash with Kanika. The entire VIP set of Hyderabad was present at the wedding celebrations. Congress leader Chiranjeevi, AP CM Chnadrababau Naidu, Telangana IT Minister K. T. Rama Rao, NTR Jr, Nagarjuna, Naga Chaitanya, Anushka, Prabhas, Jayaprada, Ramyakrishna. Actor Daggubati Rana walked in with his off-on girlfriend actress Trisha. Balakrishna's daughter Brahmani and Chiranjeevi's daughter-in-law Upasana were seen chatting with each other. It was a crowded Saturday evening at N Convention Centre.
Trouble in the Party?
Is there serious trouble brewing in the YSR Congress? In a meeting called by YSR Congress chief Jaganmohan Reddy ahead of the AP Assembly Budget session, at least 20 MLAs played truant. The reasons given were many ranging from health to travel logistics to personal obligations. The meeting was held at the party's Lotus Pond office in Hyderabad. As a result, the meeting that was scheduled to start at 10 am began only around noon. Rumours are afloat that many MLAs who are upset with Jagan's dictatorial style of functioning want to jump into the Telugu Desam but are afraid of inviting the anti-defection law. The YSR Congress has 67 MLAs. The AP Assembly session which began on August 18 will end on September 6.
Advertisement opens in new window
Crime Pays
A notorious chain snatcher was recently shot dead by the Hyderabad police near the Rajiv Gandhi International airport. Kadaluri Shiva alias Sambha, aged 30, tried to attack a police constable with a knife when he was shot dead. A police team which later visited his house in Narsingi was stunned to see the kind of luxurious lifestyle the criminal led along with his wife Nagalakshmi and son. Shiva would use luxury cars and high-end bikes during his operations. He also enlisted his wife's help to identify potential victims. They would sell the stolen ornaments to private financiers and holiday in Goa, Ooty, Kerala, Delhi, Rajasthan. The couple owned luxury cars and comfy sofa sets and would often visit five-star hotels. He would tell neighbours that he ran a transport business in Vijayawada, Nellore and Hyderabad and owned 20 trucks. He would shift his residence often to avoid police vigil.
Love, Actually

I recently attended a poetry and sitar playing session at Goethe Zentrum titled Kissing Moonlight. While Srinivas Reddy played the sitar, poet William Wolak recited translated version of Hafez's poems which emphasise on the resonance of desire. William Wolak, or Bill as he likes to call himself, is a Professor in English Literature at the William Paterson University, a poet and a translator. Wolak's poetry is very intense and mostly revolves around the passionate longing of love. Dressed in a Fab India kurta, Wolak loved the response he got as he narrated Hafez's poetry, whose collected works are said to be the cream of Persian literature.

But coming to Wolak's original works, they are like a swirl of heady coffee on a stormy night, completely sucking you in. I personally loved this one:
Advertisement opens in new window
The Spell of the Senses

Grief distracts you
like a grocery cart
dragging one rear wheel.
You've forgotten
the spell of the senses.
But one whiff of a dark
purple hyacinth
forces you to forget
all of winter's fury,
or the long wail of a lost child
crying uncontrollably
focuses your attention
like a black hearse passing,
or the touch of a tongue-tip
twirling around a lover's nipple
returns you to this evanescent
body of whispers,
where every caress
celebrating the flesh
leaves a trail of tingling.
When I told Wolak this, he insisted that I read some of his other poems which he is better known for. Love Opens the Hands, The Silence Between Love Songs and It's Dangerous Not to Love. If you have not noticed a pattern by now, I can only sigh. But just to give the reader another hint, here are a few lines from The Silence Between Love Songs:
Advertisement opens in new window
I miss your body
sliding over mine
sleek as lightning
with your hips tilted
a little toward delirium.
...

[Ending with:]

But I miss you most
In the silence
between love songs