Another State, Another Man
Telangana Chief Minister K. Chandrasekhar Rao is getting down to work to boost the image of Brand Hyderabad. On Day 2 of assuming office, he met with officials of the Water Board, Greater Hyderabad Municipal Corporation (GHMC), Roads and Buildings, Hyderabad Metropolitan and Development Authority to discuss civic amenities, water supply, infrastructural projects, rain water flooding and sewage problems in the city. It was a different KCR the officials saw as he gave everyone a patient hearing and asked them to prepare medium as well as long-term problems facing the twin cities of Secunderabad and Hyderabad. The CM also made it clear that while submitting master plans, there should not be any distinction between the Old City and the new. KCR asked officials to appoint consultants as needed and not worry about funds. Deputy Chief Minister Mahmood Ali said that KCR was particular about solving drainage problems since just 15 minutes of heavy rain leaves roads inundated causing severe traffic problems. He also discussed garbage dumping yards and cleaning up of the river Musi. Coming out of the meeting, officials said that the impression they got was that KCR wasn't quite the short-tempered, sarcastic leader he is often made out to be. "The man who came to the table had ideas and was willing to give senior officials a free hand to do what they can to resolve certain issues," said a GHMC official. Of course, the fact that GHMC elections are but six months away might also be playing on the newly appointed CM's mind.
Advertisement opens in new window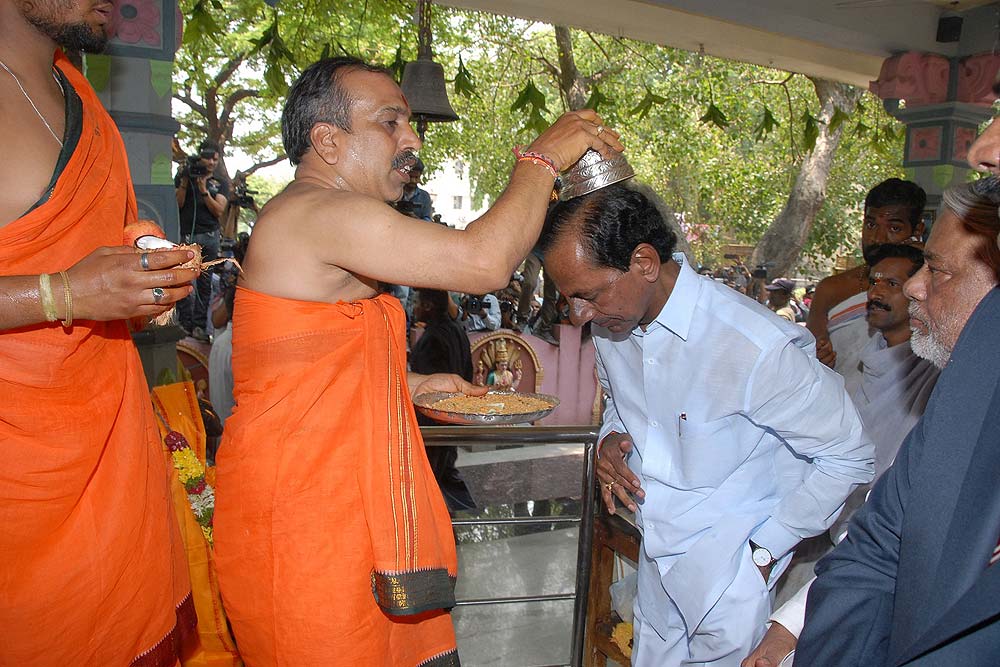 Welfare Man
The TRS government's cabinet is a small one as of now with 11 ministers which includes his nephew T Harish Rao (Irrigation, Marketing and Legislative Affairs) and son K. Taraka Rama Rao (IT and Panchayat Raj). There are no women in the cabinet but it is expected that KCR will take six more ministers in a cabinet expansion soon. KCR himself retains various portfolios such SC, ST, BC, Minorities Welfare, Municipal Administration and Urban Development, Energy, Coal and GAD. This indicates that KCR wants to supervise welfare schemes himself and ensure that they are properly implemented.

In his maiden speech at his constituency Gajwel, KCR stated that welfare of weaker sections, farmers and agricultural schemes would be his main priority to fulfill the dreams of people. KCR assured that crop loans would be waived, pensions of Rs 1,000, two-bedroom houses on 125 sq feet for the poor would definitely be implemented.
Tit for Tat?

Andhra Pradesh CM-in-waiting Chandrababu Naidu skipped KCR's swearing-in ceremony saying he was not invited personally but by the administration as a matter of formality. Naidu, however, sent some Telangana leaders from his party to personally invite KCR for his swearing-in at Guntur on June 8. It remains to be seen whether KCR will extend an olive branch and actually make it to the ceremony.
Advertisement opens in new window
Waiving Promises
Chandrababu Naidu is also getting down to business on the issue of waiving crop loans as well which amount to Rs 54,000 crore. It was this poll promise which YSR Congress chief Jaganmohan Reddy had termed unviable and asked voters not to trust Naidu. Many believe that while the TD and YSR Congress were neck-and-neck during the initial phase of campaigning, the YSRCP lost out due to this stance of Jagan's. Farmers began to wonder if Jagan was indeed as much of a welfarist as his father, the late Y S Rajasekhar Reddy. Aggressive campaigning by Narendra Modi and Pawan Kalyan against Jagan for his corruption cases swung middle-class votes. Now, as Jaganmohan Reddy sulks, Naidu has the mammoth task of balancing the state exchequer in a way so that his development plans for Andhra Pradesh are not hit by his populist measures.
Planting Ideas

Land prices on the Guntur-Vijayawada belt have climbed astronomically since the Telugu Desam was pronounced the winner in Seemandhra. Naidu's plans to develop a new capital in this region have made the real estate lobby a happy lot. But environmentalists are concerned that this might damage the mango belt and crop patterns. But Naidu has other plans up his sleeve. Both Guntur and Vijayawada are among the hottest places in Andhra Pradesh. Therefore, the TDP government is planning a massive plantation drive as well as translocation of trees to improve urban tree cover in the area. There will be aerial seeding of hillocks and shrub forests will be nurtured into dense forests. Forest areas surrounding Vijayawada will be developed so that temperatures will come down by at least two-three degrees over a period of time. This would attract investors to the Guntur and Vijayawada, say TDP leaders.
Advertisement opens in new window
Misleading Tags

The District Education Department in Karimnagar has decided to take action against schools which lure parents with tags such as "International", " World" and " E-Techno" schools. Some 1,650 private schools in the district with such tags have been duping wards of students by charging them excess fees, say education officials. The schools have been instructed to drop the misleading appendages and would be de-recognised if they do not follow orders. Hyderabad too has its share of such tags of " International" and "Public" schools which parents flock to, only to realise later that the schools are not really up to the mark.

Hindi Heartland
Chandrababu Naidu has been instructing his party MPs to take some lessons in Hindi in order to communicate effectively in Parliament. "If you speak to a person in the language he understands, it goes to his head and heart," Naidu instructed his MPs during a meeting at the NTR Trust Bhavan. This, Naidu feels, is very important to convince the NDA government to give liberal assistance to Andhra Pradesh. Naidu's logic is thus. Since Telangana Congress MPs were good in both Hindi and English, they managed to convince the UPA government to bifurcate the State. "As a result, great injustice was done to Seemandhra and we now need to convince union ministers to come to the rescue of the region by communicating in the national language," Naidu told his party leaders.

Jaya Jayahe Telangana
The Telangana state song Jaya Jayahe Telangana, Janani Jayaketanam which is on everyone's lips these days was penned by Ande Yellana, better known as Andesri. The 53-year-old writer says it took him seven years to pen the song which many schools have already adopted. Andesri has written about 3,000 poems and several songs. The song was first sung in 2003 at a Telangana Writers Forum Convention in Adilabad. "But now I no longer own the song. It is owned by millions of people of Telangana," he says.