Has Prime Minister Narendra Modi become the national bird? Let's not pretend that Modi's sartorial flash is anything but a fashion parade of iridescent plumage colours, structural coloration, and buttoned up vanity. He's been peacocking ever since he made up his mind to leap into the prime ministerial race, and, since then, there have been sighs and whistles about his "unique fashion statement." Stories began to trickle in about his tailors, fabrics he loves, the unmistakable Modi kurta, the V-necked Modi jacket, apart from chunky short sleeves and the beefy 56-inch chest. Fashion tweeple have hummed about his style since he was sworn in as prime minister, with the US media going all out to woo the once visa reject with even more rave and gusto. Perhaps it's time to deconstruct the Modi fashion statement— what kind of template does the colour, structure, design, reveal of the person he is? Modi's leadership style? His personality traits?

Yes, we've been told countless times that the Modi Kurta was the creator's way of adding thrift and whimsy to a classic— Modi has been cloying when he has retold the story to interviewers on how he chopped off the sleeves to save on washing and space in his travelling jhola (cloth sling bag). He was the Sangh's version of a travelling salesman, hopping from city to village, meeting people, working, eating, sleeping with no fixed address, armed with the RSS handbook for Hindutva consciousness, and, thus, the classic kurta mutated into a starchier, stiffer and rigid Modi Kurta.

The essential Modi garb may have loosened up as Modi flourished from a mere pracharak to become Gujarat chief minister and then, PM— his tailor Kanhaiya Lalji Chauhan, a bald version of Dr Spock of Star Trek, of Sangam Tailors, Ahmedabad, says Modi began with choosing Poly Khadi, an anti-wrinkle and cheaper version of real Khadi but poshed it up and moved on to khadi silks, linen and Assamese Moga. But the key to Modi lies in his confession when he admitted, "For a weird reason I thought, by cutting sleeves, I would save a lot."

Modi then, it seems, is looking at his government like inside his jhola— light, choosy, trim, ordered, thrifty. The Modi Kurta with its self-acclaimed Smart Sleeves has shaped his idea of Smart Government— downsizing his cabinet, clustering ministries, and mixing few heavyweight leaders with fluffy cabinet colleagues. The crucial detail— Modi is the costumier, the rest are an ensemble of sacks and togs.

Then there has been a collective gasp about Modi's wardrobe colours, which must resemble the colour chart of Asian Paints, as he manically mixes monochromatic tones to matt finish to psychedelic contrasts (remember the neon-green Modi kurta with saffron jacket plus lurid white BJP lapel?) After some violent starts, Modi has sobered his frontage in a layered tone-to-tone for enhanced flow plus uniformity. He even believes it's a divined call when he says that god has gifted him a sense of mixing and matching colours and that he is in complete command of what he chooses to wear. Is it why he has opted in government for the monotone bureaucracy over his contrasting cabinet ministers?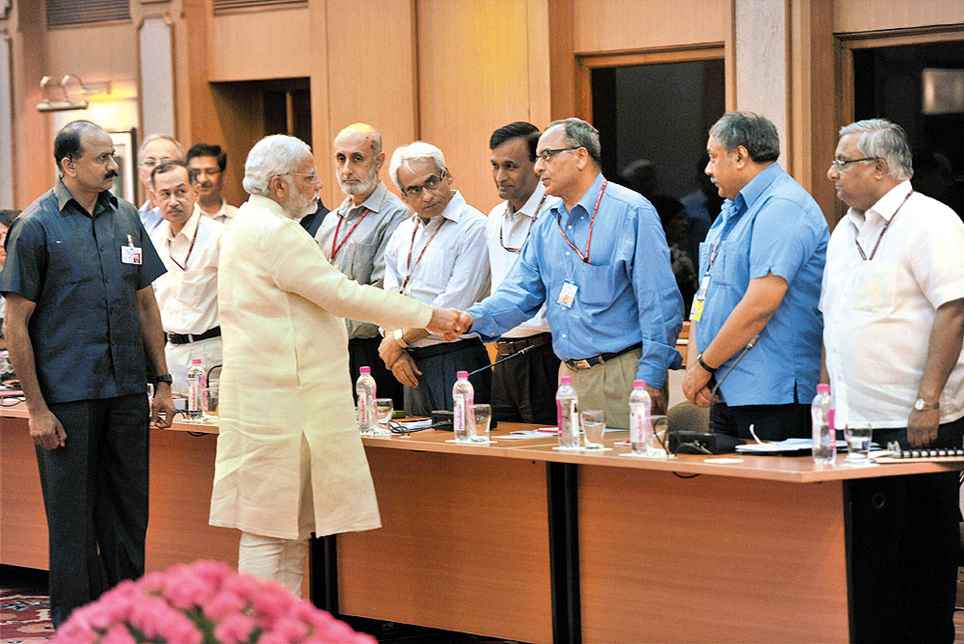 The last few days, everyone has been gaga over Modi's outreach to top-ranking secretaries, when he called over 77 bureaucrats for a special meeting, without their ministers. It was the first time a PM was directly talking to the administration, much to the shock of his ministers, and declaring what he expected them to do. In typical Modi sartorial style, he clubbed related ministries with tallying secretaries, jigged and juggled similar departmental styles, and gave them a prototype to perform. Modi has unlocked the colour palette for meticulousness and control that he seeks: Ignore the splashy, diverse cabinet ministers, go over them for an achromatic, neutral style of our assembly line safari-suited babus and officers. The crucial detail— uniformity and a colour code that every military general craves for.

The buttoned-up jacket completes the dress ensemble, and they say it was Modi's superstar idol, 1970s romance hero, the late Rajesh Khanna, that inspired his buttoned-to-the-neck kurta, and V-jacket. Modi may have lightened up the cosseted, bedding roll look with his play of colours, and while he inspires the Desi Hicksters with a Modi flair, of pop-nationalist dressing and patriotic purity, there is the wistful sense of regimentation and enforced uniformity.

Power dressing enforces discipline and order, and Modi is the Fuhrer of Form & Orderliness, much to the joy of an eager people, waiting to be ship shape after decades of chaos. And so, the Prime Minister has declared and his administration circulated, the diktat for maximum governance, which begins, in the natural order of things, cleaning up offices! And if cleanliness is godliness, the rest follows with the three Ws: improved workplace, better work culture, better workers. Then the three Ss— skill, scale, speed— that will challenge mighty China. Then come Modi's 10 Commands to his MPs, from no useless chitchats, to no speaking to media; no subletting your garage, to no touching my feet. And, of course, the tri-colour code for economic revolution: Saffron for solar energy; green for new agriculture revolution; white for renewed cow milk production; and the blue chakra for fisheries development!

It's the Modi Parade of Janpath Democracy, of people power and people dressing, where it's prêt a porter, not proletariat. It's Paaneri georgette sarees, with Modi digital prints, not paisley or kairis. How does one complete the Modi Fashion for rigour and success? A good facial (watch out for the cooked lobster look though that Modi has had to suffer sometimes), buffed hair, change of clothes three times a day, personal hairdresser and cooks, private jets, home cooked food. Plus, a collection of chunky Movados, Mont Blanc pens and Bvlgari non-rimmed glasses.

And, remember, it's an arsenal, not a wardrobe.
---
For in-depth, objective and more importantly balanced journalism, Click here to subscribe to Outlook Magazine
---