If you are in Jhabua, and haven't been offered the 'Kadakanth', you can safely deduce a good measure of animosity from your host. The native breed of chicken, 'the mother of all breeds' according to locals, has become synonymous with the district, otherwise buried and forgotten in western Madhya Pradesh. If Kanchivaram has been popularised by its silk, Kadaknath, soon to become a Geographical Indicator, has worked its magic for Jhabua.
 
Almost every rural household here breeds tens of Kadaknath fowls — from feather, tongue, beak, wattles, bones, organs, to meat. An alternate livelihood source for BPL families who sell them in the market, their supply is yet to match even the local demand. Palatable, a rich source of protein and fiber, having close to no fat, Kadaknath is favoured by those who can afford it also for its purported medicinal qualities. One chicken, weighing about 700gms, costs between Rs.1000 to Rs.1200.
 
Nearly a decade ago, however, something of a disaster fell upon the breed. Excessive hunting and consumption had increased its mortality to over 50 per cent. An extremely responsive state and central government, though, worked swiftly to reinvigorate its production.
 
Today, the mortality of the species has reduced to about 10 per cent. Ironically, the infant mortality and malnutrition among children in Jhabua, whose families breed these chickens, has remained the same for over a decade.
 
While over half the children (57 per cent) are malnourished, at least 271 infant deaths have been registered, over the past 11 months, in child care institutions of the district alone. Nearly Rs. 250 crore have supposedly been expended to address the issue through the Integrated Child Development Scheme, to little avail, during the decade that the Kadaknath's mortality improved by a significant 80 per cent.
 
Madhya Pradesh has recently hit the headlines for maintaining, with an unwavering consistency, the highest infant mortality in the country for 11 years in a row. While the national average is 40, the rate in MP is an appalling 54. In this backdrop, Chief Minister Shivraj Singh Chauhan, giving into a hugely influential Jain lobby, has now also banned the distribution of eggs to children in government schools and anganwadis.
 
Less than 35 per cent of MP is vegetarian. Moreover, Jhabua, and the neighbouring Alirajpur district, are the largest tribal districts in the country with nearly 90 per cent of their population being tribal and meat-eating. Both districts are populated heavily by the Kadaknath chicken and eggs. However, few who need the nutrition are able to consume them.
 
"If we decide to eat the chicken, it would suffice two days. But, when we sell it, we get Rs. 1000 for one chicken, with which we can get atta for a fortnight," says Gudi Bhuriya, whose family migrates as labour to factories of Gujarat for most of the year. While goat and chicken are eaten only during celebrations, once or twice a year, their staple diet comprises the makka roti, with salt and red chilli powder on the side for flavor. On the few good days, she says, there is a vegetable or saag.
 
"Malnutrition is on the rise in Jhabua and Alirajpur and every second child you see will be underweight. Having done little to address the problem here, the state has not even commissioned an official statewide census since 2010," says a highly placed district official in Jhabua.
 
***
 
It is 9:30 am, Thursday. In the Amba village, Rama block, less than 15 km away from the Jhabua headquarters, an anganwadi worker has supposedly taken ill the previous night. Her assistant, on being called for, opens the door and promptly begins sweeping the thick layer of dust on the floor. "The children don't come by themselves. We have to go bring them every day," says Surti Bai. She returns after ten minutes with five kids who restlessly sit around the room for no more than two minutes before they leave. "They usually only call us when they have to distribute food packets. What would the children do sitting here?" asks a parent.
A few kilometers away, in the Chapri Ranwas village, asking around for the anganwadi invites curious, confused glances. Soon we learn that there is no anganwadi centre in this 'faliya' (sub-division of the village), although the request for one had been sent by the panchayat over three years ago. In the absence of a centre, however, the anganwadi worker's house has been designated as the temporary centre. "You won't find anyone if you go there. She doesn't encourage them in her house every day. We go once a week to collect the food packets," says 26-year-old Manish Rathore, adding that, had there been a functional anganwadi, his only four-year-old son would have learnt the English alphabet by now.
In the neighbouring Tohcka village, three children, along with the aangwadi helper, sit on the stairs of the newly constructed centre. While supplies are stacked for almost 40 children enrolled in the centre, no more than three of them are present. "In you came when we were giving the food packets you could see everyone. On other days, no one comes here," the sahaika says.
In most villages, parents, children, and even anganwadi workers, suggest helpfully that there is no point visit the anganwadis on any other day of the week except Monday, when the ready-to-eat food supplements are distributed among children. Most centers, as a rule, do not function as pre-primary centers, hardly serve hot cooked food to children between three and six, or perform many of their other mandated functions. In Jhabua and Alirajpur, most anganwadis merely function as outlets to collect food packets every once a week. And this supplementary food, parents unanimously admit, is consumed not by the child alone, but by all members of the family.
"Distributing eggs are a way to revive anganwadis, and this has been proved in Tamil Nadu," says Right to Food activist Swati Narayan. "Parents are extremely aware of their entitlements and go to collect them regularly. If children are fed eggs twice or thrice a week, they will surely go to the center. This will ensure that the child gets the full benefit of the egg, without it being distributed among the entire household."
Most BJP states, including Gujarat, Rajasthan and Chhattisgarh, have refused to distribute eggs in government child care institutions. "Our CM has said no eggs, but he also promised that children will receive milk as an alternate source of protein. Milk powder will be distributed to all anganwadis from July 1," says R. S Jamra, ICDS head, Jhabua. 
This, however, is feared to be counterproductive by several including doctors and dieticians in the Nutrition Rehabilitation Centers, meant for malnourished children in every block. Most of the deaths among children occur due to diarrhea and malnutrition, made worse by malnutrition. Distributing milk powder, to be mixed in water, in a region with severe scarcity of safe drinking water, it is feared may further aggravate the problem.
"Eggs have the protein of milk, fruits and buttermilk put together. It also carries fewer issues of contamination or adulteration. Banning eggs in region where such a large number of children suffer acute malnutrition has little meaning," says Aarti Tiwar, in-charge of the rehabilitation centre in Alirajpur.
Malnutrition in MP remains an issue of the state, where ICDS functions in a completely top-down model. The involvement of the community stops at receiving the food packets. "The children of those who have lobbied against eggs will never go to an anganwadi. And those in anganwadis never had a choice about what they want to eat," says Sachin Jain, a Bhopal-based Right to Food activist. "Till now, they have never had control over the quality of food distributed by the state. Now they will obediently drink milk, instead of eating eggs."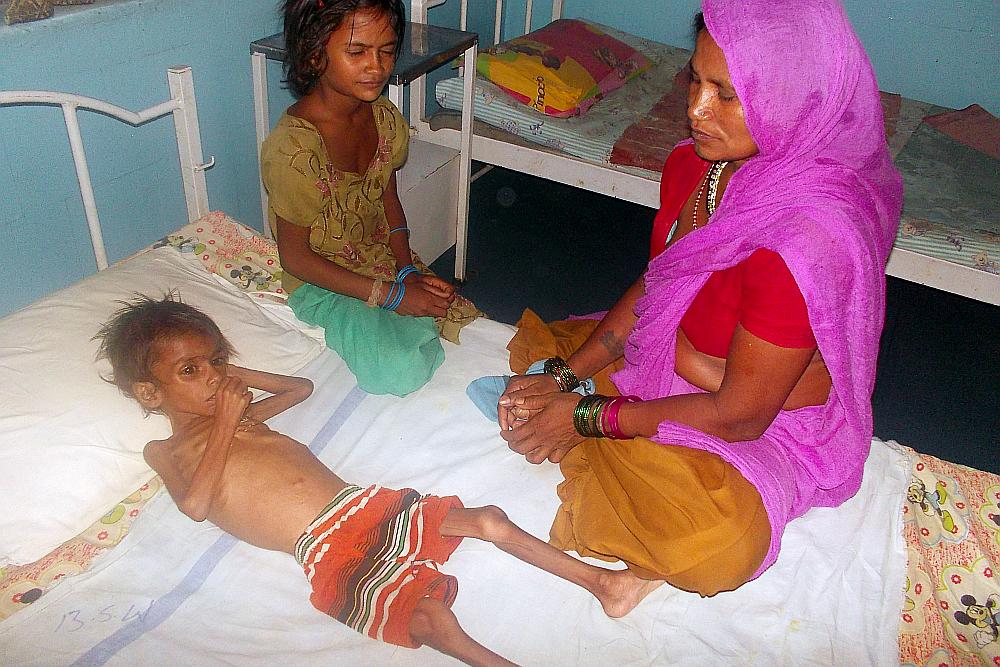 Case study
Name: Rohit
Age: 3 years
Weight: 4.2 kgs
Village: Kila Jobat, Patel Faliya, Alirajpur
 
"These are the children that international NGOs are constantly in search for. Here, every second child will give you that perfect photo opportunity," says Aarti Tiwari, District Coordinator, Rashtriya Bal Swasthya (RBS) programme, Alirajpur. Taking a picture of the three-year-old, however, is the last thing that crosses your mind until that moment. On suggestion, the idea almost seems brutal. "You should take these pictures though. The national media is blissfully unaware of the reality here."
Rohit's grandmother, Selabai Mahendra, almost mechanically removes his oversized, blue, cotton shirt, so that we get a clear view of his completely wretched state. The epidermis clinging to his frame so thin, it reveals each of his bones distinctly. At the slightest touch he lets out a brief, shrill cry. After a few seconds, even as he continues weeping, there is no sound or tears. Two minutes later, curled up into a fetal position, he's asleep. "He is a lot better now. When he came here 15 days ago, he weighed 3.7 kgs," says Aarti. Even as you struggle to imagine much worse, she adds, "He looked like he was breathing his last, with extreme difficulty." His mother, now 19, is in their house in the Kila Jobat village taking care of her one and a half year old daughter, who is also malnourished. Selabai confirms that if they received the packets of ready-to-eat nutrition supplements from the aanganwadi on some weeks, on most other weeks they simply didn't.
In the Nutrition Rehabilitation Centre, though, the underweight children are on a strict diet of eggs, milk, fruits, rice and dal among others. About the state's banning of eggs, and providing milk instead, the dietician in the centre says, "Eggs are far superior to milk in terms of protein. Also, there is a lot of scope of adulteration with milk, which is absent in eggs. Instead of giving eggs at the dire stage when they are in the rehab, it's best to provide them regularly."
Ask Selabai if they would feed the child egg at home and she says, "If we could afford it, we would feed him meat every day. When we usually don't buy vegetable and eat plain roti, how can we feed him egg?"
---
(The fieldwork for this story was undertaken as part of the GoI-UNDP Fellowship on Decentralized Planning, 2015)