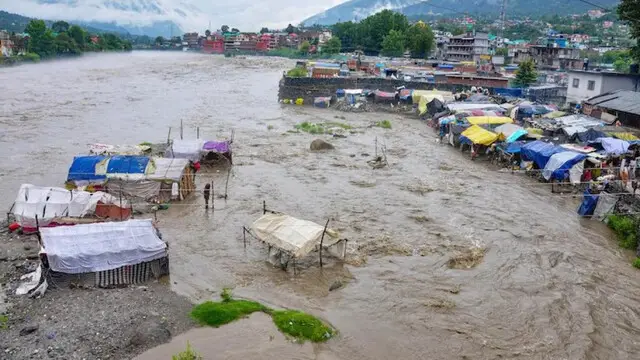 Kullu Superintendent of Police Gurdev Sharma said the bridge across Parvati River was also damaged in the cloudburst at Chojh. Four persons have been reported missing, he said, adding, a search operation in progress.
---
Electric poles and trees fell down and two-wheelers were swept away after the cloudburst occurred late Tuesday night.
---
Chief Minister Jai Ram Thakur had on Saturday visited flood-affected areas of the Lahaul Valley to take stock of the losses due to flooding in Tojing Nallah on July 27.
---
Five trekkers whose bodies were airlifted are identified as Shubhayan Das, Vikas Makal, Saurabh Ghosh and Tanumoy Tiwari from West Bengal, and Anita Rawat, the only woman member from Delhi.
---
The Congress had accused the Chief Minister for adopting luxuries for his travels despite the state government having a financial crunch and a debt burden of Rs 60,000 cr on the state's head.
---
The Paonta Sahib-Shillai national highway 707 was closed for vehicular traffic after about a 100 metre stretch of the road caved near kali Dhank Badwas following heavy downpour for the last 2 days in Sirmaur district.
---
According to police, Mohammad Tariq Khari (8), Shahnaza Begum (30), Naziya Akther (14) and Arif Hussain Khari (5) – all residents of Kalsiyan Nowshera area of Rajouri in Jammu region, died in the incident.
---
Mahesh Palawat, Vice President (Meteorology and Climate Change) with Skymet Weather, said such clouds are called cumulonimbus and can stretch to even 13-14 kilometers in height.
---