What's in a tyre? A lot if you count the modern ones. While the earliest tyres were made of natural rubber, the new ones barely use any. Modern tyres have switched to a blend of synthetic materials and natural rubber. In fact, there is a lot that goes inside those few centimeters that keep you cushioned from potholes and speed breakers. When it comes to safety, tyres are arguably the most critical components of a vehicle, even more so when it comes to two-wheelers. The folks at TVS Srichakra take their job seriously and invited us to understand what goes on behind the making of a tyre and also to sample some of their finest out on the track.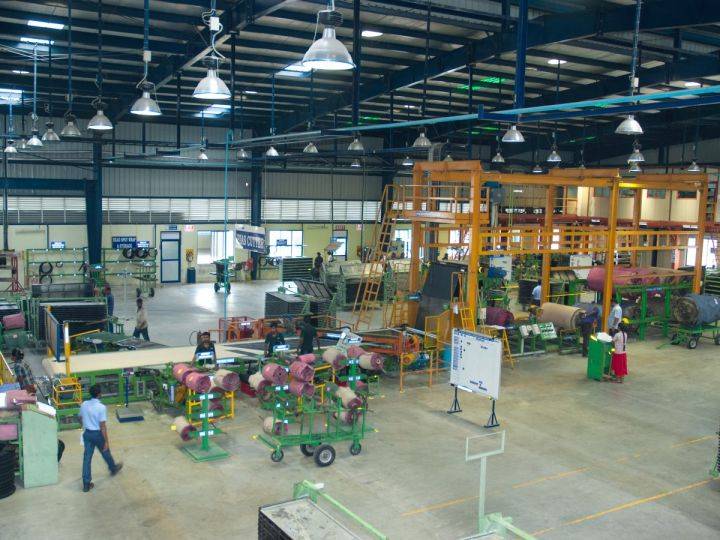 The temple city of Madurai has been home to TVS Srichakra Ltd since 1982. It boasts of a full-fledged research and development (R&D) centre, manufacturing facility and testing centre. The setup is quite huge with the main factory along with the other facility in Uttarakhand churning out over 2.5 million tyres every month for both the Indian as well as 70 export markets. While they also make tyres for commercial and agricultural use, the main focus is on two-wheeler tyres.
It all starts at the R&D division where the tyre is designed according to its intended usage. There are many factors at play here. Critical among them are the grip levels, tyre life, noise and comfort. Engineers try out a mixture of compounds and various tread patterns before narrowing it down to the ideal one. These samples are first analysed at the virtual level with CAD analysis and stress simulations before being physically tested on giant cylinders which serve up as road surface simulators. Sample tyres are run over these machines for thousands of kilometres at varying speeds and are constantly analysed. Suffice to say, tyres offering the best of performance and longevity are selected.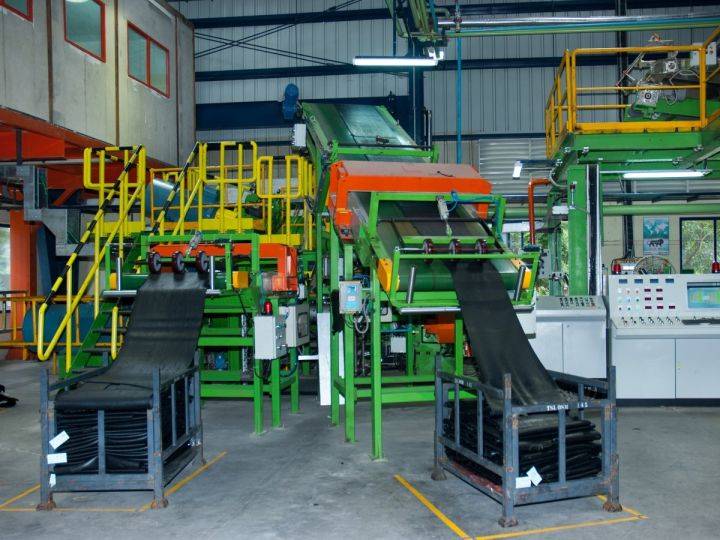 From here on, the tyres enter the manufacturing stage where it is all about quality from the get-go. It starts with batches of raw materials being tested for defects. Among these are huge rolls of nylon sheets. Nylon is one of the main components of a tyre which gives it the desired shape and structure. The first process is to make the outer layer, which comprises of sheets of nylon sandwiched between layers of rubber compound. The next stage is to mould the tyre to give it the desired size and structure. The tyres also get the desired tread pattern and tyre details stamped on the sidewall. All this happens while the tyres are still hot. Thereafter, the tyres are set aside on a special rig to cool down in what is known as the 'curing' process. Once finished, each tyre is checked for balance and leaks.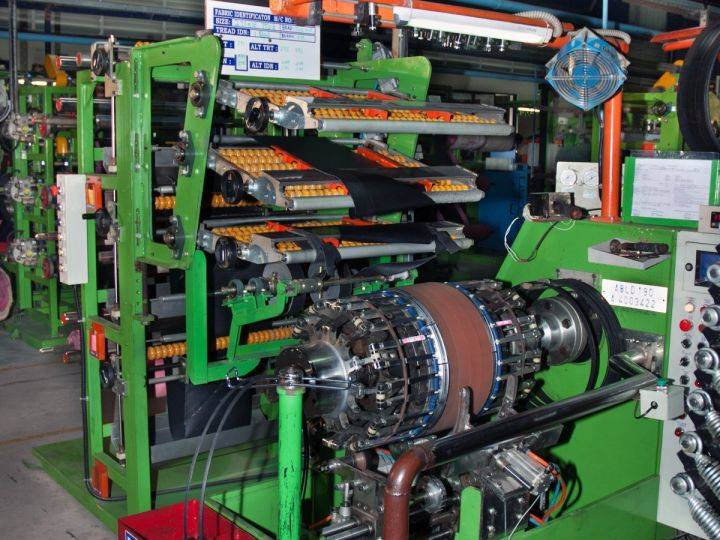 After every stage, the tyres are visually checked for defects and for any mistakes that might have occurred during the process. Quality is of utmost concern and every finished tyre is taken to a quality station where it is visually checked. Sample tyres from a batch are picked at random for further quality checks.
So how does a major tyre manufacturer and leading OEM supplier for most major domestic two-wheeler manufacturers test its tyres? By hiring a person who has been testing tyres for more than 30 years obviously! Enter Hide Okamoto, a man of many talents. A professional racer, he has ridden at many international circuits, tests Moto2 motorcycles and holds the record for being the first to cross the 300kmph barrier on a stock motorcycle back in 2001! When it comes to two-wheeler tyre testing, there are very few who can match up to Mr Hide. He has been testing tyres since he was 17!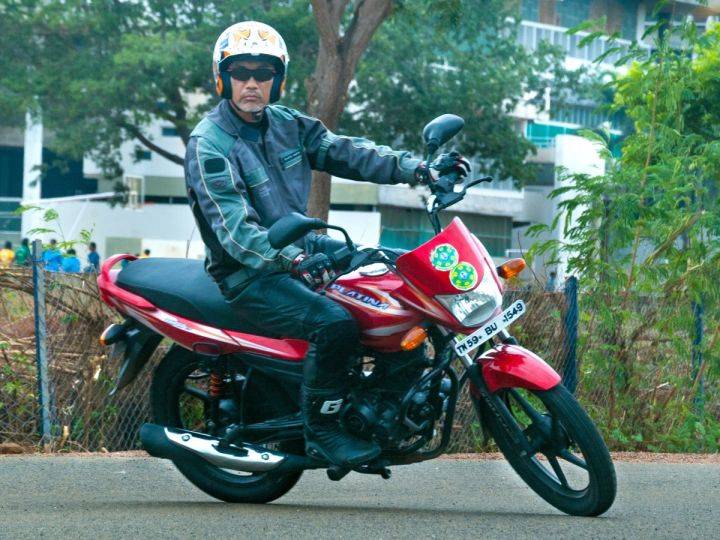 Hide was our mentor for the day and was about to teach us the fine art of tyre testing. At our disposal were three bikes and a scooter. Among the bikes were a Bajaj Platina wearing 2.75 R17 front and 3.00 R17 rear ATT 525 Eurogrip tyres, a Honda Shine shod with 80/80 R18 tyres and a KTM 390 Duke running 110/70 R17 CF front and 140/70 R17 CR rear Protorq tyres. The lone scooter, a Honda Activa, was shod with 90/90 R10 Conta 350M tyres.
Testing the motorcycles included taking them around two sets of closely placed cones in figures of 8. The objective was to gauge the slow speed balance of the tyres. With the amount of experience he has, Hide could differentiate at what point the bikes would lose control or 'tip-in'. He could also tell if it would tip in faster or slower. Asking us noobs to do the same was akin to asking a baboon to solve calculus. However, we did manage to gauge how tyres with different sizes handle differently. The 17-inch tyres on the Platina, for example, was quicker to turn and tipped in faster while the Honda Shine shod with 18-inch tyres felt more stable and showed resistance to turn in and also had a lower tipping point.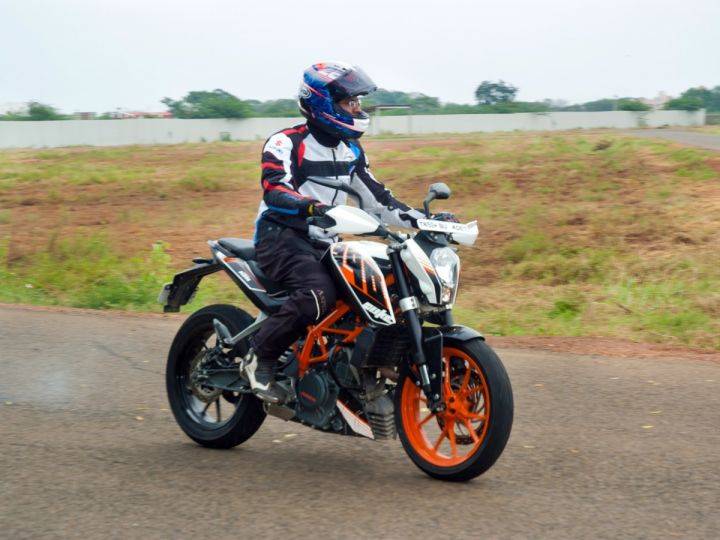 The KTM 390 Duke, on the other hand, was reserved for brake tests. With ABS switched off, the objective was to stop in a straight line covering the smallest possible distance. Shod with TVS Protorq tyres, hard braking was a smooth and reassuring affair with no fishtailing antics. It did feel like it took a bit more distance to come to a complete stop than the more expensive Metzelers the KTM comes shod with as standard. Eagle-eyed readers among you might have noticed that the test KTM was running a smaller 140-section rear tyre instead of the stock 150-section recommended by the manufacturer. For one, the KTM 390 felt nimble at slow speeds and TVS reckons these tyres will provide a vastly affordable alternative to Metzelers and Pirelli's and should get the job done if you use the bike mainly for traveling within city limits.
While we were hard pressed for time, Hide promised to impart more knowledge the next time he was around with a proper track session to understand these tyres better. Meanwhile, we have got two sets of tyres from TVS - one for our long-term TVS Jupiter and one for the Yamaha R3. We will be updating you on the real world performance of these tyres soon. So, stay tuned.
---
Source: zigwheels.com