Hum Saath Saath Hai

Numerous stories about rifts between the BJP and its ally Shiv Sena are doing the rounds for weeks now. The two parties or their respective leaders, Sena chief Uddhav Thackeray and chief minister Devendra Fadnavis have taken different stands on various issues and Sena has lost no opportunity to criticise its own government through editorials in its mouthpiece Saamana. However, some thaw may be in the offing. Reports say that Thackeray may meet the CM over a casual lunch in the first week of April. One wonders if two top leaders of the partnering parties don't actually, regularly, meet? What may have prompted the move is the upcoming bypoll for assembly seat of Bandra (East), for which none other than seasoned Narayan Rane, is making a bid. The election is due on April 11 (because of the death of Sena's elected candidate Bala Sawant). With the sheen of Achhe Din campaign wearing off and Narayan Rane pulling out all stops to regain lost ground it may be a contest to watch out. When external threat perception goes up, it is time to quickly iron out internal differences — old rule of politics no?

D for development ya destruction?

The new development plan 2034 for Mumbai, which is being discussed at all public platforms now, has managed to bring together a rather unlikely association. Bollywood biggies — Amir Khan, Salman Khan, Javed Akhtar, Riteish Deshmukh joined hands with MNS chief Raj Thackeray, to oppose the plan in its current avatar. Apart from worrying FSI (Floor Space Index) relaxations, which are likely to result in rampant (as if what we have had so far is not), the Metro project (requiring relocation of Girgaum residents), reducing the role of heritage committee, widening roads through age-old settlements and opening up of Aarey Colony for development (metro car shed, cutting of over 2000 trees) has resulted in opposition from all quarters. Raj Thackeray said this wasn't about politics and he wanted to bring these personalities together for a good cause. He has also said that the new DP will ensure that Marathi Manoos (oh yeah, still on agenda) will have to leave Mumbai. However, it was heartwarming to see Bollywood stars, not really known to take an anti-government or dissenting stand on any issues, come together and talk about protecting environment.

Wanted banega Dabang?

The hit and run trial, in which Salman Khan is an accused, took a different turn when his driver Ashok Singh deposed before the court and declared that he was at the wheel on the day of the accident. Reports say he told the court that the car swerved because of a burst tyre and Salman was not at the wheel and in fact he was driving the car. Salman Khan recently finished recording his statement in the court and had denied all charges. He had said he was neither drunk nor was he driving the car. He also said he got out from the driver's side because the door on his side was jammed. Prosecution case is that on September 28 2002, Salman Khan lost control of his SUV and rammed into a pavement killing one person and injuring four others, who worked at the adjoining bakery.

What's in a name?

While Café Samovar may have lost its fight for survival to the Jehangir Art Gallery and would have downed shutters as we speak, another iconic café has a happy story to tell. Café Madras, recently won a copyright battle when the Bombay High Court ordered that a Jalgaon based hotel cannot use the same name. Café Madras has been one of the preferred south Indian eateries in Matunga, catering to a south Indian population and foodies who love authentic south Indian delicacies (no, not shiv sagar, sai sagar, amrut sagar type of udipis that serve sweet sambar) such as rassam vada, ulundu dosa, set dosa and idli with spicy podi (powder chutney) along with steaming hot filter coffee. The court also found the mark used by the Jalgaon based hotel to be deceptively and confusingly similar to that of the Matunga-based eatery. Since 1951, the hotel, though with a rather generic name, has stood out and congratulations are in order. But my favourite remains Mani's near Ruia College, Matunga for its super efficient staff, for its spicy tangy sambar, soft idlis and dosas and sheera and a distinct sign that says "all communities are welcome."

Feeling hot, hot, hot

Mumbaikars were not even done bragging about the lovely winter that we had this time and we have already had record-breaking hot March days in decades. After the spell of unseasonal rains, the temperatures touched 40 degrees with maximum humidity. However, now the weather experts predict some more showers. While the scorching heat helps controlling spread of swine flu (the virus doesn't survive in hot climate), people are complaining of bouts of fever and gastric problems because of extreme changes in climate. A common refrain on social media and in buses, autos, trains — if this is the situation in March, what will happen in May? To add to our woes, Konkan farmers reported nearly 50% loss or damage to mango yield because of unseasonal rains. If there are no mangoes, which you and I can afford through the season, what is the point of surviving this summer?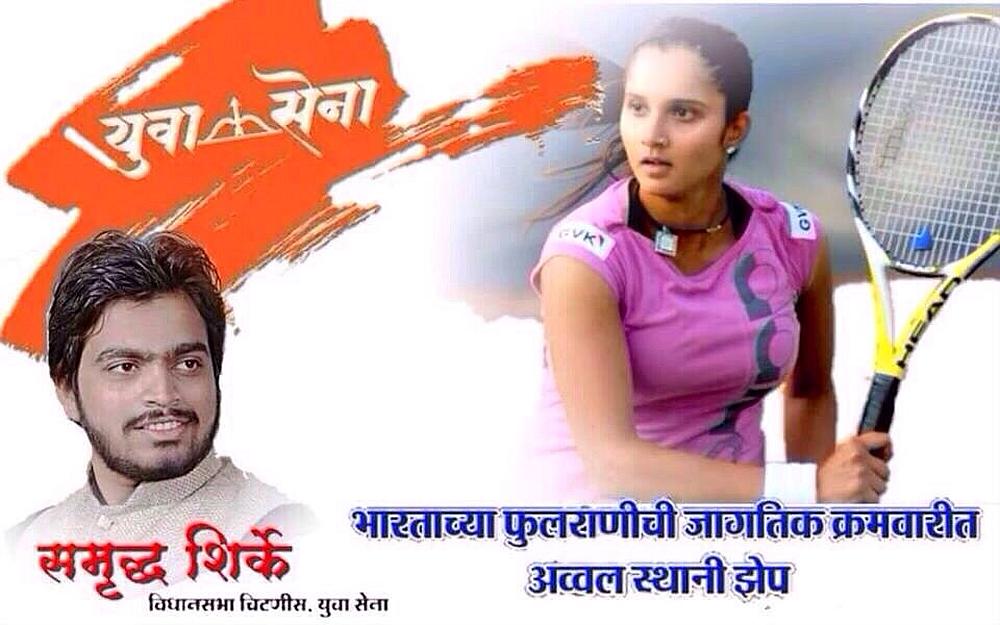 A case of mistaken identities

Even as the country celebrates Saina Nehwal achieving the never before feat of becoming the first Indian woman to be ranked no.1 in badminton, here is a wannabe local politician trying to get easy limelight and instead gets it all wrong.