The three most popular sub-4m SUVs in India are the Maruti Suzuki Vitara Brezza, the Ford EcoSport and the Tata Nexon. Here, we find out which offers the best leg-, knee- and head room, both at the front and at the rear, by measuring every aspect of their cabins.
Here's a quick look at the external dimensions of the Brezza, Nexon and the EcoSport: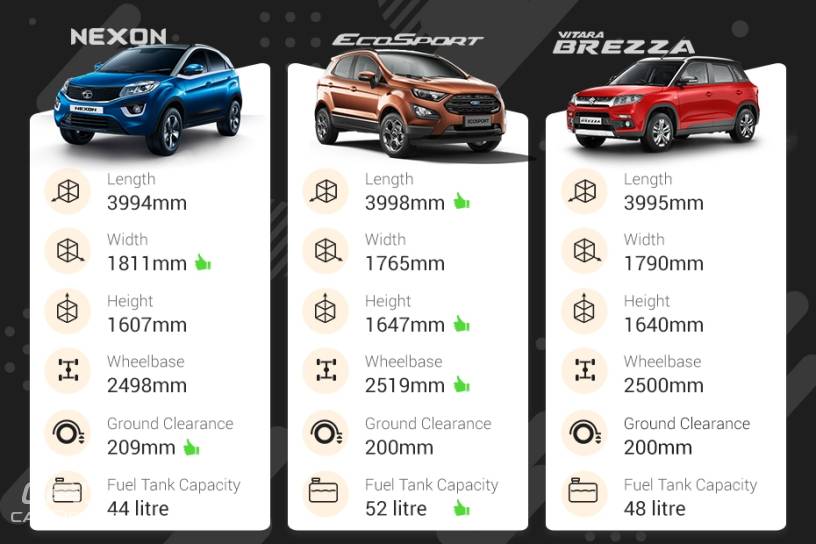 Interior measurements
Headroom & Shoulder Room
The Ford EcoSport is the tallest car in this comparison while the Tata Nexon is the widest. So it's quite natural to expect the EcoSport to offer the best headroom and the Nexon to have the widest cabin.
But when we measured the three cars, it was the Nexon that offered the best headroom at both the front and rear, and that too by a significant margin. When it comes to maximum headroom at the front, which is measured by adjusting the driver's seat to its lowest level, the Nexon offers 15mm and 30mm more room than the EcoSport and the Brezza, respectively.
Moving on to the rear shoulder room, it's the Maruti SUV that takes the top spot followed by the Tata and the Ford. Since the Nexon is the widest car here, we've learnt that it's unfair to assume interior space of any vehicle based solely on its exterior dimensions.
Legroom - Front
Talking about the front legroom and knee room, it's the EcoSport which offers the best space followed by the Tata (10mm more than the Brezza) and the Maruti. The EcoSport's front seat base is also the longest here, so that's more leg space and more seat space for the Ford. Clearly, the Ford EcoSport is the car to go for if front row space is your priority. However, if it is the rear...
Legroom - Rear
The EcoSport has the longest wheelbase of all the cars featured in this test, and while that has allowed Ford to offer better front leg- and knee-room, rear space isn't the EcoSport's forte. Going by our test results, it's the Tata Nexon which gets the best rear knee room (min. rear knee room is 125mm more than the EcoSport!). This is despite the fact that the Nexon offers more seat space as well (30mm more than the EcoSport, to be precise). Even the Brezza offers 30mm more rear knee room (minimum) than the EcoSport.
Verdict
From the above measurements, we can conclude that the Nexon offers the most spacious rear seat and the EcoSport offers the most leg space for front passengers.
---
Source: cardekho.com