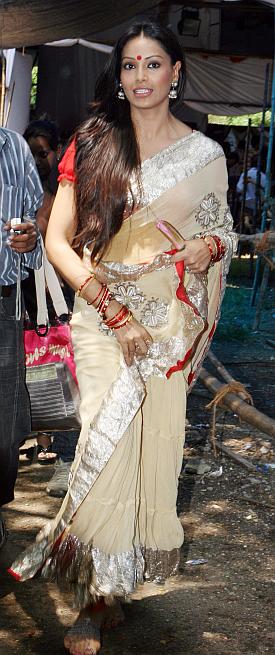 I was born and grew up in Delhi till I was eight years old. At that time we used to regularly travel back to Kolkata for the Durga Puja, more so because my grandfather started the famous Ekdalia puja there. When I was eight, we shifted back to Kolkata. Puja has always been intrinsic, ingrained in us. We used to love the festivities and the excitement, the many clothes we used to shop for. One of the strongest memories is of getting Maa Durga from Kumutuli and establishing the idol in the pandal. We celebrated the festival as a community. Each of us was allocated a job: elders planned the bhog, my siblings and cousins cut the vegetables and distributed the bhog. My job was to make enormous quantity of red and white chandan paste for the pujo. I can still feel the excitement of waking up everyday at 4am to go to the pujo ghor. I didn't participate much in the cultural shows though. I was a bookworm and stayed away from it. I also remember how one day was reserved exclusively for pandal darshan— we went around seeing idols in 25-30 pandals in a single day. Most of the life came to a standstill in Kolkata, you were forced to walk everywhere because of the traffic.
The first few years on moving to Mumbai I used to sulk during Puja. It took time to settle down and find the Bengali community. I used to go all the way to Shivaji Park for offering anjali on Ashtami day. Then I learnt of Rani Mukherjee's family's puja in Khar. Shomu Mukherjee organized it. I attended that. I do try and go to Kolkata for at least a day during the puja. This year too am planning to be there for ashtami. But I don't get to go there so much now because my entire family has shifted to Mumbai. My granddad's family puja has become more of a paada pujo now but I still remember how back then in my childhood the pandal used to cover our house and block the small lane leading up to it.
I still love Kolkata. I don't think the sense of city has gone, it hasn't lost the beauty. It's deeply cultural, aware and rich and can't just fade away. What I love most is the different kind of food. The peas and potato filled little samosas of Lakshmi Sweets, the chicken roll of Great Taste. Sweets like chhana poda. In fact, I have to pack a lot of sweets to bring back to Mumbai when I am visiting Kolkata. Like all good, self respecting Bengalis I have an insane sweet tooth. I also love the many different kinds of saris and have a lot of them in my wardrobe. I specially like the traditional white sari with red border (laal par shaada shari). I wore it when I visited Kolkata recently for Raaz 3 promotions. I think it really suits me. I also wore a lot of taant saris for Rituparno Ghosh's Shob Charitro Kalponik.
Inspite of living away from Kolkata my father still speaks Hindi with a distinct Bengali accent. I don't have that. Nor does my mother who grew up in Allahabad-Lucknow. In that sense I am truly probashi. There are things about the family which are typically Bengali. We are a close knit, traditional family. There has always been a great emphasis on education and culture. It has also been a very liberal home. My parents gave a lot of freedom to their three daughters. There was never a pressure on me to marry. My choices, be it modelling and films, were always respected. My parents are non-intrusive, they never tagged along with me to the sets, they gave their kids the space they needed. We were given stimulus to grow. We made our mistakes to learn, move and grow. It has made us more responsible.
---
As told to Namrata Joshi.

---
For in-depth, objective and more importantly balanced journalism, Click here to subscribe to Outlook Magazine
---