Complaints Against Kiran
In his rush to introduce one welfare scheme after another, Chief Minister Kiran Kumar Reddy has alienated a section of senior ministers who were never too friendly with him in the first place. The latest trigger was the Bangaru Thalli girl child insurance scheme, which some ministers say was not even discussed with them. The disgruntled lot met in the residence of PCC chief and Transport Minister Botsa Satyanarayana. Deputy Chief Minister Damodar Raja Narasimha, Panchayati Raj Minister Jana Reddy, Culture Minister Vatti Vasant Kumar and Health Minister D L Ravindra Reddy met with Botsa to express their anger over the CM's unilateral style of functioning. It is said that these ministers, five MPs and some MLAs even sent a report to the Congress high command complaining about Kiran Kumar's arrogance and his refusal to take the Cabinet into confidence on important matters. Botsa denies any such report being sent and said the meeting with senior ministers was a usual affair.
But the CM, meanwhile, has called off a tour of Anantapur district as part of his Indiramma Baata programme. This is because he has been summoned to Delhi to explain the latest rumblings in his Cabinet.
A Kapu or Kaput
The cold war between Kiran Kumar Reddy and Botsa Satyanarayana has assumed a caste colour now with many saying that Kapu (Botsa's caste) chief ministerial candidate would serve the Congress better. Since Union Minister of State for Tourism K Chiranjeevi is also a Kapu, some Chiranjeevi loyalists are pitching for him as CM in 2014. Endowments Minister, who belonged to Chiranjeevi's erstwhile Praja Rajyam, says that Congress has lost its traditional voter base in Andhra Pradesh. Voters from SC/ST, minorities and backward communities are shifting loyalties to the YSR Congress, he opines. Against such a background, he explains, "a strong and dynamic leader like Chiranjeevi, a Kapu, would be the best candidate for the CM's post." At a public meeting where Kiran Kumar Reddy was present, Ramachandraiah sang praises of Botsa and Chiranjeevi but made no mention of the CM. Needless to say, the Kiran camp is seething with fury. 
Not to be cowed down, Ramachandraiah has joined the Bangaru Thalli debate as well. He advises Kiran Kumar to consult his Cabinet on such schemes as they are not personal and meant for the State.

Roaring On The Roads
While on Chiranjeevi, one must write about his actor son Ram Charan Tej's tantrums on the road. Angry with two software professionals in a Maruti Alto for not giving way to his Aston Martin on the Banjara Hills Road, the actor first abused the two. He then called up his security guards who roughed up the two techies. The two Genpact employees even went to the police station but came out without filing a complaint saying it was a small incident which had escalated and they did not want to take it further. Police officials brushed aside talk that there was pressure on them not to file a complaint. Meanwhile, friends of the actor have been saying that it was the two men in the Alto who were at fault since they swiped the actor's car when they tried to follow him. This angered Ram Charan who in turn decided to give them a taste of what happens when you get too close to a star.

Behind The Scenes
After TDP chief Chandrababu Naidu got back from his marathon padayatra, several Telugu film personalities have been paying him a visit. It is no secret that the Telugu film industry is dominated by Kammas who are firmly in the TDP camp. This correspondent bumped into producer Daggubati Suresh Babu, director K Raghavendra Rao and scriptwriter Paruchuri Gopalakrishna at Naidu's residence. Director of landmark classic films such as Bhakta Ramadasu, Annamayya starring Nagarjuna, Raghavendra Rao jokingly mentioned that producers were no longer offering him masala blockbuster films to direct. The veteran director who introduced Venkatesh in Kalyuga Pandavulu also regrets the attitude of senior 'heroes' in the industry of cornering all theatres during a release leaving very little space for small films. Referring to the excessive use of typical scenes showing Tata Safaris and Sumos being blown up in Telugu films, Suresh Babu says that these days such "stock shots" are easily available in Malaysia. He shrugs off brother Venkatesh's latest release Shadow, terming it a 'dud'.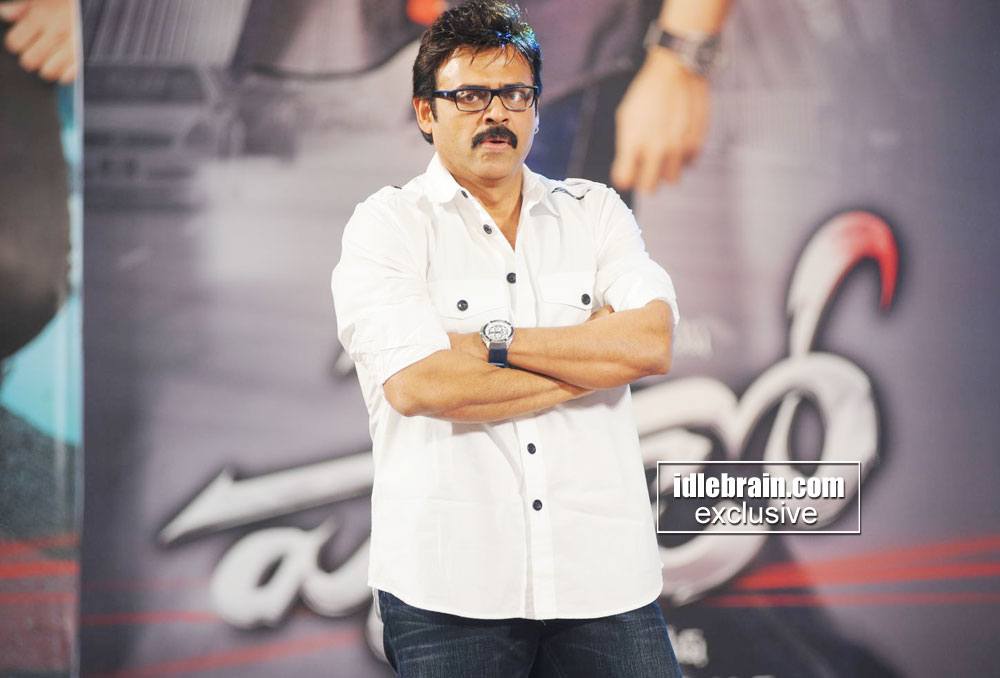 Venkatesh                                                                                                                                                                     

"I heard the script and told them immediately it would not work," laughs Suresh Babu. Just as Bollywood biggie Karan Johar goes off to New York to write his scripts, many in the Telugu industry go to New Jersey. "It is like our backyard," Gopalakrishna informs. Popular director Puri Jagannadh of Pokiri fame on the other hand is said to prefer Bangkok as the "creative" spot to write his scripts.
Naidu's Woes
Finally, a statue of TDP founder, the late N T Rama Rao will be unveiled in Parliament. But the catch is neither Chandrababu Naidu nor NTR's widow Lakshmi Parvathi have been invited to the opening. While Naidu's case has been represented by his MPs to the Lok Sabha Speaker, Lakshmi Parvathi is making her angst heard in various TV channels.
The Telugu Desam accuses NTR's daughter and Union Minister Daggubati Purandeswari of hatching this conspiracy to omit Naidu from the inaugural.

Hollow Howls
Congress Rajya Sabha MP Renuka Chowdary is known for her fiery temperament. But perhaps she should check some facts before shooting her mouth off. After a recent rumour that the AP police would implement a 10pm deadline for women in pubs, Renuka Chowdary launched into a ballistic attack. She was speaking on women's development issues at the Rotary International's South Asia Summit, held at Hyderabad recently. "Let the men sit at home after 10 pm and women go to pubs," she suggested. All great advice but do tell us ma'am who told you that there is such a ban in the first place.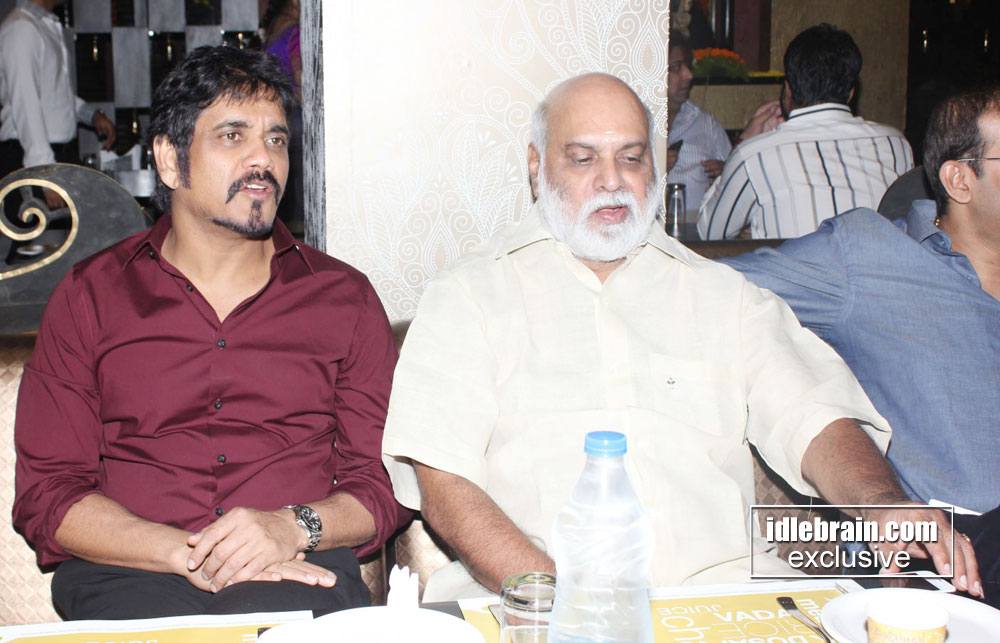 Nagarjuna with director K Raghavendra Rao                                                                                    
The Samrat's Love For The Veggie King
Actor Nagarjuna who recently inaugurated a vegetarian restaurant in Hyderabad revealed his fondness for gutthi vankaya (stuffed brinjal curry). The Yuva Samrat as he is popularly known, says that he even cooks the dish very well and his wife Amala loves it.