Honda has been quite active in Indian two-wheeler motorsport. They have been running two one-make championship classes in addition to sponsoring Indian riders for races abroad and even having an Indian team participating in Asia Road Racing Championship.
Honda now plans to further push the envelope by introducing one more one-make series. While the existing one-make series use the road-going Honda CBR150R and CBR250R, albeit, in heavily race-prepped forms, the new one will use a Moto3 race bike! The NSF 250R is a purpose-built racing bike that garnered Honda success in Moto3, even getting them the Constructors title in 2015.
While the existing one-make race series helped young talent get into racing and learn the ropes, the new race series will have them hone their skill using a proper race bike. This kind of exposure will definitely help Indian racers get familiar and adapt quickly to international-spec race machines when they race abroad.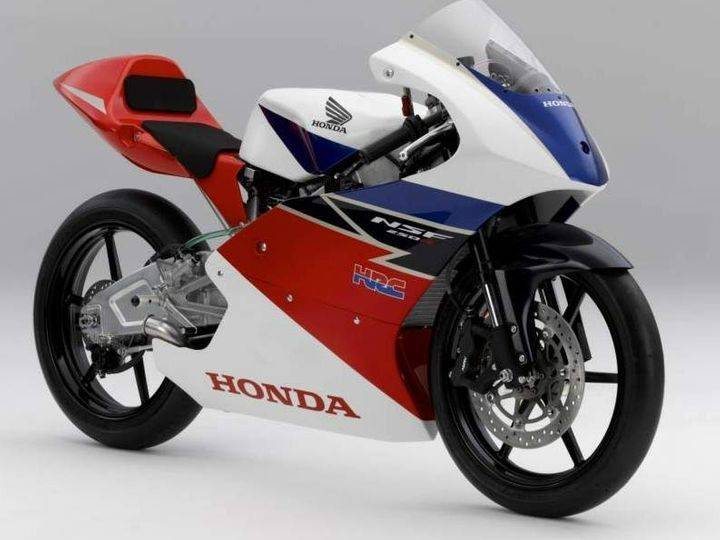 In addition, Honda will be choosing talented riders and getting them onboard to be a part of Honda's racing team in IDEMITSU Honda Team Asia for Moto2 and Honda Team Asia in Moto3 class of FIM Road Racing Championship. These races have been known to produce some of the finest riders who raced at the highest level of two-wheeled motorsport, MotoGP.
Press Release:
Indian racers to race NSF 250R – The 2015 Moto3 championship winning motorcycle
Talent needs the right platform to perform in the global arena. NSF 250R is recognised around the world as one of the best motorcycles for budding racers because of its ideal blend of high performance and rider-friendly nature. Developed by Honda Racing Corporation after years of research and development, NSF 250R is a major step up for young riders bringing them at par with international standards. The compact, light-weight and high-performance motorcycle will help young talent to learn the basics for moving up the ladder from entry level to international Grand Prix Racing.
Commenting on the introduction of NSF 250R, Mr Prabhu Nagaraj, Vice President, Brand and Communications, Honda Motorcycle & Scooter India Pvt. Ltd. said, "Setting a new benchmark, the highly successful NSF 250R starts a new chapter in Indian motorsports. Acknowledged globally as a stepping stone for budding champions, NSF 250R will be a huge step up for Indian riders. Riding experience on the purpose-built racing motorcycle will help them gain competitive edge bringing them at par with international racing at an early stage of their career."
Powering the NSF 250R is a 249cc engine assisted by a RAM air intake system helping the motorcycle obtain high power output even in challenging hot conditions. The NSF 250R has a low centre of gravity and combined with an optimised swingarm for the right amount of flexibility, gets the motorcycle precise handling abilities.
Honda Racing in India:
Honda 2Wheelers India began motorcycle racing in 2008 with Honda One Make Race series. Evolving the series each year, Honda has played a pivotal role in making motorcycle racing more accessible to Indians. Racers got access to several world-class racing machines like CBR 150R and CBR 250R.
Developing young racers, Honda 2Wheelers India introduced Honda India Talent Hunt programme in May 2018. The Talent Hunt has been curated to identify and groom budding racers under Honda's 'Catch them Young' approach. Selected riders are trained in Honda's racing academy to compete with India's best riders. Selected riders compete in Honda India Talent Cup – CBR 150R class. In the first round conducted in June 2018, a 14-year-old boy from Chennai, Md. Mukail, won the race with a thumping 17-second lead. The Talent Cup also includes a CBR 250R class for experienced riders.
In the Indian National Motorcycle Racing Championship, Honda riders Rajiv Sethu and Anish Sethu are leading the points table in both Pro Stock 165 and SuperSport 165 class. This year, Honda has also created history with the first ever Indian team with Indian riders in Asia Road Racing Championship. Representing India, Rajiv and Anish have shown promising signs in the 4 rounds conducted so far. Young Indian racers Rajiv Sethu and Senthil Kumar are getting additional international racing exposure in Thai Talent Cup.
---
Source: zigwheels.com
---
For in-depth, objective and more importantly balanced journalism, Click here to subscribe to Outlook Magazine
---