The recent controversy over the online realty portal, housing.com, and the resignation and subsequent withdrawal of its CEO Rahul Yadav has created media frenzy. It is still uncertain though whether the initial resignation was merely a result of a prolonged monetary battle between Yadav and the company's investors or was in fact a case of dirty play by the company's competition.
Whatever be the case, the dramatic rise of the real estate portal — which connects people wanting buy, sell or rent property — has certainly raised people's attention. The innumerable hoardings around the roads of Delhi and other cities as well as the front pages of almost all leading newspapers have been asking people to start a new life with housing.com.
This spending by the company brings back images of the boom of the big baddot com industry during the 2000s. Indya.com, a start up by Pradeep Kar and one of the most promising dotcoms of the time splurged huge amounts of cash, (estimated to the extent to Rs 2 crore) for full-length front page ads in the Times of India. In less than a year, the website sank.
Housing.com seems to be in danger of running down the same path. While the company was recently valued at Rs 300 crore, like many other e-commerce firms, the high valuation hasn't been mirrored in revenue. To add to this, the barely 3-year-old company has been reportedly been burning its cash at a blistering pace of about Rs 57.19 crore a month, something that is making investors quite unhappy. Housing has had a few of the biggest investment companies invest in it. These include Softbank which has invested more than Rs 572 crore along with Nexus Ventures, Hellion Ventures and Qualcomm ventures.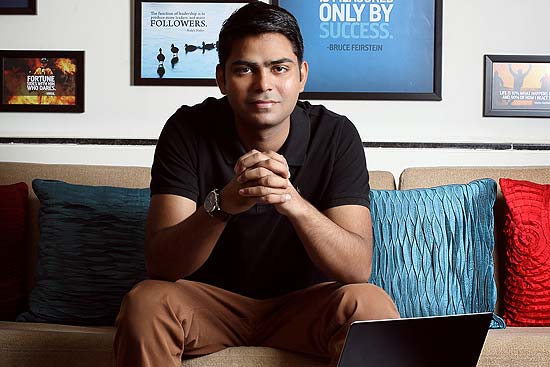 When Outlook contacted Rahul Yadav, housing.com CEO and founder, he said that globally, no one has been able to completely crack the housing market in the online space. The developments of new methods for making housing through an online portal effective are underway. On being asked how he perceives the news coverage over his resignation, he said, "housing has gone through many such instances. This was simply a usual day for the company."
Anand Halve, the co-founder of ad agency chlorophyll says that markets today, especially online startups, "suffer from confusing valuation about startups and their ideas of making money". He states that the business model for the company in no manner clarifies how it will ever make a revenue, let alone profit. "Sudden sprouts in advertising may suggest an influx of funds but this does not mean they are making money", he adds. When Mr. Yadav was asked about this by Outlook, he declined to comment.
While the company has no shortage of funds, spending is increasing too. According to the Economic Times, Housing has reported losses of Rs 48.8 core on revenue of Rs 1.9 crore for the financial year end 31 march 2015.
These losses and Yadav's public outburst have clearly left investors worried. Softbank especially, which is one of the biggest investors in the company, has blown warning signals. This battle between Yadav and the investors ended in Yadav's recent scorn filled resignation letter. Several analysts too have predicted a grim outcome for the company. "Cash burns in startups are becoming increasingly disproportionate as the main aim of such organizations has become customer acquisition by overpromising and not delivering enough in the end" says Mahendra Swarup, the founder of Avigo capital. 
The real estate market in the country has been shrinking in the past few years. In this scenario, Housing.com will have a tough time living up to its business plan. Anand Halve says, "With the kind of brokerage rates housing is quoting, they will have to ensure that an enormous number of charges are made on the site just for them to accumulate enough money to move further in the industry." He goes on to add that this is not simply the case with housing but with several of its other competitors too.
Established players in the real estate arena too do not seem to be very threatened by the prospect of the online real estate website.
While tech junkies swarm over fancy plug-in and applications such as price heat maps, demand and supply maps and lifestyle ratings, brokering agencies see the website as an incomplete venture at best. "People hunting for houses need much more information than what is being provided on the net. The complete process from finding a house to acquiring it is not something that websites such as housing.com have yet been able to achieve", says Sanjay Dutt, the executive managing director of Cushman and Wakefield.
The positive response for the startup, at least in the initial days though, has put several competitors on alert. Many of Yadav's infamous public appearances in forms of letters and emails addressed to the Economic Times have in a way reiterated this fact. The Economic Times, a publication from the BCCL stables, was accused by Yadav to have carried out a "negative campaign" against Housing as Magic Bricks, a competing real estate portal is owned by the Times Group. Yadav's letter to ET in response to a story they had done on the change in leadership for housing read," Magic Bricks (Our competitor and a Times Group Company) is trying to close funding round in US while malign Housing's position in India. Housing is being loved in US".
Opinion is divided on whether the online tech bubble has "all but burst". Many feel the e-market will continue to grow. In such a scenario then, it would be interesting to see what will now happen to Housing.com, which is still figuring out the reigns of operations. Will the shift of gear with Softbank now taking all major administrative decisions for the company change the way money is being spent and revenue is being made?