Within a few hours of the polls opening across Goa on March 3, it had already become clear that previous records for voter turnout would be challenged by the day-end.
Long positioned as the most crucial election for the state's future since decolonisation at the hand of Indian troops in 1961, this electoral cycle saw almost every seat rigorously contested by both big party alliances— Congress/NCP and BJP/MGP— as well as a number of credible independents. All the high-stakes campaigning seems to have worked— nearly 82% of all registered voters eventually wound up casting their ballot.
It's a new record, beating out even the massive turnout in 1963 for an historic opinion poll, where Goans voted against merger with Maharashtra, and got on the path to eventual statehood.
Many in the state expect the 2012 result to be similarly momentous, reflecting widespread revulsion for the strongmen who have kept Goan politics in a stranglehold for decades. "Enough is enough" has been the refrain over the past weeks, and there is a keen expectation that the results on 6 March will deliver a sharp rebuke to the would-be political dynasties that dominated the 2012 Congress ticket.
This means the previously unthinkable prospect of a return to power in Goa by the BJP and its state helmsman, the canny ex-IITian Manohar Parrikar.
In Cumbharjua too, a fast-emerging consensus on voting day was that BJP-backed independent Nirmala Sawant was the best choice to unseat Pandurang Madkaikar, surely one of the least popular incumbents across the breadth of Goa.
Unlike down the river in Panjim, polling booths were widely scattered across the polling area of islands and riverfront villages, none of which featured long lines of voters arrayed outside.
Instead they came in twos and threes, drifting towards the nearest voting station via small cordons of party workers and supporters, who themselves divided time between shouting out encouragements, and nervously checking mobile phones for updates.
On the endlessly charming and atmospheric river island of Santo Estevao, which claims both Nirmala Sawant and Bismarque Dias as its own, I visited the polling centre in Forovaddo, a lovely ward of closely packed village houses that are decked out in bright pastel colours.
This is a neighbourhood where traditional Goan values still hold strong, where everyone still knows everyone else and village solidarity has survived intact into the modern era.
Forovaddo is just a few hundred metres from Bismarque Dias's house, but the small clump of high-spirited young men who are lounging on shiny motorcycles, watching their neighbours head to the polls, all shake their heads knowingly when I ask about his prospects.
These boys are Catholic, all neighbours and friends of Bismarque's family. They all declare that they unstintingly admire the priest's uncompromising activism on behalf of the environment. But no one has given him their vote.
Keyed up against the incumbent like almost everyone else I encountered in Cumbharjua the past fortnight, these islanders have all thrown their support behind the BJP-backed candidate, Nirmala Sawant.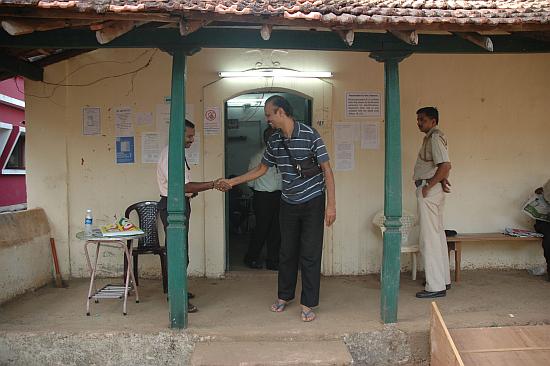 Photo: Vivek Menezes
"No Catholic candidate can win in Cumbharjua, so we have to look for alternatives," Richard Gomes tells me, as we watch a small posse of old ladies slowly make their way up the sun-splashed lane to the polling booth at St. Estevao's panchayat building. He's nattily dressed for election day in Ray Bans and a freshly laundered white shirt, and describes himself as a "big Nirmala Sawant supporter" as do his friends, John Paul Toscano and Gerson Alfonso.
Gomes' logic is that "Hindus are communal, and will never vote for a Catholic in this seat. Since they are a majority, we all have to find a candidate who is somewhat okay with us and responsive to our concerns." He tells me that Sawant may be backed by the BJP, but she is considerably less anti-Catholic than the Congress incumbent. Then all three young Goans press around me to repeat the same fact: Manohar Parrikar enjoys near-total support from the Catholics of Panjim, who have loyally voted for the BJP candidate for years.
Winding down leafy by-lanes to the idyllic ward of Palmar and the Dias family residence, I find myself still thinking about the message conveyed by the young voters from St. Estevao.
They seem to illustrate a state-wide phenomenon that occurred immediately after Congress announced its remarkably cynical ticket of family members and their sycophants— it was an instant tipping point. You could literally feel the party ebbing away to irrelevance, as its traditional base decamped, nearly en masse.
Thus, Goa's Congress party has managed to do what Parrikar himself could never engineer in all these years— it has delivered a hefty chunk of the Catholic and Muslim voters of the state to the BJP!
"In the end, money played a very big part in this election," says a tired Marvin Fernandes in the living room of the modest village home shared by Bismarque Dias, his aged mother, and three brothers and their families.
It's lunchtime, and the space is teeming with exhilarated volunteers from across Goa come to support the maverick independent candidate, and they have all kinds of stories about what has been going on behind the scenes in the villages of Cumbharjua— candidates' wives distributing cash in sight of the polling station itself, extra money being handed out "as a premium" to senior citizens.
"We knew this would happen because it always does," Marvin says. For the first time, I can see his confident optimism about Bismarque's unconventional campaign give way to resignation about a likely defeat, and third place behind Madkaikar and Sawant.
Now this unusual campaign manager confides in me that "there was never a moment where I didn't feel anxious or despondent," but the stakes had been worth the effort. The incumbent had been contested rigorously, and the main issues that the electorate was anxious about— runaway real estate development, environmental destruction. Demographic displacement— had come to centrestage.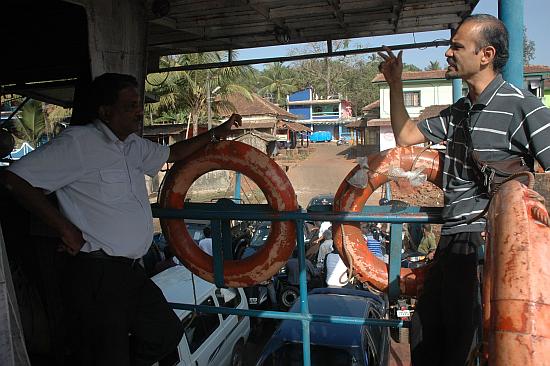 Photo: Vivek Menezes
"We did great," Bismarque himself tells me, as he poses for final election-day photographs on the bridge of the ferry boat back to the mainland from his beloved island of St. Estevao. The priest looks visibly serene, and is full of plans for the next five years. He tells me that he will be going nowhere, that he will pursue his gandhigiri strategies across Goa. "Politics is only one part of the picture," he tells me," actually my whole way of life, my religion is kindness."
On 6 March, we will see how those sentiments have translated to votes.