Didi's BJP Phobia
Though outwardly the Trinamool Congress is putting up a brave front, insiders reveal party leaders are really worried. So what's happened now? It's Prime Minister Narendra Modi again. This time at a national convention (held on August 9) he declared that his party, the Bharatiya Janata Party, will field polling officers at every polling booth in the four states that will hold elections in the next couple of years. West Bengal will hold Assembly elections in 2016, less than two years from now. And judging by the way the BJP made inroads into the vote share in the last set of elections (Parliamentary polls held earlier this year), swinging from some four percent to over sixteen percent, cutting into TMC votes and decimating the CPI-M, not to mention the already flagging-behind Congress, there is a clear trend that the people of West Bengal are looking at BJP as an alternative. Indeed, no longer is the CPI-M the main Opposition as far as Mamata Banerjee is concerned. And the Congress has ceased to be threat long ago. Now it's Didi versus Modi. And his latest words (read threat?) declaring that BJP will be present in all the booths – something even the CPI-M could not achieve – there is cause for TMC concern.

The Missing Whistleblower
The Calcutta scientist who disappeared one evening after stepping out of his house is still missing. Dr Sunil Upadhyay, chief conservation officer at the Indian Museum in Calcutta who was considered a whistleblower and crusader against alleged corruption in high places in his organisation, which deals with hundreds of crores of rupees worth of art, is untraceable since July 3. The mystery surrounding his disappearance reads like a suspense thriller with several 'motives' being attributed to it. Other than the 'silencing of a whistleblower' angle, among the other suggestions is that he had walked off on his own either because he was deeply depressed over his own name figuring in a recent case in which a priceless sculpture of the museum was damaged or because he was suffering from several medical ailments. The possibility that he was kidnapped by ruffians whom he had antagonized has also been debated.
Police speaking to Outlook have said that each of the possibilities is being investigated. But in the meantime, his aggrieved family is growing more restless and desperate by the day. "The uncertainly is torturous," said his elder brother Anil Upadhyay, stationmaster of Uttar Pradesh's Sultanpur Railway Station, who has now stationed himself in the Calcutta apartment where Dr Upadhyay lives. Anil and his other brothers (Sunil is the youngest of 4 brothers) go from door to door with a photo of him in the hope that someone would have seen him or could lead them to a clue. "We have searched in all the hospitals and even consulted soothsayers." The 35-year-old Dr Upadhyay, who had never married (his brothers say that he suffered from a crippling foot disease and was against 'ruining someone else's life) is also supposed to have been deeply into spirituality. One theory suggests that he renounced the world. But his family claim that he would not have done so without informing them that he was leaving. While the police investigate different angles…some disturbing questions remain:
Why did Dr Sunil Upadhyay leave his cell phone behind, that too under his pillow and on silent mode? (There were no suspicious or incriminating phone calls or messages. The move to leave his cell phone would suggest that he was merely stepping out to the corner store or cafe. Was he trying to buy time for a getaway? Or did he genuinely intend to comeback home?)
He took along his ATM card, though no transaction has yet been made? (He had reportedly made a withdrawal of a small sum of money on June 30, which was his last tracked transaction.)
If he intended to travel far, why was he stepping out in plastic bedroom slippers? (In fact, his friends point out that he had an uncomfortable and crippling foot condition because of which he always wore soft, thick and padded shoes)
His friends claim that he was a frequent Facebook visitor and connected with and shared with his friends. (He had made no mention of any plans to leave or travel in his last entries. If he was suffering from depression why did he keep it a secret?)
If he was spiritually-inclined and was indeed renouncing the world, why didn't he inform his family that he was leaving? ("He would never want to put us through the torment willingly," says his family.)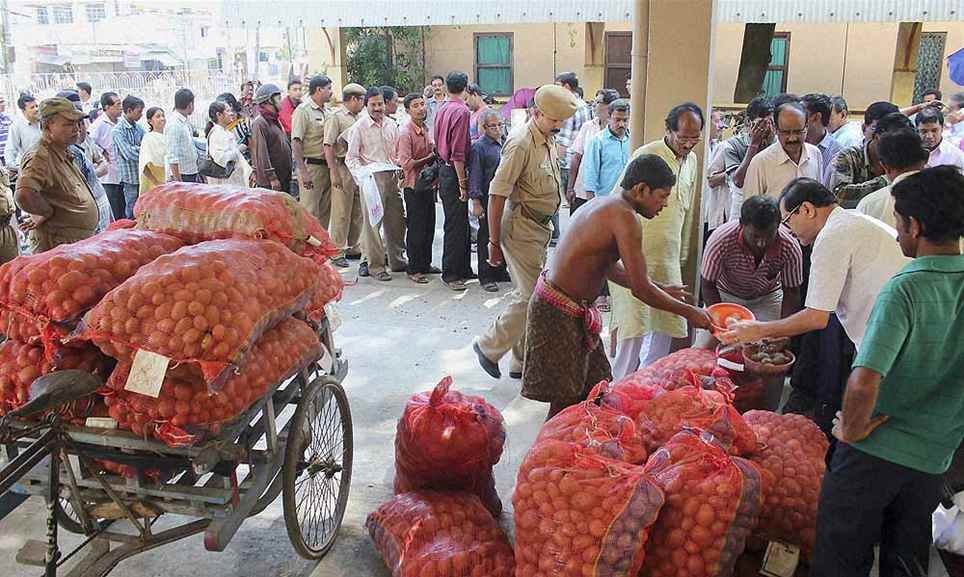 The Potato Crisis
If you're visiting Calcutta and are thinking of bringing valuable gifts for your friends, family and relatives, you may consider bringing a bag of potatoes. "Hun?" you may ask. But yes, potatoes (and other vegetables like tomatoes, eggplants, okras and a host of other agricultural products) are reportedly among the many items that are becoming 'beyond the reach' of the common man – and woman – in Bengal. Aloo agoon (Potato on fire) is a common headline splashed across front pages and prime time televise news channels these days announcing to a distraught Bengal that prices of the potato are fire hot and steadily rising.
"Amader ranna manei aloo sheddo aar bhaat," (for us food means rice and boiled potato) said Nomita Pramanik, a domestic worker. "Ekhon ki shudu bhaat kheyey thaaktey hobey?" (Now do we have to survive only on rice?). Her family income is less than 10,000 thousand a month (she earns 3000 and her husband, an odd-jobs construction worker earns about 4000) and if she has to spend rupees 22 to 26 a kilo for potatoes (she has four children and needs at least one kilo of potatoes per day for the six of them for two meal) she says she will end up spending more on potatoes than her monthly income. The price rise is being attributed to lack of supply from other states. "Bengal does not grow enough potatoes to meet the consumption demands of the state but there is a slowdown of trade with states like Orissa," said a trader.

Smoke Without Fire?
Aloo unfortunately was not the only thing that caught fire this week. The main stage of the Academy of Fine Arts, where a play of director Suman Mukhopadhyay, was being staged, found itself engulfed in flames as the curtain was coming down at the end of an Act. As smoke and fire bellowed from the stage with the drapes burning, the audience stampeded out of the one exit at the far end of the stage. Several people were injured and an actress had to be carried out in an unconscious state. Lead actress Swastika Mukherjee, shocked and traumatized said, "There are no emergency fire exists and we somehow managed to escape."
Director Mukhopadhyay, who has reportedly not been in the "good books" of the ruling regime after being overtly critical in several of his plays and films, have called it a "mysterious occurrence." Commentators backing this theory – that it may have been a retaliatory act of vengeance – observed that recently the Academy was staging "back-to-back" plays of Mukhopadhyay and Kaushik Sen, another thespian who has been critical of the government. But spokespeople of the ruling regime, who did not want to be named told Outlook, "There is always a conspiracy theory…even a fire is now being thought about as an act of vengeance. This is too much." Whatever the case maybe, all one can say is there is no smoke without fire…make what you will of that.

Written behind an auto: Bhalobaasha boley kichu naai…tobu aami shudhu tomaakey chaai (There is nothing called love….but still I want you so)