The Missing Anna Mystery
So why did Anna Hazare ditch Mamata Banerjee? Was the anti-corruption crusader really that sick that he couldn't turn up for his own much-hyped rally at Delhi's Ramlila grounds with the Bengal chief minister? No, not even his own aides who had feebly tried to push that as the excuse for his no-show at first, sound convinced. In fact, an Anna spokesperson, even while claiming that he was sick, admitted that he would have still landed up at Ramlila had there been even 10,000 people present at the venue. But when even as late as two in the afternoon (on March 12) hardly a couple of hundred people were spotted occupying less than a fraction of the chairs that had been laid out in anticipation of lakhs, the man who is used to hundreds and thousands of people thronging the meetings and rallies he addresses apparently chickened out.
While that in itself shows him up in poor light (Mamata, who was left high and dry and alone to face the rows and rows of empty chairs, at least made an attempt to address the smattering of people who did turn up), this may not be the whole story. Anna's initial burst of enthusiasm to back Didi in her attempt to capture power in the Centre, as witnessed in the last couple of months, may not have been guided solely by his desire to see someone like her lead the nation. (Anna had said about Mamata: "She is a paragon of simplicity. She wears a pair of simple sandals and drapes herself in a simple sari. She doesn't use a government vehicle but travels in her own car. She doesn't even draw a salary as CM. The nation is in need of such a leader.")
The hidden intention behind his sudden decision to lend his famous name to Mamata's campaign outside her state may have been guided by a need to steal the thunder from Aam Aadmi Party leader, Arvind Kejriwal, his former co-agitator with whom he has subsequently fallen out. Anna may have relied not just on his own perceived crowd-pulling capacity but that of Didi's herself. Her last rally at the Brigade Parade Grounds in Calcutta, which was bursting at the seams with an estimated 15 to 20 lakh strong crowd may have made Anna think that with his and her combined charisma, Ramlila would witness a historic turnout. It must have dawned on Anna on the afternoon of March 12, that the damp squib of the turn out would actually backfire on him. Instead of teaching Kejriwal a lesson, it would make him a laughing stock.

Secret to Amassing A Mass
The Anna-Mamata episode has brought to the fore another uncomfortable fact. It has confirmed the well-known secret that "crowds" don't always gather at the venues of political rallies because of any great love or admiration for the politician or leader addressing them. People do not show up en masse, as our politicians and leaders would have us believe, to show support, solidarity and strength of their belief in the politician or leader. They don't turn up, as our politicians want us to think, just to get a glimpse of their leader.
As Mamata faced the empty chairs and had to come up with some explanation for the low turn out (once there on stage with a microphone in her hand, she could hardly wriggle out of the situation, embarrassing as it was, with all those television news cameras and reporters recording the moment) one of the things she said, interestingly, was, "We could have brought trainloads of people from Bengal, but we didn't." Such remarks are confirmation of the fact that political parties mobilize huge crowds, not necessarily by the sheer magnetic quality of the charismatic personality of their leaders or the promise inherent in their dynamic speeches but because they are literally brought there by the busful, truckful and trainful. Political party workers are entrusted with the task of getting people to the venue…the only promise that is usually made to them in return is of a free lunch.
The day before a Bengal political rally recently, an auto–rikshaw driver told me, "Ke jetey chay? Shei to ek kotha. Hano korenga, teno korenga. Taar por ekta biriyani'r packet dhoriye debey. Kintoo naa geley toh jeenaa haraam korey debey."" (Who wants to go? It's the same old story…Will do this for you, will do that for you. Then they'll hand us a packet of biryani. But if you don't go, they'll make life miserable for us."
That kind of spontaneous gathering happens in rare cases when the issues really do touch people's hearts and minds. Leaders of India's freedom struggle never had to force people to come to their speeches. The people followed them like the mice followed the Pied Piper. An example of such a spontaneous gathering in recent times was the angry crowds pouring out on the streets of Delhi to protest the brutal gang rape and murder of a paramedical student. Even Anna Hazare's call to the nation to stand up against corruption had initially seen that kind of spontaneity, gathering enough momentum within a short period of time, to become a mass movement. But with it getting defocused and politicised and with Anna hardly being able to take control, it fizzled out. Sadly, earlier it was the crowds that followed Anna. Now it's Anna who follows the crowd.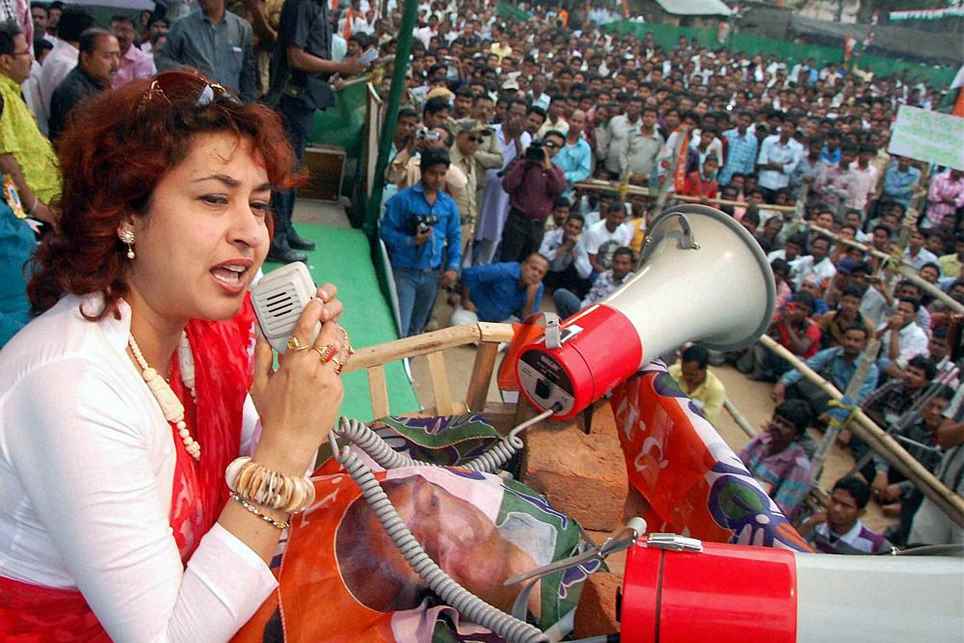 Pay! Not In Cash, But In Vote
Trinamool Congress's Birbhum candidate, who is also the sitting MP from that area in Bengal, is Satabdi Roy. One of the glaring examples of Mamata's penchant for bringing stars and starlets, both current and yesteryear's into her fold, Roy figures in this week's column for her unique campaign speech. Standing on stage, microphone in hand, she pointed to herself and addressed the gathering (in Bengali and with a condescending tone you associate with politically-incorrect people speaking to morons) thus: "You see me? Usually you pay money to see me? Don't you? You have to buy tickets to see me when you go to watch my movies and my plays? Don't you? But today you are seeing me free? Aren't you? Here I am standing in front of you not asking for any money? Am I not? Am I asking you for any money? No, right? What am I asking for then? I am asking for your vote. Yes, that's right. When you pay me, you get to watch me on the stage and on screen. But when you see me free…you pay with your vote!" It is not clear whether the crowd – smattering of it – was brought there with the promise of a free lunch but clearly there is no such thing as a free lunch!

Magic Minister
Magician, P.C. Sorcar, the BJP candidate from the Bengal's Barasat district, found himself under attack by rival and fellow-contestant from the Trinamool Congress, Kakoli Ghosh Dastidar, who questioned his credentials to contest the elections. Saying that those like Sorcar maybe good at performing various tricks and disappearing acts on stage but in the political arena such people from the entertainment world lacked expertise. Sorcar hit back saying he will show the people of Bengal that he is as much a magician in the real world as he is in the fantasy world by magically making problems disappear. But his real defense should have been to attack his rival by pointing out that more than half of her own party's candidates belong to the very world of entertainment from where he hails.

Musically Apt
Two famous Bengali songs are being used – mostly by political rivals – to describe the Anna no-show at Delhi's Ramlila Maidan.
The Tagore song: Jodi tor daak shuney keo na aashey tobey ekla cholo rey (If no one pays heed to your call, then walk alone)

And the 1960s popular romantic song: Kotha diye elenaa…tumi kothay? (You promised you'd come, but you didn't…where are you?
---
For in-depth, objective and more importantly balanced journalism, Click here to subscribe to Outlook Magazine
---