Phailin Fears
Durga Puja or "The Pujas" (its anglicised form by which it is better known), is over. October 14 was Dashami, the last day of this much-awaited five-day long extravaganza. The first three days—that is Panchami, Shashti and Saptami were largely sunny with a few places in Calcutta reporting rain. But the cyclone warning played at the back of everyone's mind. No one quite knew what form it would take in Bengal.
Since Phailin was supposed to make landfall on October 12 (which coincided with Ashtami, the fourth and climatic day of Puja) some people were afraid that once it hit and the storm raged, they wouldn't be able to show off their new Puja-special clothes as they would have to stay indoors. To solve the problem, some people changed clothes thrice a day during the first three days. "Han, ami aamar Ashtami'r saari taa Saptami tei porey nilum...key jaaney er por portey paarbo kinaa," (Yes, I decided to go ahead and put on the saari I had planned to wear on Ashtami on Saptami...who knows if I'd be able to wear it at all after that?"). But what about the Saptami's saari then? Sonali Ghosh, a homemaker confessed, "Oh, I usually change into a new sari twice a day. This time I decided to change three times."

Sure enough, by late morning on Ashtami the weather started changing. Dark clouds gathered over the pandals, accompanied by strong winds. This was followed by heavy showers. But Bengal was largely spared the full blast of the cyclone which made a landfall at Odisha's Gopalpur. Had it struck Bengal, blowing at close to 240 kilometers an hour as it it did, it would have wreaked disaster for the makeshift structures and pandals. Looks like Maa Durga answered everyone's prayers. In fact, it must be noted that it was not until the Ashtami Anjali—the day's prayers/worship of that day—was performed that the storm and rains started.

Old MacDonald Had a Pandal
Every year, in an attempt to out-do each other in terms of themes, organisers of Durga Pujas come up with some interesting ideas which range from the outstanding to the outlandish. This year was no exception.
Advertisement opens in new window
I will tell you about the one in my neighbourhood which adopted the theme of "Graam Bangla" or the Bengali village. While the theme is not entirely new, the concerned Puja Committee tried to inject some originality into it by playing in the background recorded versions of animal sounds. So early in the morning for several days we woke up to the sound of cows mooing for about one hour. In the next hour, the cassette or CD or whatever it was that was playing in the background would be changed and the cow sounds would be replaced by the bleating of goats. Then came the ducks, the chickens, the pigs and other animals.
I suspect these were human simulations of animal sounds. What was interesting was that this soundtrack was not even switched off while other activities were going on. The organisers had invited local speakers to talk on what a Bengali village meant to them (the best speaker would win a prize—don't ask me what it was). In the middle of a speech, for instance, at regular intervals—30 seconds or so apart—we would hear the sound, "moo"…or "baa" or whatever. I could hear all this, without once stepping into the pandal, from my house which was at a walking distance of about seven minutes and in spite of my best efforts I could not block out the zoological cacophony. It took the Phailin rains to do the honors. The sounds drowned out on Ashtami, stayed away through Nabami, to resurface for a brief spell on Dashami. Then of course it was time for Mother Durga to leave (escape from?) the farm and get back to her abode in the Himalayas.

Durga's Vote Bank Worries?
This year the "Immersion" issue became quite controversial. Since Tuesday and Wednesday (that is October 15 and 16)—the two days following Dashami—coincided with Eid-ul-Zoha, the Calcutta Police issued a directive to the various Puja organisers that the immersion should take place on Thursday (October 17). The Calcutta edition of the Times of India quoted puja organisers, priests and theologians who explained why Thursdays are not auspicious days for bidding adieu to Bengal's daughter, Durga. "Since Lakshmi Puja is held on Thursdays, most Hindu households desist from journeys on that day as the general belief is that bidding daughters farewell will mean turning away Lakshmi or wealth," the TOI quoted a Puja organiser as saying. It quoted Sanskrit scholar Debabrata Mukhopadhyay, who agreed that Hindu religion does not prescribe immersion on Thursdays, as saying, "If the administration forces the immersion of idols on that day, it will be against the tradition and custom."
Advertisement opens in new window
Reportedly, the matter was discussed with leaders of both Hindu and Muslim and communities and Maulana Quari Fazlur Rehman said that there was no conflict between Immersion and Eid celebration and he pointed out that even earlier Eid has been celebrated during Durga Puja. So why the rush to make a point about not holding Immersions during Eid? Analysts of Bengal politics feel it has to do with appeasement of the Muslim vote bank.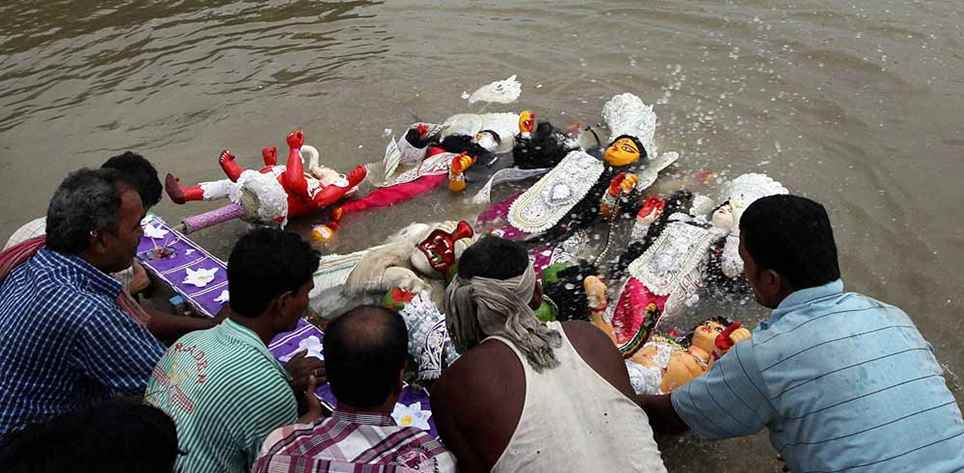 PTI Photo/Ashok Bhaumik
The PPB Malady
Informally, it's called the "Post-Puja Blues". Though this psychological condition has not received any formal nomenclature, PPB is a malady which afflicts hundreds and thousands of Bengalis this time of the year. "I feel really depressed after Dashami," said Sheuli Das, who works for a public relations firm and lives in a neighborhood which hosts two big Pujas. "I suppose it's all the hype around it. We start the countdown for the next year almost as soon as the Pujas are over and the thought that we will have to wait so long becomes unbearable," she said. "Her neighbour and friend Gargi Gupta says that she grows so attached to the idol of the Goddess, she finds it hard to deal with the pain of not having her around anymore. "I spend a lot of time in the pandal because it's so close to my house. I offer Anjali every day during Puja. It's just a few days, but the worship turns the clay idol into something real in our minds, as though she is a family member. Every day for five to six days she is there and then suddenly she isn't there anymore. You're staring at an empty pandal. It really leaves me feeling hollow."
Advertisement opens in new window
Psychiatrist Dr Deb Ray explains, "Whether it is Durga Puja or any other event that is associated with a deep anticipation—(the long wait, the mass frenzy) there develops a sort of psychological dependence and this makes it difficult to let go of that moment." No wonder the Immersion motto for years has been "Aaashchchhey bochchhor abaar hobey (Next year, once again)".

Durga's Woes
Below are some couplets from a Durga Puja poem which appeared in the October 10 issue of Ananda Bajaar Patrika:
Ami Dosho Prohor Anudhaarini / Kintu up-to-date hotey paarini
(I carry ten weapons in my ten hands / But I haven't managed to keep myself up-to date)

Prithibi dhai-dhai bodlaachchhey, khomota chaarchey Fidel Castro / Aar amar haatey shei mandhata-chappa maron—ostro?
(The world is changing, Fidel Castrol is relinquishing power / And I still carry medieval, old-fashioned weapons?)