"We had never met but not a single day in those 14 years passed without a telephonic interaction with him. I am still in touch with his daughter, grandsons and granddaughters. Even before we met, our relationship was like that of a family. We celebrated his birthday here in Mumbai and my birthday was celebrated at his residence in Lahore.

"Some relations can also evolve like this. Human relations do not always rely on meeting each other in person every day. When we talk about relationships between people on either side of the border, just a few thousand miles can't keep love from growing and blooming into a beautiful bonding. Saath rehnaa aur rozmarraa kii zindagii me milnaa zaruurii nahii, kuchh rishte ek dusre ki izzat aur ehteraam se bhii bante hain (It is not necessary to be together in everyday life, some relationships are built on respect and trust)". 
He removes his glasses to wipe the tears welling up in his eyes, lost in the world of his aching memories. I'm reminded of a beautiful couplet by Mirza Ghalib:
Yaad-e-maazii aazab hai ya-rab 
chhiin le mujh se Haafizaa meraa

Thoughts of the past are so painful, 
Oh God please take away my memory
Just a few minutes earlier I had entered Gulzar's aesthetically beautiful timbered living room in "Boskyana" as his bungalow in Bandra, Mumbai, is called—perhaps drawing from the word "Ashyana" (home) and his daughter's name, Bosky. The room, doubling as his office and library, is full of bookshelves; captivating paintings and sketches hang on the walls. Books lie scattered around his table and in the left corner stands a large bust of Mirza Ghalib carved in white marble stone.

My eyes fell upon several Buddha statues, two statues of Lord Ganesha and one framed photo of the Ka'aba door. Ayats written in Arabic reminded me of his lyrics in the song "Tere bina zindagi se koi" where Sanjeev Kumar talking to Suchitra Sen says: "Yeh jo phuulon ki belein nazar ati hain naa.darasal yeh belein nahi hain Arabi mai ayatein likhi hain..." (See these flowering branches—they are actually verses written in Arabic)

These different shades of divinity speak of Gulzar's syncretism, his devout secular and humanist ideas, his immense belief in communal harmony, and his sense of beauty and aestheticism. The ambiance reflects a beautiful heart, mind and soul. The element of mysticism that creates vivid imagery in his poems is evident in his view of human relations too: 
Saath rehnaa aur roz mulaaqat honaa zaruurii nahii, 
kuchh rishte yuun bhii ban jaate hain

Living together and meeting every day is not necessary; 
some relations are formed just like that
In a world where media amplifies the turmoil caused by hatred and extremism, it is moving to find such writers, poets and artists playing a vital role in the mainstream process of peace particularly at the people-to-people level. Their work breaks the silence over human sufferings and transforms societies through the power of their pens and brushes, songs and stories and dreams and debates.
When I entered the room, I could hardly believe that I was actually in the place where Gulzar thinks, writes, reads, feels and dreams. Was it here, at this desk, that he sat to pen some of the most poignant and intense lyrics popularized by the Indian film industry? Is this where he wrote the dialogues of the most legendary movies, and gave birth to his breathtaking stories? I was captivated by the moment, lost in the chimerical world of Gulzar's utopia, his sensational songs reverberating in my mind—like somebody flipping the pages of an old neglected book pulsating with nostalgic moments to relive.

The door opens and a graceful man steps inside the room in his characteristic crisp, white kurta pajama. A soft-spoken, gentle voice says "Adaab" and asks me to have a seat.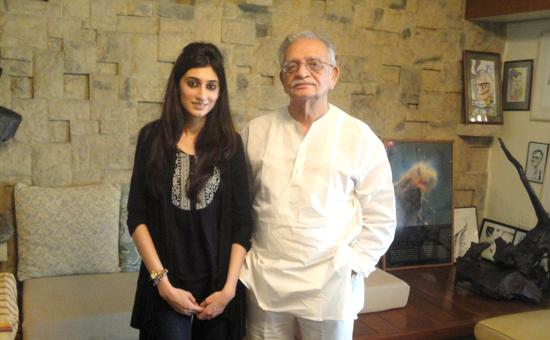 Photo by Sehyr Mirza: With Gulzar in his office: Where the past haunts the present
We begin our conversation with my question about his relationship with Ahmed Nadeem Qasmi whom Gulzar refers to as "Baba". He puts on his glasses as he answers. They were in constant contact since 1990, as Gulzar explained, speaking on the phone every day, without ever meeting. Then Qasmi was taken ill.
"Baba was admitted to the hospital and I was informed that he was suffering from a heart disease. I immediately decided to apply for a Pakistani visa. I called the Pakistan Consulate. The guy asked me when do I want to visit Pakistan? Tomorrow morning, I replied. It was Sunday the next day and the Pakistan consulate was off. But he said: 'I am well aware of your desire to meet Ahmed Nadeem Qasmi. I understand your feelings and respect your emotions. I will open the consulate office tomorrow at 11 am only for one hour to arrange for your visa. Meanwhile, you should rush to Delhi as soon as possible'.

"How I reached Delhi is a story in itself. I was granted a four-day emergency visa the very next day at 11 am. I was told not to appear before the media and barred from giving interviews to newspapers and television. I promised to stay away from the media.

"Shehzad Rafique, a friend was waiting for me at Lahore airport. He took me straight to the hospital where Qasmi saheb was admitted. It was the year 2004 and I think the name of the hospital was PIC. Emotionally stressed, I stepped inside the room. I saw him lying on the bed. They were doing his medical check up. Since Qasmi saheb was a big name in Pakistan, ministers frequently visited him in the hospital. The only issue was that the media followed them. I knew that I had to stay away from the media. Various newspapers and channels tried to contact me for interviews but Shahzad Rafique handled the situation very tactfully. Despite all our efforts, my pictures were published in the newspapers and I was seen in the news on the television too.

"After two days Baba was discharged from the hospital and we took him back home. This was my first meeting with Baba. I returned to India after four days only to learn that Baba had fallen ill again. One day I got the news that he had left us.

"Baba ke saath meri pehli mulaqat hi akhri thi. Dusri mulaqat mai ab kar ke aya hun jo zaruri reh gayi thi. Uske baghaer daira tuta sa mehsus hota tha" (My first meeting with him was my last. The second meeting I just had, which was essential. Without it, the circle seemed broken somehow).

"When I recently visited Pakistan, the first thing I did was to visit his grave in Samnabad. I felt content after meeting him. While standing near his grave I said: "Mai haazir huun" (I am here). I bent and kissed the gravestone. "Sunte honge zaruur mujhe. Haalaanke unhe aadat hai yahaan merii aawaz sunane kii lekin wahaan bhii sun liyaa hogaa unho ne mujhe (He must have heard me. Although he was used to hearing my voice here, he must have heard it there too)."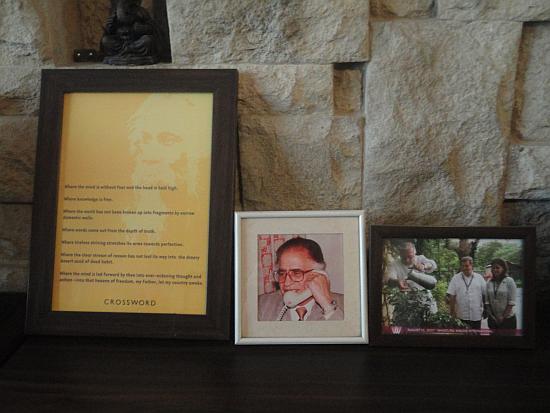 On Gulzar's desk: S.M. Shahid's photo of Ahmad Nadeem Qasmi talking on the phone to Gulzar
Photo: Sehyr Mirza:
"His photo is always on my desk in my office. It was sent to me by a Pakistani photographer S.M. Shahid from Karachi along with a letter which stated that the importance of this photograph is only that Ahmed Nadeem Qasmi is talking to you on the phone. Mai ab bhi aksar unse baatein karta hun" (I still talk to him often).

"To ye mera rishtaa hai Ahmed Nadeem Qasmi saahib ke saath yahi puuchh rahi thii naa aap? (So this was my relationship with Ahmed Nadeem Qasmi — that's what you were asking me, right?)"
I wanted to ask him about his poem Julaahaa, but he asked me to confine our talk to India-Pakistan and the complications of human relations since the tragic event of partition.

We talked about Aman ki Asha and his poetry supporting peace between India and Pakistan.
"Mehdi Hasan once said fankaar ka koi mulk nahi hota (artists do not belong to any country). Mehdi Hasan who was suffering from a prolonged illness always had a desire to visit India. He came over to my place in Mumbai when he was here for his treatment. Tab yeh kehna paRaa (at that time I had to say):

aankhon ko visa nahii lagtaa,
sapno ki sarhad nahii hotii
baNd aankhon se roz main
sarhad paar chalaa jaataa huun
milne Mehdi Hasan se

(Eyes don't need visas, 
dreams have no borders; 
With closed eyes 
I cross the border, every day, 
to meet Mehdi Hasan)
Is there any ray of hope for India-Pakistan relations to improve in future?
unkaa jo kaam hai ahal-e-siyasat woh jaane
meraa paighaam hai mohabbat, jahaaN tak pahunche", replied Gulzar.

(Those whose work is politics, they know;
my message is love, wherever it reaches)
I asked him about his recent visit to Pakistan which had caused much commotion on both sides of the border. Some thought his sudden return to India was due to political reasons, while others cited security concerns. Gulzar tells an entirely different story.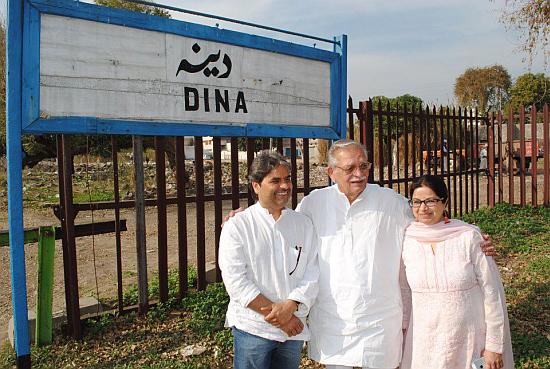 Gulzar at Dina, with Vishal Bharadwaj
Feb 12, 2013. Photo: Courtesy: Radio Pakistan

"When I went to Lahore this time, my friend Hasan Zia from Karachi received me at the airport. Just like Ahmed Nadeem Qasmi now I have family ties with Hasan Zia. You can say that I have two family members in Pakistan—Hasan Zia in Karachi and Zafar Hasan in Lahore. Zafar Hasan has written a book on me and has done some very important research work on Sir Syed Ahmed Khan. Ayub Khawar and Amjad Islam Amjad are two other very good friends in Lahore.

"After paying a visit to Ahmed Nadeem Qasmi at his grave in Samnabad, I wanted to go to Dina (his birthplace, near Rawalpindi). I was only 8 years old when I left my hometown.

"Meraa ghar wahaan hai. woh galii jahaan meraa ghar thaa woh wahaan hai. Meraa madrassa wahaan hai (My home is there, the street where I lived is there, my school is there)

"Returning home after 70 years, I could still recall the minutest details. I have been obsessed with my motherland, my village and my home. Everything looks the same. Only the population has increased. Dono taraf ke kasbe aur gaon aik tarah hi barde ho rahe hain (the towns and villages on both sides are growing in a similar manner). Population is increasing, the pace of progress is similar and why won't it be similar- when the people on both sides are the same....logon ki fitrat hi aik si hai dono taraf (human nature is the same on both sides).

"A few years back I received some photographs of my home—the door looked familiar. Now they have changed it. The shop outside my home still looks the same. The premises now house Sheikh Idrees and his family. I went inside my home. I could see myself there.

"Just a few miles away stood my school. Already informed about my visit, the principal and the staff awaited my arrival to greet me with garlands and flower bouquets. Their love, respect, cordiality and hospitality were incredible.

"I remembered the school having only two blocks—two rooms in the left block and four in the right block. Now they have built another block. What was then just a primary school has now been raised to the level of a boys' high school. One of the blocks bears the name, "Gulzar Kalra Block".

"Moved by the love, respect and honour of this one gesture, I could not help crying.

"I asked them how they remembered Kalra. One of them replied: "Aapke baba ka naam to yahi thaa" (that was your father's name).

Amongst the crowd was an elderly man who remembered the names of my sisters and brothers. Taken aback by his memory, I wondered how he remembered all the names. He said "Mai tumhaare ghar aaya kartaa thaa, hum saath khelte they. yeh bhi yaad hai mujhe tumhaare to ghutne chil jatey they" (I used to come to your house, we played together. I also remember your knees getting skinned).

"He said that he was my school fellow. I was in class one and he was my senior.

"Another aged looking man with deep wrinkles that seemed to have carved a map of his life on his lively face, appeared from the swarm of people and with a shrivelled toothless smile said: "Dekh bhai teraa payo mere kolon 5 rupey karaaya lendaa si—maalak makaan si saada. Hun tu aaya en tey 5 rupey le jaa mere kolon" (Look brother, your father used to take five rupees rent from me. He was our landlord. Now you have come, take five rupees from me).

"Can you imagine what it means? Can you imagine how emotional a moment?"
Gulzar's voice cracks with emotion.

Yet he somehow makes the surreal moment seem more real than reality as he walks down memory lane and outlines every profound image in his sublime way.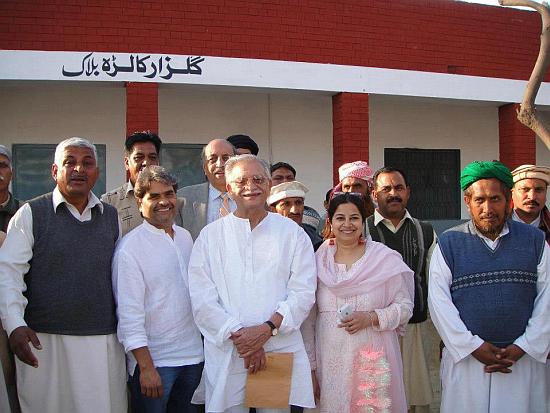 Gulzar Kalra block, Boys High School, Dina
Gulzar in front of his old school where a block has been named after him.
Photo: Courtesy: Radio Pakistan

He continues:
"At least one kilometre far is Kalra. That is where my father was born—where my grandfather lived. Streams of people flowed down the streets and had gathered around me by now. I was craving a moment alone but this was the price of fame that I had to pay. Standing miles away I could see Kalra setting down in sun. I looked at Kalra for a long time and refreshing childhood memories kept flitting through my mind.

"I went to Dina railway station. The platform, the building, and the waiting room, everything seemed familiar. The platform is quite wide. duur taq gaaon nazar aata hai (the village is visible all around). I could see the level crossing which leads to Rohtas Fort. I could recall each and every moment I had spent there during my childhood. Meri yaadaasht bohat kaam aayi us din (my memory served me well that day)!

"I want to apologize to the people of Dina who were waiting for me, who made splendid arrangements to greet me, who cooked scrumptious food for me and laid out a huge lunch for me. Gripped by nostalgia, I felt very uneasy in the chest. It was not possible to stay there any longer.

"Dil kuchh is tarah se bhar aaya thaa meraa, ke paet bharne ki gunjaaish nahii thii (my heart had filled in such a way that there was no space to fill my stomach).

"I couldn't explain my feelings to them. Kahaan jii kartaa hai phir khane kaa jab dil hii bharaa ho. Bas yeh chaahtaa thaa ke ek lamhaa mil sake akele baeth kar ro sakuun. Lekin woh nahii mil paayaa. Bas woh namak chhuwaa unke haath se—itnaa hi bohat thaa! Woh namak mere apne watan kaa thaa. Mai hameshaa apnii nazmon me kehtaa huun ke meraa des to Hindustan hai lekin meraa watan Pakistan hai kyuunke woh meri janam bhuumii hai. (How could I eat when my heart was so full. All I wanted was a moment of solitude so I could sit and weep. But I could not get that. I just touched the salt from their hands, that was enough. That salt from my own nation. In my poems I always say, India is my country but Pakistan is my nation because that is where I was born.)"
I present him Ahad Nama-e-Mohabbat —a book by Saeed Ahmed. He looks delighted reading about himself on page 724. "I never knew somebody would remember this film of my struggling period". Jeevan Sangraam, a film on Ghadar Party Movement in India did not receive its due appreciation, but is definitely a must watch!

Before leaving, I asked if he had a message for the people of the sub-continent.

He laughed and replied "Kulyaa naa karo jhapiyaan payaa karo" (Don't fight, embrace each other).
---
Sehyr Mirza studies English Literature at Goldsmiths, University of London and is a classically trained vocalist from Lahore. This piece was first published in the News, Pakistan, courtesy Aman Ki Aashaand is republished here with the author's permission.