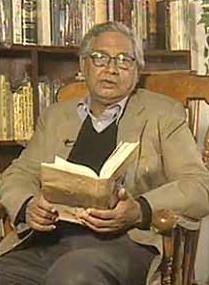 I still remember the first time I saw Shahryar chacha. I must have been nine or ten. I was spending my Christmas break with my father who had recently been transferred to Lucknow. One morning he announced that we would be receiving visitors; a newly married poet friend and his wife. My father suggested that I should present the wife with some flowers, maybe a rose. So I clutched a rose and waited for them to arrive. When they did, I felt too shy to proffer the flower, and hoped no one would notice a wilted rose lying on a side table. He had a shock of wavy hair and a prominent mole on his cheek, Najma auntie wore traditional clothes. There was lots of poetry reading and lots of tea drinking. I had memorized a poem or two of Shahryar chacha and was called upon to recite:
voh jo aasman pe sitaara hai
use apnii aankhon se dekh lo
use apne hotoN se chuum lo
use apne haathon se toR lo
ke usii pe hamlaa hai raat kaa

See
That star in the sky
Touch it with your lips
Take it in your hands
For the night's attack
Is upon it
(I am quoting this poem from memory)
To be honest I had no idea what the poems meant; I enjoyed them for their musical, metrical sound and was fascinated by the rapturous response of vah-vah from the audience. As I grew older I learnt to distinguish between good, not so good and bad verses, mostly through careful listening. A ghazal is made up of self contained two line verses, some of which could be outstanding and others plain ordinary. The non- ghazal poems called nazms had an innate rhythm too, but blank verse did not appeal to me much because I found it loaded with imagery and smothered in metaphor.
Meanwhile, there were many occasions to meet and hear Shahryar chacha recite. He often visited and stayed overnight at my parents' home in Lucknow and later Delhi. I thought that he wrote such remarkable poetry but recited it so awkwardly, almost laboriously, that much of the delicate meaning was obscured instead of being heightened by recitation. Also, he did not present his poems in tarannum. That is, he did not sing; yet, he was appreciated, a sure sign of a good poet. Slowly, I began to understand and recognize the different poets by their styles. Shahryar chacha's poems could be disarmingly simple yet they had a mysterious staying power, an almost haunting resonance that rewarded a perceptive listener or reader:
voh kyaa thi

merii garm saaNsoN ki sargam ko sun kar
hawaa* jhuum uthii
baRii der tak paagalon kii tarah
mere gird kartii rahi raqs
aur phir
kisii khauf ke tiir se
zakhmii ho kar
mere baazuon meiN taRapne lagii
aur
mere jism ko barf ki sil banaa kar
naa jaane kidhar aur kahaan jaa chhipi voh
havaa thii ke koi balaa thii
voh kyaa thii?
(from Ism-e azam; first collection of poems 1965)

What was she?

Having heard the melody of my warm breath
Breeze* was ecstatic
A long while she danced around me
Like a crazed person
And then
Wounded by an arrow
Of some unknown fear
She writhed in my arms
And
Turning my body into a slab of ice
I don't know where she went
And hid herself
Was she desire* or an affliction
What was she?

[*hawaa means air, breeze and also desire]
I can clearly recall the excitement of the planning of Shahryar's second collection - Satvan Dar (Seventh Door). It was published from Allahabad, under the aegis of Shabkhoon Kitab Ghar, the organization that supported the modernist journal that my father edited. Although, the Urdu language had received a set back because of India's Partition, for political reasons that we need not go into here, yet looking back on those years now, it seems that there was no dearth of talented Urdu writers in India. There was a curiosity and untrammelled enthusiasm among Urdu writers on both sides of the border to read each other's work, and books and journal flowed freely between India and Pakistan. In a culture where poets and poetry also thrive through mushairahs (poetry reading before an audience) there had always been a healthy sense of competition and rivalry among poets. With the creation of Pakistan, Indo-Pak mushairahs became the rage, and almost all the Indian Urdu poets, whether writing in the classical or Progressive or Modernist style got energized by the cross pollination from across the border.

I think Shahryar's meteoric rise as a poet both in the mushairah and literary circuit was partly due to the heightened literary scene of the 1960s. Progressivism was displaced by Modernism and the modernist journal Shabkhoon began publishing poetry across the borders. Shahryar had begun his poetic career under the wing of Khalilur Rahman Azmi (1927 -74), who was a brilliant, discerning theorist of Progressivism, and also a sensitive poet. Azmi become aware of the inexorable pull of modernism and welcomed it. His untimely death cut short an exceptional talent's fruition. However, Azmi's influence guided Shahryar towards the modern rather than the Progressive.

Shahryar's affiliation with Shabkhoon propelled him into the front ranks of a not just a modernist Urdu poet but a modernist ghazal poet as well, which is somewhat of an anomaly. The ghazal was reinventing itself in the 1960s. It successfully retained its form and structure -- the elaborate rhyme schemes of the two-line verse or sher, but enlarged its canvas and its idiosyncratic, stylised world to include themes that reflected the changed times. Shahryar's poetic genius helped in the transition of the ghazal to new pastures. He changed the language of the ghazal in subtle ways by incorporating new ways of expressing old ideas and also brought some new ideas packaged in the ghazal idiom:
jaane diiwar se uljhii ke kisii khushbuu se
su-e gulzaar gayi laut ke aayee naa sabaa

did she entangle with a wall or some fragrance
the breeze did not return from the garden
and
chain lene nahiiN detii merii wahshat mujh ko
aur kuchh duur mere shahar se sahraa ho jaay

loneliness does not let me repose
I wish the wilderness were far from my city
In order to understand the charisma of Shahryar's poetry I went back to his first slim divan, Ism-e Azam. To my surprise I found many of his well known ghazals, such as the ones that became popular because they were sung by well-known artistes and placed in mainline cinema, in this slender little divan. Of course, that does not mean jumping to the conclusion that his early work is his best work. Leafing through his recent collection, Shaam Hone Waalii Hai (2004) I could not help noticing that a lot of the earlier themes were recycled. The restlessness, the insecurity (siine mein jalan, aankhoN mein tuufan) was still lingering there:
dil mein tuufaan hai aur aankhon mein tughyaani hai
zindagii ham ne abhii haar nahiin maanii hai

a tempest surges in my heart and eyes a deluge
Life, I haven't given up yet

(This is the first ghazal in Sham Hone Wali Hai)
But the ghazal thrives on recycling and polishing of mazmuns (themes). So what am I saying here? I think I would have liked him to rewrite the ghazal again, expand its horizons and take it to new frontiers; infuse it with a new uncertainty that is direr than storms and floods and unquenchable thirst. Would I like him to write about road rage and computer crashes, and new frustrations that make primeval fears run and hide? No; I was searching for erudition, a style of exposition that enfolded more than just emotion. I noticed a lack of freshness in his style that made me think that perhaps he is now stagnant. I also noticed that his recent poems (2004) have become more sensual and less inhibited. He explored sensual awareness with pleasure instead of bitterness.
laboN se dhuum baarish aasman tak jaati maujeiN
badan kishtii musaafir ke liye girdaab thaa voh

tumultuous rain from lips, waves reaching sky-high
body a boat, and a whirlpool for the traveller
Shahryar has published five slender collections of poems thus far. He is one of Urdu's leading poets. As for being singled out for the award of Jnanpith, one of the nation's highest literary honours, it is matter of pride for Urdu. The question many are asking is: Does Shahryar have the same stature as Firaq Gorakhpuri, Qurratulain Hyder and Ali Sardar Jafri? Is Shahryar's name synonymous with Urdu?
The news of Shahryar's winning the Jnanpith was a bit of a surprise. What does the award acknowledge? A life time's achievement? An outstanding talent? Or, an exceptional contribution to a particular language and literature? I have never really understood the exigencies that motivate the nomination. All I can say is that awards should acknowledge thriving talent, a blooming rose, not a wilted one.
---
Mehr Afshan Farooqi, Assistant Professor at University of Virginia, is the editor of The Oxford India Anthology of Modern Urdu Literature