On Sunday, Himanta Biswa Sarma, the Chief Minister of Assam, raised the issue of the gruesome Mehrauli killing, which led to communal riots in northeast Delhi in 2020.
---
Shraddha Walkar was allegedly murdered by her live-in partner Aaftab Amin Poonawala who chopped her body in 35 parts and disposed it over months.
---
Members of Vishwa Hindu Parishad (VHP) opened 13 Mehendi stalls with Hindu artists for putting Mehendi on women. They have ensured to cross-check their religion via their Aadhar Cards. 
---
Suresh Chavhanke of Sudarshan News has a history of objectionable comments on Muslims. He earlier produced a television show on 'UPSC Jihad'.
---
The woman and the accused further moved the High Court seeking to quash the FIR filed by the Gujarat Police and alleged that they had brought the Love-Jihad angle on its own and that it contained grossly incorrect and...
---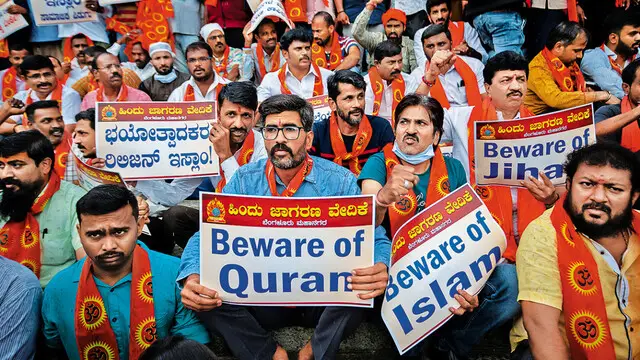 PFI came into being in response to violence against Muslims. Political silence on it only helped the fundamentalist outfit grow in coastal Karnataka
---
On Wednesday, Ram Kadam, a BJP legislator from Mumbai, urged the Delhi Police to investigate the possible "Love Jihad" angle behind the murder of Shraddha Walkar.
---
Two policemen, including a Station House Officer, were suspended days after a man attempted self-immolation outside the district collectorate here. Officials said the police failed to track his daughter, who was allegedly...
---