The London based Observer's video "Human Safaris" showing semi naked Jarawa tribal women being asked to dance before tourists in Andaman islands appears to have caused at least some ripples in India. Predictably, the controversy is focused on 'vintage of the video' and whether 'policemen were involved in orchestrating the event'. DGP Andaman states, "This video-clipping, it is not fresh and not of recent time. Apparently, people have seen it on the internet for last four or five years. So that is yet to be established. But the fact is that it is not something which has happened in the last few weeks or months" even as JNU Researcher-Scholar Pramod Kumar (who has even lived with Jarawas) assesses it to be recent.
The UT Administration says it will initiate prosecution against the videographer. How that will happen against a foreign national is anybody's guess considering precious little has been achieved in bringing to book even perpetrators of the 26/11 Mumbai terrorist attacks. The home ministry has apparently directed the UT Administration to find out when the video was photographed, how the primitive tribals living in seclusion came in contact with outsiders and to find out the people responsible for their exploitation. Apparently, considerable money will be spent on the investigation including forensic tests and the like.
As per media reports, the home minister too is slated to visit the UT shortly. The directive to find out 'how the primitive tribals living in seclusion came in contact with outsiders' indicates how the government is totally out of sync with ground realities. A close friend touring Andaman & Nicobar with his family two years back was driving south along the only road leading out of Port Blair, wanting to explore the entire island, right upto the end of the road. A three hour drive saw them driving through the Jarawa territory. He and his family were shocked during a brief halt as a child wanted to relieve himself, when Jarawa women and children came running to their vehicle begging for food: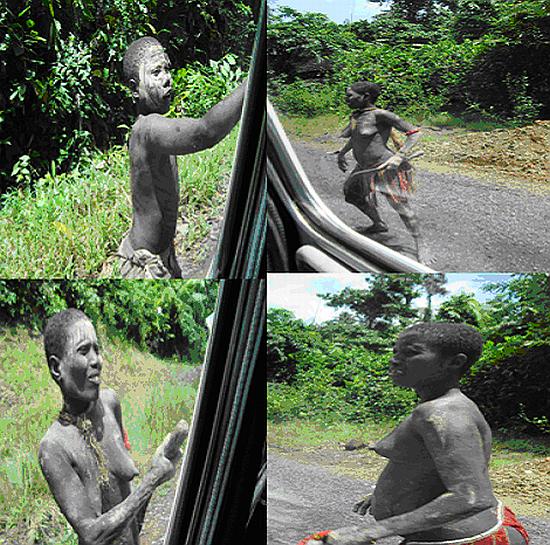 The children wore shorts and spoke Hindi words. The women too spoke few words of Hindi, using which, they begged for bread and biscuits for their children. Bewildered, my friend made a u- turn, abandoning plans of travelling further South and made a beeline for Port Blair. While still within Jarawa territory, it started pouring very heavily. This time they were confronted with two fully grown, stark naked Jarawa tribal women in soaking rain trying to stop their vehicle and gesturing they wanted something to eat. My friend and family say they felt ashamed to be Indians at that moment. At Port Blair, they spoke to locals and were told that tribals mingle with road construction parties in Jarawa territory. That is how the kids wear shorts and know the taste of bread and biscuits.
Jarawa habituated jungles abound with deer but Jarawas do not kill or eat deer. Hence, they have to survive on speared fish, smaller wild animals, fowls and jungle produce. Most disturbing was being told that when a Jarawa wanted to admit his child in the nearby primary school, this was denied on grounds it would militate with "preserving Jarawa primitiveness and culture." Perhaps, the 'preservation' assists flow of lakhs / crores of rupees towards this, which vanish as in all such cases, while Jarawas wallow in beggary. The façade of Jarawas not wanting to mingle is hogwash. Fact is they want to progress and develop but are denied the same while the Administration does not even cater to their hunger pangs. We forget that millenniums back the Indian landmass broke away from Africa and bumped into Asia forming the Himalayas. If time permitted us to develop into what we are today, what right do we have in forcing Jarawas into perpetual primitiveness?