Long ago, before liberalisation and globalisation gave it a standard, happy, upmarket gloss, Hindi cinema also boasted of a series of films that introduced my generation to the ideas of class struggle, workers' rights and unions. They spoke about the exploitation of the innocent villager/worker, usually forced to migrate to a town from his village, in search of a job at a mill, mine or construction site. This Labour Day I revisit 10 such classics. 
1) Namak Haraam (1973): 
I love this Hrishikesh Mukherjee film for its fair and nuanced treatment of the labourers versus management issue. There is no black or white here, only shades of grey. Somu (Rajesh Khanna) and Vicky (Amitabh Bachchan) are forced to go on either side of the class divide despite their deep and abiding friendship. As the film lore goes, Amitabh had expressed his apprehensions about taking on the role of Vicky, the owner, as he was sure that Somu, the worker, would walk away with audience sympathy. However, Amitabh's character had such beautiful shades that not once do you hate him for doing his dharma. The imagery that stays stuck in your mind is that of the repentant Somu singing by the side of the dying worker-cum-poet played by Raza Murad
"Sholon pe chalna tha, kaanton pe sona tha
Aur abhee jee bhar ke, kismat pe rona tha
Jaane aise kitne, baakee chhod ke kaam, main chala, main chala
Main shayar badnaam..."
Despondency is in the air and stays with you long after you finish watching the film. Blame it on Anand Bakshi and R D Burman.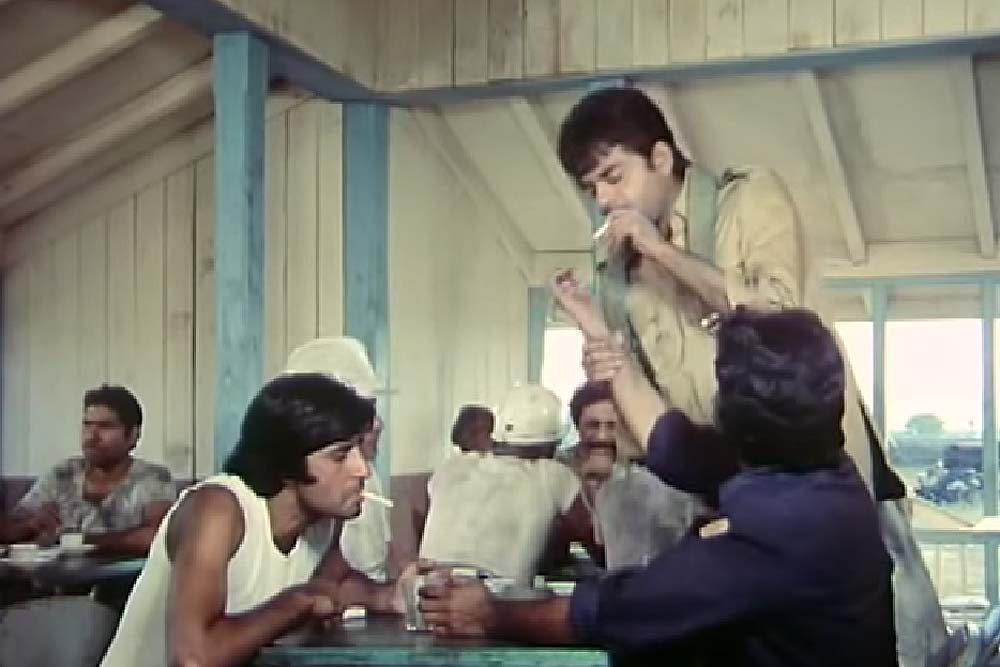 2) Kaala Patthar (1979): 
I consider this film to be one of Yash Chopra's finest. Unlike Hrishida's nuanced Namak Haraam, here the director's sympathy is clearly with the coal mine worker. Not surprising since the film was based on the Chasnala mining disaster of Bihar. The character of Vijay and his immortal line "Pain is my destiny, Doctor" when he refuses to take anesthesia at Rakhee's clinic, leaves an indelible image on one's mind. Surely one of Amitabh's finest performances. Shatrughan Sinha as the rival mill worker and aspiring leader and Shashi Kapoor as the engineer with the heart of gold were a perfect foil to Amitabh's angsty, disgraced ex- Merchant Navy officer-turned-mill worker character.
The film also gave us what was perhaps the first roadie song in Hindi films — "Ek Raasta hai Zindagi" (Sahir Ludhianvi).
3) Sagina (1974): 
Made first in Bengali with the same cast and director (Tapan Sinha), this Dilip Kumar-Saira Bano film introduced my generation to the character of the evil and exploitative Communist leader. Sagina Mahato, the villager working in a tea estate, is fed up of playing slave to his British masters, when a Communist/Marxist leader recruits him and asks him to lead his men to revolt. Although the film didn't do well commercially, it left an impression, particularly with its songs "Aag lagi humri jhopadiya main, hum gayibe malhar " and "Saala main to sahib ban gaya" which reflect Sagina's innocence and effectively contrast it with the wily ways of his tormentors.
4) Do Bigha Zamin (1953): 
The film is about the plight of the farmer whose piece of land needs to be acquired for setting up industry, for development. Some things don't change, do they? Pity we are still having the same debate, more than five decades later. Balraj Sahni's sincere performance can melt the hardest of hearts. Manna Dey singing Shailendra's lyrics — "Apni kahaani chhod ja, kuchh to nishani chhod ja, Kaun kahe is ore, tu phir aaye na aaye" — could be the anthem of many a poor and starving farmer who migrates to the big city in search of work. I find the climax scene absolutely heart breaking.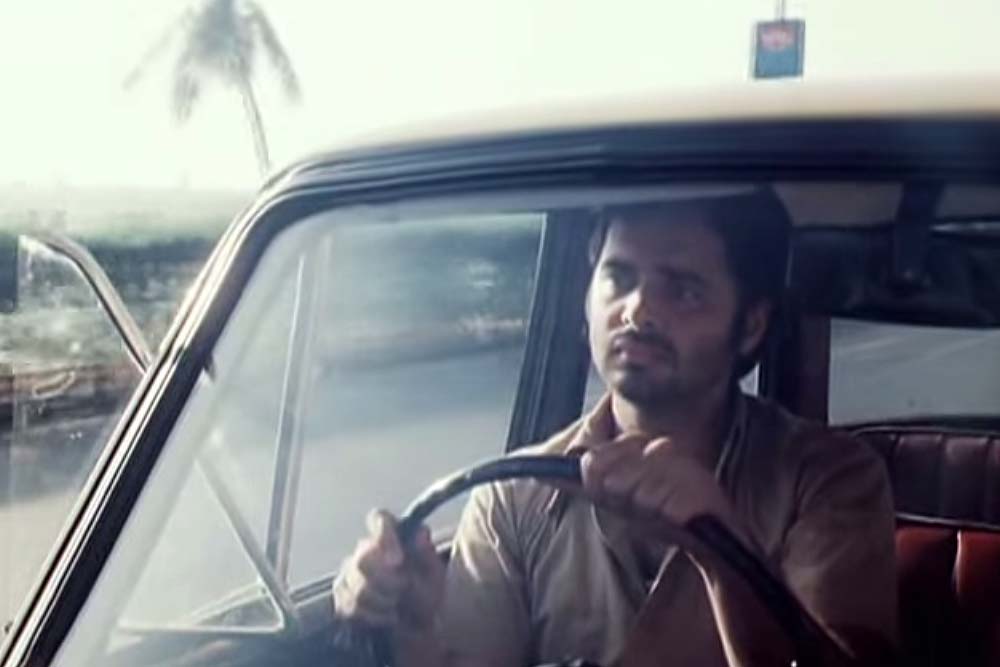 5) Gaman (1978): 
Immortalised by Suresh Wadkar's haunting rendition of Shahryar's "Seene me jalan, aakhon main toofan sa kyun hai, Iss sheher main har shakhs pareshan sa kyun hai" This film will always be remembered for the late Farooque Shaikh and Smita Patil's vacant eyes, full of despair, waiting for a better tomorrow. Great actors don't need long dialogues, they are perfectly capable of emoting with their eyes. Smita Patil, pining for her husband who is away earning a living, makes you feel all wretched inside, with the Chhaya Ganguly song in the background — "Aap ki yaad aati rahi raat bhar, chashme nam muskuratee rahee, raat bhar."

6) Dastak (1970):
I would call this a precursor to Muzaffar Ali's Gaman. Superb music by Madan Mohan who gave Lata Mageshkar some of her best songs in this film. "Baiyyan na dharo" is every music competition hopeful's favourite. But "Mayee ree" is what really stands out, describing the feelings of a lonely woman, who suffers silently as her man grapples with issues of rozi-roti in the big, bad city. Sample this —
"Aankhon main chaltey phirte, roz mile piya baawre,
baiyan ki chhaiyan aakey, miltey nahi kabhi saanware, 
dukh yeh milan ka leke, kaah karoon kahaan jaaon rey,
paa kar bhi nahi unko main paati, maayi ree…"
It indeed takes a writer-director like Rajinder Singh Bedi to focus on the suffering of the woman who is displaced from her maternal home when a migrant worker struggles to set up home in the city. 

7) Albert Pinto Ko Gussa Kyon Aata Hai (1981):
I remember this film out of several others on a similar theme (made by stalwarts like Saeed Mirza, Govind Nihalani) all because of its rather long and remarkable title. Also because Naseeruddin Shah's portrayal of the angry, helpless, confused, frustrated mechanic is as perfect as it can get. 
8) Mazdoor (1983): 
My all time favourite song that spoke of the rights of the proletariat is from this film —
"Hum mehnat kash is duniya se, jab apna hissa mangenge,
Ik bagh nahi, ik khet nahi, hum sari duniya mangengey".
I would watch the film again only for Dilip Kumar. The "evil daughter in law" sidetrack played between Rati Agnihotri and Raj Babbar was distracting though, the stuff of today's saas-bahu serials!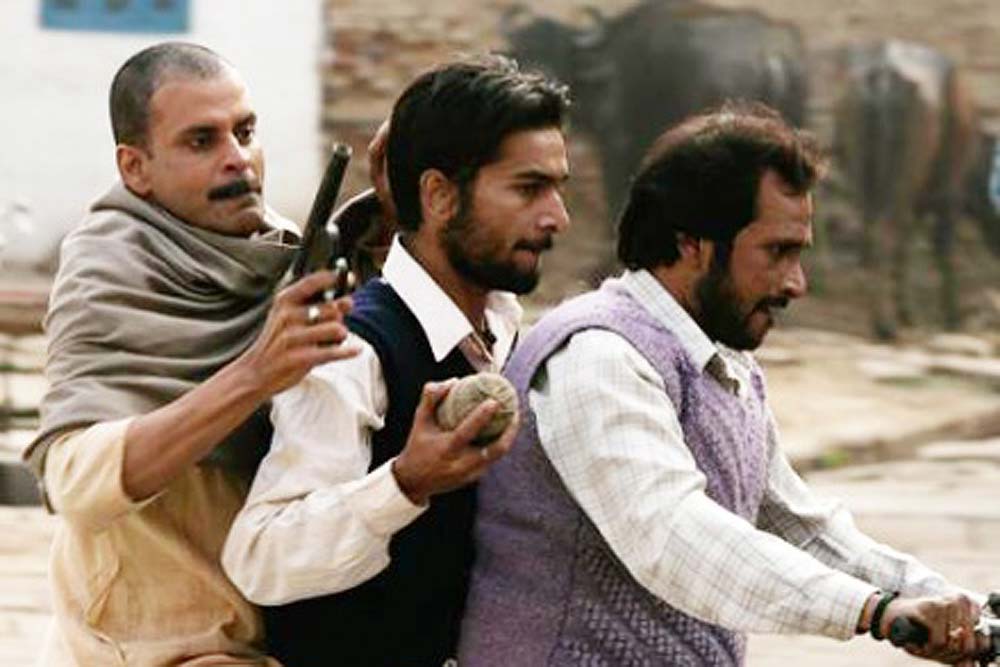 9) Gangs of Wasseypur Part 1 (2012):
I would call this Anurag Kashyap's ode to Kaala Patthar. I witnessed it first hand in Cannes, how the French went crazy over this beautifully made, stylish film which played for 5 hours. I love part one more, primarily for Manoj Bajpai's character of Sardar Khan, who threatens throughout the film to publicly kill Ramadhari Singh (Tigmanshu Dhulia), the coal mafia don, to avenge his father Shahid Khan's death ("Teri keh kay loonga!"). Violence was never so delightful! The film opens with the emergence of coal mafia in Wasseypur in Independent India of 1947 and describes how "leaders" sprouted to protect unsuspecting and naive workers from being exploited. 
Although the film ends with Sardar Khan's death, he goes down in style, and you can't help singing along "Jiya ho Bihar ke lala, jiya tu hajaar saala…"
10) Deewar (1975):
Although this film is best remembered for Amitabh Bachchan's confrontation with his cop brother played by Shashi Kapoor, the opening scenes of the film explain the evolution of Amitabh's character rather well. The trade union leader father, who is blackmailed by the mill owners into betraying his fellow workers, the irate workers tattooing "mera baap chor hai" on his little son's arm, the shame that follows the mother and two brothers all their lives, set the background for this powerful delivery vehicle for Amitabh's "angry-young-man" persona. It is said that Amitabh's character Vijay was modeled on Haji Mastan.
In fact Agneepath continued with the theme of the honest teacher father who is trapped and hanged by the evil Kancha in full public view. Of course Vijay Dina Nath Chauhan must avenge his father's ignominy and death. Harivansh Rai Bachchan's lines were perhaps meant to alert us to the plight of the ordinary worker who struggles every day of his life —
"Vruksh hon bhale khade,
hon ghane, hon bade,
ek patra chhanh bhi, mang mat, mang mat, mang mat,
Agnipath, Agnipath Agnipath"…

Tu na thamega kabhi, tu na mudega kabhi, tu na rukega kabhi,
kar shapath, kar shapath, kar shapath,
Agnipath, Agnipath, Agnipath.

Ye mahaan drushya hain,
chal raha manushya hain,
ashru swed rakt se lathpath lathpath lathpath..
Agnipath, Agnipath, Agnipath."
Long live the ordinary labourer. More power to him and her.
---
Nirupama Kotru is posted as Commissioner of Income Tax at Delhi. She was formerly Director (Films) in Ministry of Information & Broadcasting. Views are her own.