Complexities and conundrums
It's complicated. That's the only way one can describe the relationship between political parties in West Bengal currently. The earlier black and whiteness — everyone knew, for instance, that the CPI-M and Trinamool were arch rivals and would never join hands — has been replaced by a murky grayness and it's increasingly getting difficult to predict which way the wind is blowing as the Assembly elections which are scheduled to take place in less than a year draw nearer.
The ambiguous stances of political parties started to show up soon after chief minister Mamata Banerjee met Prime Minister Narendra Modi privately in New Delhi, after months of bitter public insult-trading. Political observers note that a mutual agreement may have been struck between the two leaders in which it was possibly decided that if Mamata's MPs supported Modi's party's decisions in the upper house, the central investigative body CBI, which was cracking down on Mamata's party workers in a chit fund scam in the state, would go easy on them.
Whatever the case maybe suddenly there seems a possibility of a Modi-Mamata tie-up with their respective parties, BJP and Trinamool, suddenly speaking in support of each other. "We should look at our own faults and not that of others," BJP minister Rajnath Singh said during a Bengal visit when asked to comment on the Trinamool's "poor governance" — a pet topic for BJP leaders not too long ago.
This has had a domino effect on parties, who must re-think their political strategies. The Congress, which in the Centre was inching cautiously towards a possible patch up with Trinamool (Mamata also met Sonia Gandhi), now doesn't quite know whether to join hands with the friends of its arch rivals, the BJP. The CPI-M and other Left parties too are in a fix. During yesterday's (August 18th) strike called by Congress to protest the murder of a student in a college campus, Biman Bose, usually generous with his snide comments against the TMC, refused to take a stance saying that the party remained neutral. Supporting the strike may jeopardize any possibility of a tie-up with Mamata to keep the BJP out but not supporting it would mean antagonizing the Congress, with which it can get together to keep both Trinamool and the BJP out. It's more than complicated. It's downright confusing.
M&M
To the delight of Calcutta's commuters, work on the jinxed Calcutta East-West Metro Rail which kept getting stalled because of land disputes, has once again started. This is one of the advantages of the new-found Mamata-Modi camaraderie as the Center and state put their heads together to solve problems. Earlier, the strained Centre-State relations meant that when the state government needed clearance for the project for land under the Center's jurisdiction it would have to wait eternally — mostly in vain — for no-objection-certificates. A major patch that was holding up work has recently been cleared. However, two other NOCs are awaited for the project to move ahead. One from the Army and another from the Archeological Survey of India. Let's hope the M & M friendship lasts that long.

Solar farming
The wide expanses of still unused land around the Calcutta Airport may soon become the site of one the country's greenest patches as the Airports Authority of India initiates a solar farming project there. The AAI director AK Sharma told a local newspaper that it has identified 50 to 60 acres to set up the 15 Mega Watt solar farm. Reportedly he pitched the idea for the project at a meeting in New Delhi last week and it was sanctioned. He said, "Kolkata airport has a lot of land to meet safety requirements but does not have productive use at present. So we wanted to utilise this land for solar farming".
Evolving Bengali literature

Author Soma Ghosh, who lives in Manchester, UK, launched her first book of Bengali short stories Aparajita Ohey (Hey Aparatijta) in Calcutta this week. The session turned into a Sunday evening adda with publishers and writers debating whether Bengali literature through the ages preferred "twists in the tales" or was the treatment more important. Ghosh who moved with her husband from Calcutta to the UK several years ago said, she let herself be guided by her experience rather than consciously decided on the flow of her tales. She started writing in Orkut the social media site, when friends urged her to compile it all in book form. A collection of personal experiences emerged with themes as varied as extremely loneliness to utter happiness. "Bengali literature is evolving and this is a new approach and a new method that publishers are following for commissioning manuscript and we feel it is very organic and will catch on in the future," Amitav Nag of Srishtimukh, publishers of the volume told Outlook.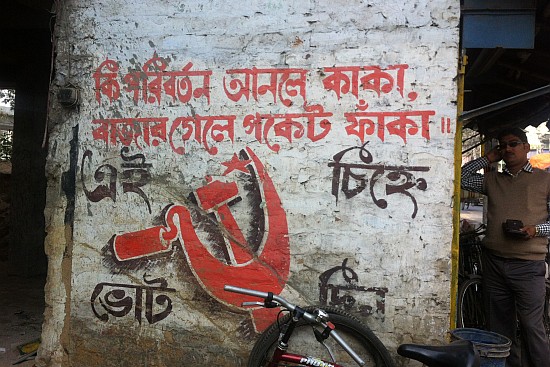 Writing on the wall
"Ki Poriborton Anley Kaka…Bajar geley pocket phaka". (What kind of change have you ushered in, Uncle?...a visit to the market means an empty pocket)