Ducati is known for making some nutter bikes but nothing seems nuttier than the Hypermotard, specifically the earlier generation ones. The supermoto-style tall seat had your crotch on the fuel tank and riding the bike felt like riding a horse, a wild one. And it behaved like one as well. Whack the throttle open and the primitive traction control would fight to keep the front wheel down, resulting in a bucking sensation. A quick ride on one of those old Hypermotards would have you hyperventilating -- that is, if it didn't throw you off. This wild side makes the Hypermotard an enigma. The new ones are quick but tamer-ish thanks to their sophisticated rider aids. As we gear up to ride the new 2019 Hypermotard 950 in Gran Canary (stay tuned for the first ride report), we take a look back at how the Hypermotard has evolved over the years.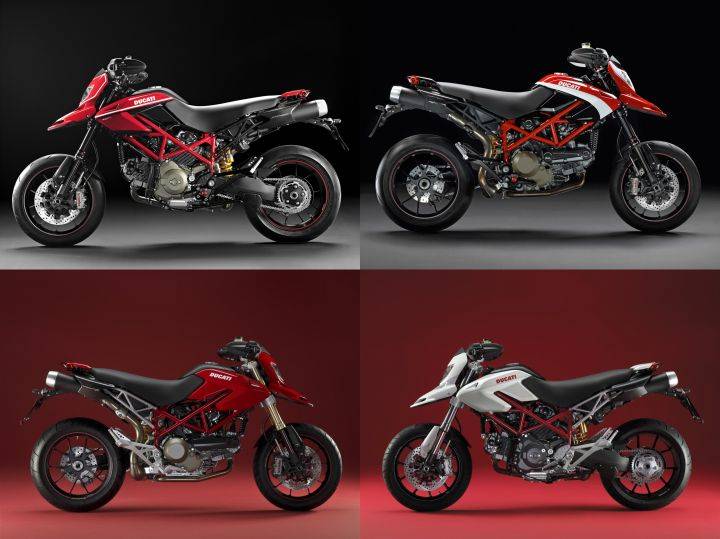 Ducati Hypermotard 1100 (2006-2012):
It all started with a mad scientist at Ducati's secret lab in Bologna who envisioned a supermotard with the heart from the mental Monster 1100. That 1078cc air-cooled beast of a motor sat enclosed in a tiny trellis frame and spat out 90PS and 103Nm of torque. In a package that weighed just 179kg (dry).
Thankfully, it got top-spec suspension at the time in the form of fat 50mm Marzocchi upside-down forks and a fully adjustable Sachs monoshock. Braking was also via twin 305mm discs gripped by Brembo monobloc calipers. Tyres too were premium Pirelli Diablo Supercorsa III radials.
If you still were not impressed, Ducati also had hotter versions of the Hypermotard 1100. Like the Hypermotard 1100S with its carbon fibre trim that dropped weight by 2kg. It also had upgraded suspension in the form of fully-adjustable Marzocchi forks and Ohlins rear monoshock.
In 2010, Ducati brought forth the Hypermotard 1100 EVO that was essentially the 1100 SP but with 5PS more power. It also saw serious weight reduction and now weighed a scant 172kg (dry).
It was also the year of the Hypermotard 1100 EVO SP which weighed 1kg less, got a higher ground clearance and taller handlebars. It would be the maddest Hypermotard you could buy. Ever.
Ducati also had special limited-editions of the Hypermotard, like the 2008 Hypermotard 1100 Neiman Marcus Edition, which was essentially a liveried Hypermotard 1100S; and the 2012 Hypermotard 1100 EVO SP Corse Edition, which was the 1100 EVO SP in Ducati Corse racing livery. This was the final hurrah for the Hypermotard 1100.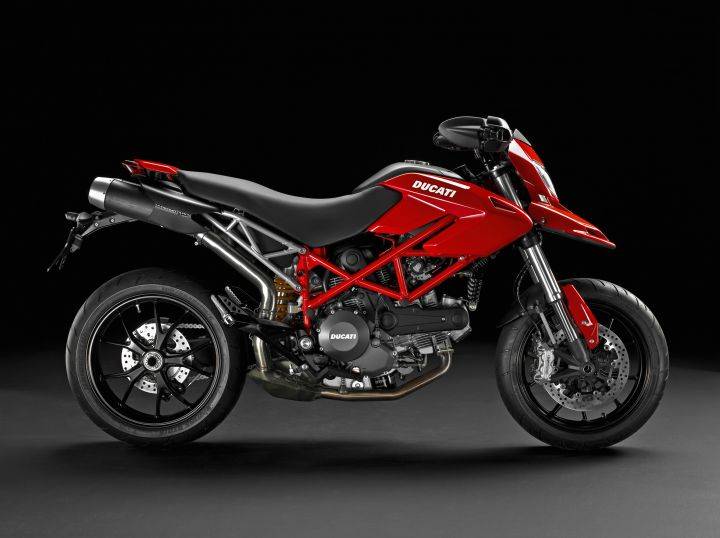 Ducati Hypermotard 796 (2010-2012):
2009 was the year Ducati introduced a smaller, more manageable version of the Hypermotard. The motor was a new 803cc air-cooled L-twin lump which later on also featured on the Ducati Monster 796. At 81PS and 75Nm it was easier to ride and the rear wheel was less prone to locking up under aggressive downshifts thanks to the introduction of a slipper clutch. With the 796, Ducati did dial down the power a bit but retained the manicness that make the Hypermotard what it was. The suspension setup included 43mm Marzocchi front forks and semi-adjustable Sachs rear monoshock. The Brembo monoblocs too made way for radially mounted four-piston Brembo calipers. This more accessible Ducati got a 20mm lower seat (a still tall 825mm) and weighed 12kg less thanks to a lighter frame and forged aluminium Enkei wheels. This is the bike that made the Hypermotard name accessible to slightly inexperienced riders.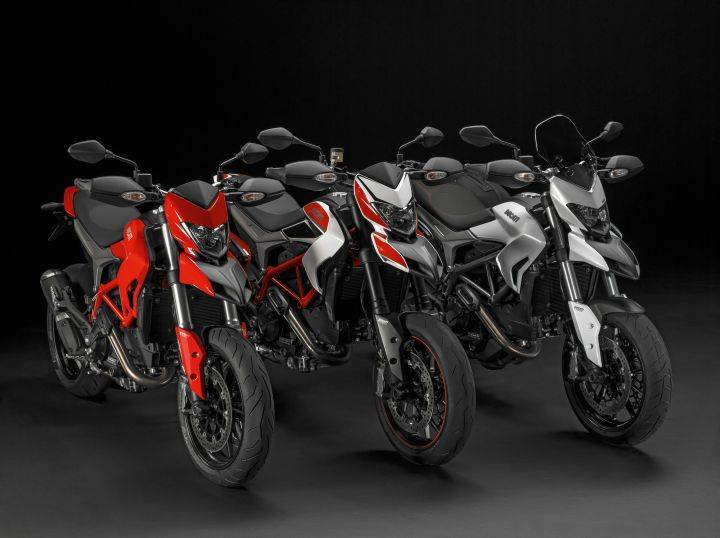 Ducati Hypermotard (2013-2015):
In 2012, Ducati discontinued both the Hypermotard 1100 and Hypermotard 796 and replaced them with the Hypermotard, or the Hypermotard 821 as we would like to call it. This new model was a quantum leap in terms of technology. The styling was revised and, sadly, the twin underseat exhausts were replaced with a conventionally mounted single side-slung exhaust. The revised frame now saw the front cylinder bank sit closer to the front wheel and the rider now sat further back. Seat height, however, rose to a lofty 870mm.
It got a larger 821cc liquid-cooled motor that also features on the Monster 821. The new motor made a heady 110PS and 89Nm and came with a slipper clutch. But the biggest update was the introduction of electronics. It got ride-by-wire, 8-stage switchable traction control and 3 rider modes: Sport, Touring and Urban. And finally, the bike got ABS.
There was also a Hypermotard SP edition that got higher spec suspension kit in the form of fully adjustable 50mm Marzocchi forks and fully-adjustable Ohlins rear monoshock, Brembo radially mounted brake master cylinder and Marchesini forged aluminium wheels. You also got carbon fibre trim and Ducati Corse livery.
Fun fact: Crazy as it sounds, Ducati also had a 'touring' variant of the Hypermotard called the Hyperstrada.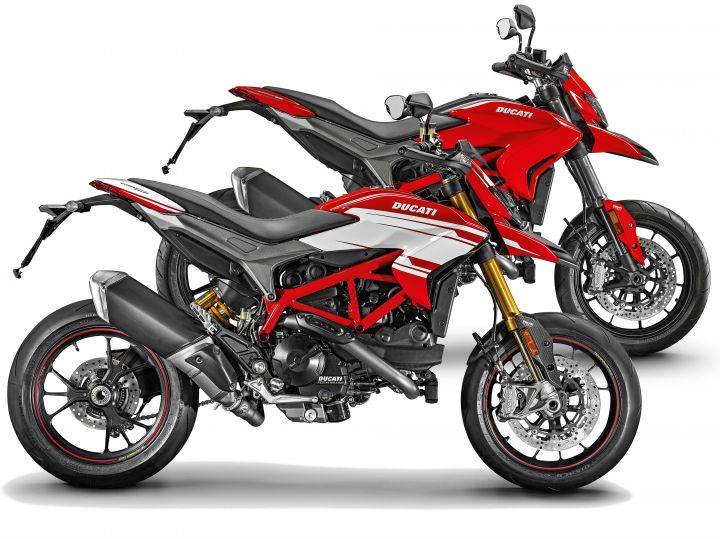 Ducati Hypermotard 939 (2016-2018):
In 2015, Ducati introduced the Hypermotard 939. In a breakaway from tradition, the new 937cc liquid-cooled L-twin is shared with the Multistrada 950 and SuperSport S instead of the Monster. While the Hypermotard 939's increased 110PS and 98Nm torque output is similar to the other two bikes, it has been tuned for better low-end response. It got little cosmetic updates like LED turn indicators and a gear position indicator in the LCD dashboard.
Its SP edition gets race-bred fully-adjustable 48mm Ohlins front forks and rear monoshock, forged Marchesini wheels and carbon fibre trim. Other race spec bits include radially mounted brake master cylinder and adjustable levers. It also gets a 20mm lower seat (still tall 869mm).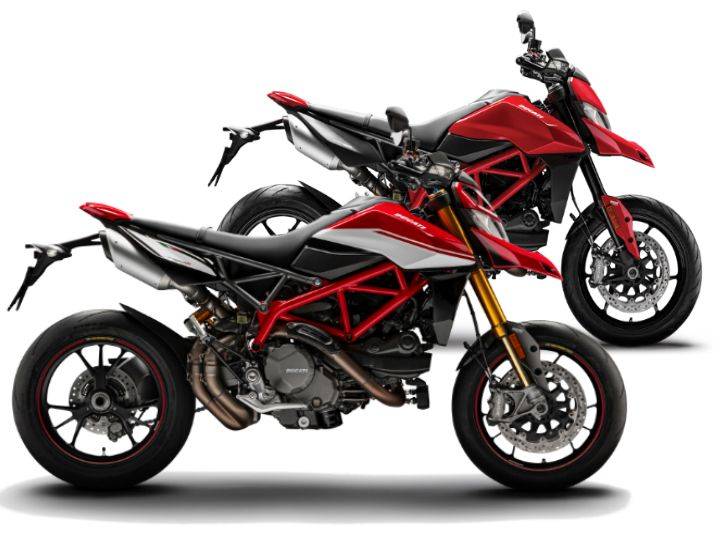 Ducati Hypermotard 950 (2019-present):
For 2019, Ducati seems to have returned to its roots. The new Hypermotard gets twin underseat exhausts like the first-gen bike. It gets narrower bodywork, flatter seat and wider handlebars, resulting in a more supermoto-focussed riding position. It gets a new 4.3 inch TFT colour instrument console like its competition, the Aprilia Dorsuduro 900.
The 937cc motor has been retuned and gets a higher compression ratio and new ECU. It delivers 4PS more power and 1Nm more torque. Also 82 percent of its peak torque came between 3000 to 6000rpm. Electronics suite now includes a six-axis IMU that gets you cornering ABS with 3 modes and wheelie control. The new frame is lighter and gets a sharper rake and trail. You have Brembo M4.32 monobloc calipers and now the Brembo radial master brake cylinder comes standard.
The hotter SP version gets taller fully adjustable Ohlins suspension that allows for better lean angles, Marchesini forged alloy wheels, stickier Pirelli Supercorsa SP v3 tyres, bi-directional quickshifter and a 20mm taller 890mm seat height.
The new Hypermotard has evolved quite a bit and is coming to India in a couple of months' time. However, you don't have to wait that long to read our first ride report of the new bike as it will be live on Thursday.
---
Source: zigwheels.com