In the country's second-largest city of Kharkiv, seven civilians were wounded by Russian shelling that hit residential buildings and an area near a bus stop. Kharkiv Gov.
---
Russia will continue to face problems with soldiers refusing to fight, military analyst Michael Kofman said, but one shouldn't underestimate Russia's ability to 'muddle through...with half-measures'.
---
Actress Jessica Chastain met Ukrainian President Volodymyr Zelensky in Kiev amid the ongoing Russian invasion.
---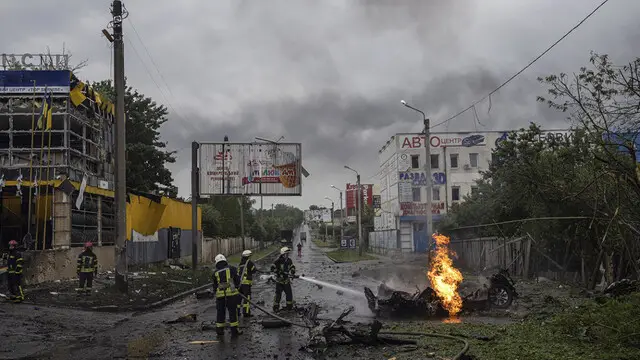 Officials are appealing to Western countries to tap frozen Russian assets on top of what they are willing to donate to help pay for the bill.
---
The Saki base was used by Russian warplanes to strike areas in Ukraine's south on short notice.
---
Russian forces have occupied the power station for months. Russian soldiers there took shelter in bunkers before Saturday's attack, according to Energoatom.
---
Ukrainian military intelligence alleged Saturday that Russian troops were shelling the plant from a village just kilometers away damaging a plant pumping station and a fire station.
---
Nearly two million Ukrainians refugees have been sent to Russia, according to both Ukrainian and Russian officials.
---