Uttar Pradesh chief minister Akhilesh Yadav boldly declared in September that his state will "never become another Gujarat", but the affidavits that victims of Jat-Muslim riots in Muzaffarnagar: are being made to sign tell another story altogether.
Under the guise of providing a "financial assistance" of Rs5 lakh to these victims, the state seems to be running a scheme to empty refugee camps as soon as possible, whatever the human cost.
Advertisement opens in new window
"I and my family members left our village from fear due to the violent events that took place there, leaving our house and village. Under no circumstances will we ever return to our village and home again," reads one of the three prominent conditions those availing the UP government's financial aid have to sign off on.
The Samajwadi Party government's apprehensions seem to be about the continued presence Muslims in camps, not the terrible conditions prevailing in them, or even the reasons for this present crisis. It also seems to be ignorant of the identity crisis that has taken root among the Jats, (around 14 per cent of western UP's population), and a key reason why the area has become engulfed in violence.
That the government is unmindful of the crisis is clear from another condition it has placed in these affidavits: Those who avail of the state's aid will not be allowed to live in any refugee camp thereafter. Nor will they be able to live "illegally" on houses constructed in the village lands, or government-owned lands. This begs the question—where in this area will a Muslim find land and housing worth Rs5 lakh?
Advertisement opens in new window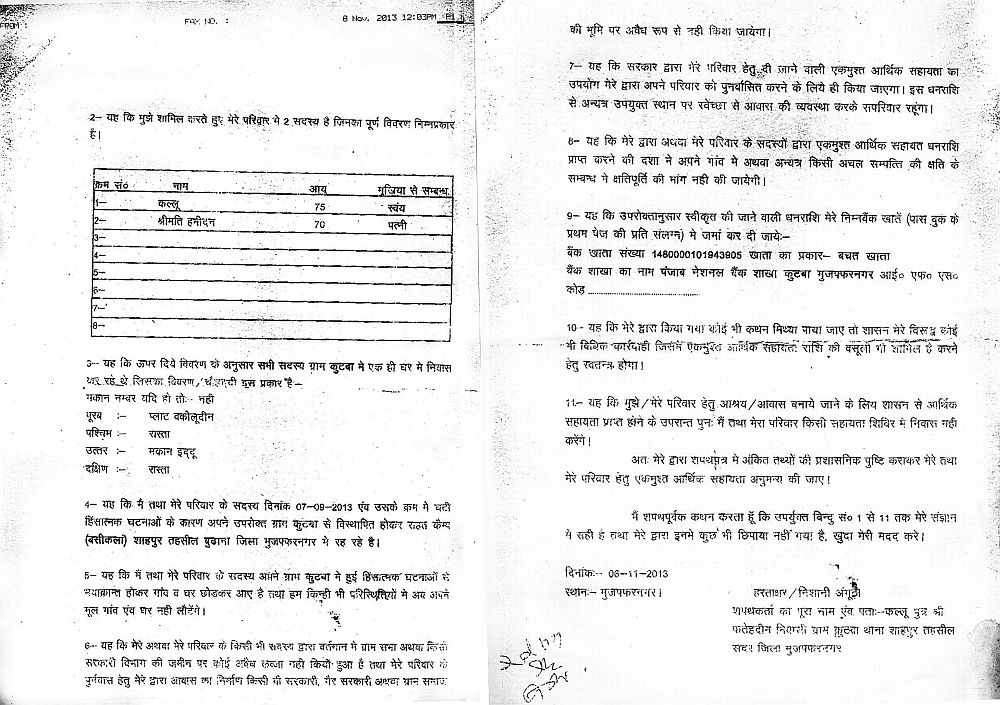 The money, the state has made clear in the affidavits, is meant to be used to construct a house. But here too, a condition has been imposed: "After my family or any member of my family avails this one-time financial assistance, we will not try to recoup any loss of immovable property in our village or in any other place."
In effect, these conditions ensure that those who were forced out of their homes will forego all their properties for Rs5 lakh, regardless of what they owned, or lost in the riots. This sum is to be paid in only one instalment, into their bank accounts, after which the state intends to wash its hands off the matter. For many people, this will be a far lower compensation than the rich agricultural land of this part of the state is worth.
It is confirmed that such affidavits have been signed by many residents who have taken shelter in the camps at Shahpur Bassi. The entire camp consists of Muslims who fled for fear of their lives after the violence that broke out on September 8.
Advertisement opens in new window

Muslims in a relief camp in Shahpur, Muzzafarnagar
Villagers in Shahpur and around say they are not sure what the government intends to do with the properties that Muslims have left behind in their villages. Many report that their properties have been burnt down, broken into, and appropriated by other villagers. Haroon and his son Ilyas picked up their meagre belongings, next to tears, at Kakada on Tuesday: "Look at this, they have taken away everything of value that I owned," he sobbed. Going by the affidavits they are now expected to sign, they will lose any right to claim damages against those who trespass into their homes or occupy their land.
These affidavits do not specify the religion of the beneficiaries, however, the composition of camps makes it clear that only Muslims have sought shelter in them. No camps are known to have come up housing Jat victims or any other community.
Advertisement opens in new window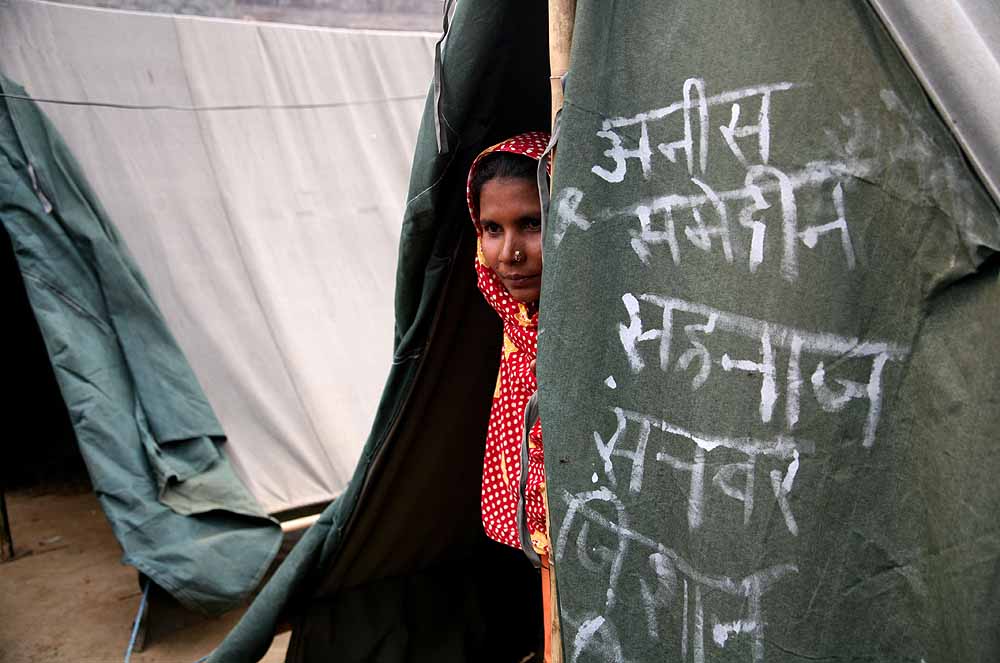 Muslims in a relief camp in Shahpur, Muzzafarnagar.
Around 50,000 people fled from villages around Muzaffarnagar in the immediate aftermath of riots that broke out two months ago. The numbers of refugees has now come down, as per unofficial estimates, to around 20,000. Those who remain consist mainly of people who faced the worst of the violence. Many of them are steadfast against returning to villages they fled from.
"The homeless victims have left everything behind in their villages. They are eking out a miserable existence in these camps, and say they are doing so with no assistance from the state after the first couple of weeks," says Mohd Shaukat, a member of the town committee at Shahpur, who is also managing affairs at the Bassi camp, housing about a 1,000 people in two locations.
Mohd. Salim, who was working as a mistry at Kawal village, says he owned several buffaloes and a plot of land too, but the livestock has been taken by the neighbours by now. "People have taken over everything I left behind at my village," he says. He is too terrified to return for now. Like several other residents, he hopes to return for a short trip in a while, just to pick up his movable belongings. As for the land: He just hasn't thought that far. "All my days at the camp go in looking for work," he says.
Advertisement opens in new window
While the state government is imposing tough conditions on these hapless victims, it appears to be ineffectual against sporadic bouts of violence, and seems to have run out of ideas to refresh the dwindling farm economy of the region.
On Wednesday fresh violence broke out in Shahpur after Irfan, from the Bassi camp, identified a man, Yogendra, he had seen participating in the violence at Kutba and Kutbi villages. Yogendra was beaten up by a crowd on the spot. A while later, Irfan, too, was shot dead at nearby Rasulpur village. In the melee, a shop belonging to a local, Dr Harveer Arya, was burnt down. It is not clear by whom.
In a strange twist to this latest violent episode, farm leader Naresh Tikait, a leading figure among the Jats, son of late Mahendra Singh Tikait, and now chairman of Bharatiya Kisan Union (BKU), announced on November 8 that Muslims involved in the latest round of violence must be arrested within 24 hours—he said the government is being "ek-tarfa"—one-sided. His brother Rakesh Tikait told Outlook earlier that the ongoing violence is not just between Jats and Muslims. Though no community other than Muslims and Jats has taken any part in the violence since September, he says, "It is a Hindu-Muslim fight."
Advertisement opens in new window
While leaders of various hues try to add fresh communal touches to the clashes, the panchayats are being accused of having failed to restore confidence among Muslims refugees to return to their villages.
"The panchayat leadership at present has failed. It will take years before a new leadership that is convincing and vigilant of farmer's needs will arrive on the scene here," says Harinder Singh Malik, a former Congress Member of Parliament and prominent figure in the local Jat politics. He, too, attended the earliest 'mahapanchayat' of Jats, in the events following which all hell broke loose. He denied having addressed that meeting. Both Malik and Rakesh Tikait insisted that the panchayat was a "shok sabha", held to mourn the deaths of two Jats at Kawal village.
The absence of a viable Jat leadership makes the role of Akhilesh Yadav's government even more critical at this juncture. More than 80 per cent of Jats are farmers, who find that the size of their holdings is shrinking. Their main crop is sugarcane but their payments are delayed by mills, sometimes by over two years.
Diesel and fertilizer subsidies are being withdrawn, putting immense pressure on farmers' costs. Besides, most Jats only study up to school and the community has not taken to technical education. Most of the youth joins the Army or police force. In fact, despite the ongoing fighting, the highways are lined with row after row of boys jogging: They are preparing for the physical fitness tests compulsory before joining the forces.
Due to the Arya Samaj influence, Jats have not diversified from farming into poultry-keeping or piggeries: They are mostly vegetarian, and against killing. Meanwhile the veterinary hospitals in the area are largely without doctors, making it next to impossible to maintain livestock.
Member of Parliament from Bijnor and Muzaffarnagar resident Sanjay Singh Chauhan told Outlook that both Muslims and the Jats are "disappointed" with the ongoing events, and want to live side-by-side again, but the Panchayats may be in no position to find the appropriate solution this time. "There is a reason for this. The Panchayats are only attended by leaders who agree that the village should be restored to its original composition. Those who disagree—the lumpen elements who caused the rift, who spark off the violence, are not even present at the panchayat meets," he says. He says the law and order problem needs to be solved by the state machinery—the Jat-dominated police and constabulary.
Indeed, this is one reason why the state has failed to prevent khap meeting after meeting. At Mohammadpur Raisingh, the Gathwala khap has announced a Khap gathering on the 10th of November. This has been put off until the next day—November 11, once the SP government agreed to fulfil its demands to arrest Muslims accused of rioting. One wonders why the same SP government is taking away the right of evicted Muslims to recoup their only real asset: their land and buildings.