Marathi- Gujarati Bhai Bhai
Nitesh Rane, son of Congress Minister Narayan Rane, was the latest to explode on Twitter. Whether the trigger was a flight from Mumbai to cities in Gujarat that supposedly serves only vegetarian fare is not known, but Rane Jr took on Modi and 18% white collared Gujaratis in Mumbai all alike in a series of Tweets:
Jet airways Flights goin frm Mumbai 2 Rajkot,bhuj n Ahmedabad serve only VEG FOOD n ur served Non veg only if ur white skinned!Shocker!
Veg skies,Veg hospitals,Veg housing societies..soon Veg Mumbai!Either Gujjus go back to Gujarat or they turn Mumbai into Gujarat..Red alert!
All Hoo Haa of gujjus on twitter!Itni teekhi laagi Meri baat..chalo Modi ko bulao aur jaga khaali karo humare Marathis ke liye mumbai mein.
Heard from a Gujju developer that a penthouse in Gujarat cost 27lakhs!!Mumbai goes in crs..so what Modi mania we talking abt!!Boooo
Frankly the issue he spoke about is a genuine one -- about housing societies discriminating against communities and not allowing people who eat non-vegetarian food to buy apartments. Although it has been a practice in not-so-cosmopolitan Mumbai to not give flats to people based on their religious identity, typically a Hindu-Muslim issue, the so-called vegetarian bulldozing is a rather new one. Of course, Rane Jr explained that the naïve Nitesh meant no harm to the community per se and was only referring to Modi.Â

Wet Drought
One does not know how the funds collected for drought have been used or allocated. The canal building activity in Marathwada may take its time and we won't know until the next dry spell. However, in the neighbouring Vidarbha, infamous for farmers' suicides, rains have played havoc and announcement of wet drought may only be a formality. CM Prithviraj Chavan declared a special package of about Rs 1900 crore for Vidarbha that would take care of flood relief as well as some long term initiatives. Following that, a delegation also met Prime Minister Manmohan Singh and union minister Sharad Pawar and have been promised all help. Meanwhile, noises have started emanating from sundry Vidarbha leaders about separate statehood following Telangana.Â
Earlier this month, farmer Sanjay Kolhe met state agricultural minister Radhakrishna Vikhe Patil with a unique petition. He, along with Greenpeace, collected more than 2 lakh signatures from Marathwada in a petition that urged the Chief Minister to be fair on water allocation. "The online and mobile phone-based petition was started by Sanjay Kolhe who has been fighting against the allocation of irrigation water to the Indiabulls power plant at Amravati, in April this year. By June, it had already gathered more than 2,75,000 supporters of which more than 2,30,000 lakh were from rural Maharashtra," said their statement.Â

The tussle is about water being provided to industrial projects over irrigation and drinking water requirements of the drought stricken region. Greenpeace had earlier released a report talking about how water was given to industrial projects, as late as December 2012, when the warning signs of drought were loud and clear.

The minister has promised to look into the matter. However, with a wet drought looming over Vidarbha now, fire fighting may shift to another region and it may take more than signatures to persuade the government and politicians to devise real long term solutions.
Full Circle
It does catch up sometimes. Suresh Kalmadi, who spent months in jail as an accused in the Common Wealth Games scams, has now lost membership of the International Association of Athletics Federation Council. He also lost the presidential election of the Asian Athletics Association last month. Known to be rather powerful in the sporting circles and Pune, he is no longer a member of any association that deals with sports in the country or outside of it. Whether he will be convicted in the CWG case eventually or not is a different question, but Indian sports could surely do with people having more of athletic and sportsmanship qualities and less of political prowess.
From Here to There
Perhaps as a precursor to what is to come before, during and after general elections, leaders from political parties are making their moves. Last week Balasaheb Ingole, Nationalist Congress Party leader from Yawatmal joined the Congress. Manikrao Thakre, regional congress chief said more party workers from NCP, followers of Ingole, may join Congress too. Seemingly minor, but such movements have started in Maharashtra Navnirman Sena and Shiv Sena too. Watch out for more. It may get bigger and better too.Â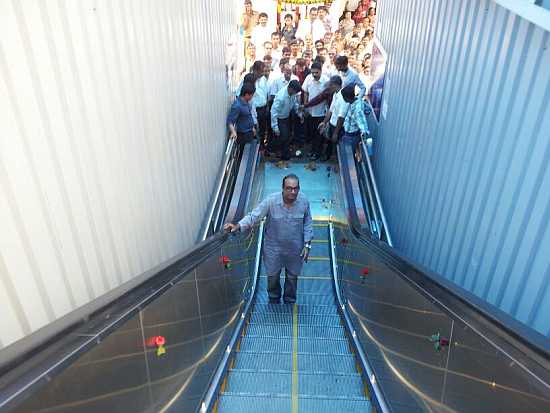 Escalator at Vile Parle
After Thane (on central line), Vile Parle became the first station on western line to get an escalator. The first escalator on suburban rail network has been functional at Thane (the same station which got the first train in Mumbai in 1853) for about a month. Although thousands of commuters are using the escalator, a much needed facility for senior citizens, in a month's time, complaints of people playing mischief by sticking chappals in the escalator have emerged from Thane. No matter how much technology we import from the west and the developed world, civic sense has to be home- grown, indigenous and perhaps made mandatory in some way. Let's see how long this lasts.Â
Everything is the Truth
A one of its kind work of art is creating a buzz in the city. Titled "Everything is the truth" or "Sarvakahi satya ahe," is an 'artist book' which has 24 " truth cards" about Mumbai. Each one started out as a 'fact' about the city, verified by several other people during the course of this innovative project by Cayla Skillin-Brauchle, a Fulbright-Nehru fellow affiliated with the Sir JJ School of Art in collaboration with Clark House Initiative. The bi-lingual Marathi/English project is on handmade paper book in shades of green "inspired by Mumbai's monsoon" "This was the first time I had spent the monsoon in Mumbai and I was constantly amazed at the electric colours of the vegetation all over the city!" says Cayla from US. "Lastly, what I like most about the book is that it allows viewers to read the 'truth' as stated by 24 different Mumbaikars. When people are reading the book, some truths resonate with them and some they disagree with. The title of the book addresses this phenomena. It says that even though my truth and your truth may be different, they are both valid versions of the truth. And so, 'Everything is the truth.'" The 'Everything is the truth' book will be part of a travelling, international exhibition about translation titled 'Across Words'. The exhibition will be shown in Beijing, Cape Town, and Auckland.