Freelance cartoonist Aseem Trivedi, arrested on sedition and other charges, was today sent to jail after a local court remanded him to two-week judicial custody.

The 25-year-old cartoonist was arrested on Saturday under IPC Section 124 (sedition), section 66 A of Information Technology Act and section 2 of Prevention of Insults to Nation Honour Act. He was remanded in police custody till September 16 yesterday.

Producing Trivedi before a Bandra Court, police did an about-turn and said their investigations in the case were over and his custodial interrogation was not needed.
Meanwhile, Press Council of India Chairman, Retd Supreme Court Justice Markandey Katju reiterated that rather than the accused cartoonist, those who were behind his illegal arrest should be arrested:
"Because under Section 342 of the IPC, wrongful arrest and confinement are serious criminal offences....If you are arresting a person who has not committed a crime, then you are committing a crime. So, these politicians and these police officers should be arrested and made to face trial"
The following is Asem Trivdedi's hand-written note in Hindi: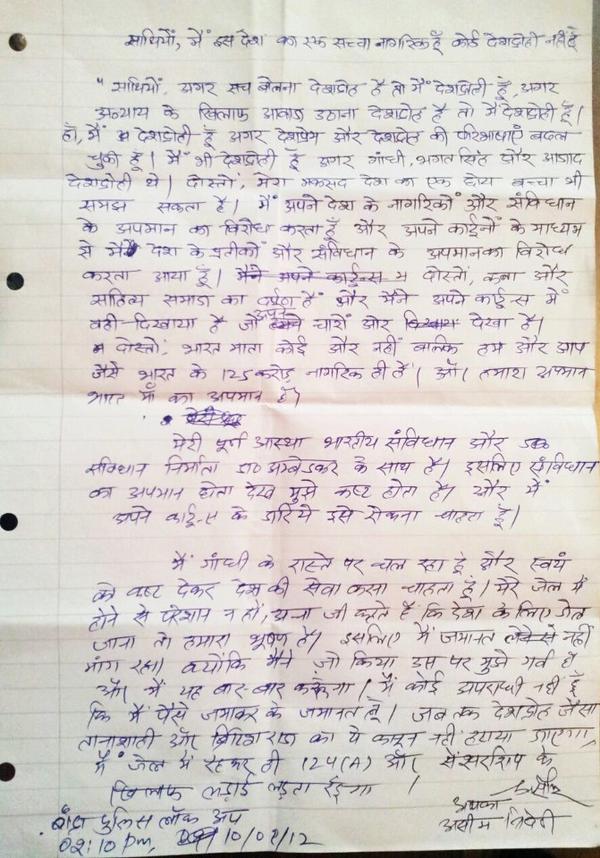 What follows is a rough English translation:
Friends, I am a true citizen of this country, and not someone who's committed sedition.
Friends, if speaking the truth is sedition, then I am guilty of committing sedition. If raising one's voice against injustice is sedition, then I am guilty of sedition. Yes I am guilty of sedition if the definitions of patriotism and sedition have changed. Yes, indeed, I am guilty of sedition if Gandhi, Bhagat Singh and Azad too were guilty of sedition.
Friends, even a small child can understand my motives.
I am against insults to my country's citizens and its constitution. Using my cartoons I have been opposing the insult to national symbols and the constitution.
Friends, art and literature hold a mirror to society and I have only shown what I have seen all around me in my cartoons.
Friends, Mother India (Bharat Mata) is none other than you and I, just as 1.25 billion Indians are. When we are insulted, Mother India is insulted.
I have full faith in the constitution of India and its maker, Dr Ambedkar. So I am pained when the constitution is insulted. And I want to stop this using my cartoons.I am walking on the path paved by Gandhi and wish to serve my country, even if I suffer in the process.
Do not be upset by my being in jail - Annaji says, going to jail for the country is like being decorated with jewellery. That is why I am not seeking bail. Because I am proud of what I did and I will do it again and again. I am not a criminal that I deposit some money and get bail.
As long as this dictatorial and colonial sedition law is not removed, I will stay in jail and fight against 124(a) and censorship.
Yours,
Aseem Trivedi

Bandra Police lockup
02:10 PM
10.10. 2012