The songs of Rajiv Rai's Tridev (1989), arguably spelled the death knell for the dancing queens who had hitherto performed the mandatory dance numbers in commercial Hindi films. Earlier, although talented leading ladies like Padmini, Vyajanthi Mala , Waheeda Rehman, Asha Parekh , Hema Malini and others had performed dance numbers , these were seldom staged in the villain's den or at a nightclub, except under duress (think of Hema Malini in Sholay (1975)). In contrast , Tridev's young leading ladies Madhuri Dixit, Sangeeta Bijlani and Rai's wife Sonam, in a significant attitude shift, were depicted dancing in glamorous cabaret outfits with sundry villains. A year earlier, Madhuri Dixit had already set a new benchmark for heroines performing dance numbers, when she burned the screen with her performance to "Ek, Do, Teen", the first of Saroj Khan's many hit songs with Madhuri. It was a decade after Tezaab (1988), that Malaika Arora made a mark with "Chhaiyya Chhaiyya" in Dil Se (1998).

The subject of this column is the dancing ladies, whose dance numbers (now known as "item numbers") were once considered a lucky charm by distributors. There was a certain dignity in their dance. The character they played was often noble . There was usually a back story to justify their position as a villain's moll. For example in Johnny Mera Naam (1970), Padma Khanna seduces villain Prem Nath in the hope that he will spare the life of her boyfriend. These ladies, with their 'devil-may-care' attitude and 'come-hither' expressions, made the heroines seem virtuous in comparison. In real life, most of these ladies led the disciplined lives of professional dancers, and many were known to wear body suits under their costumes.
Let's take a look at some of the amazingly gifted performers, who were called upon to perform the customary cabaret, disco, folk or classical number in Hindi films, before the leading ladies took over:

1. Sitara Devi
Sitara Devi was an eminent Indian dancer of the classical Kathak style of dancing. Rabindranath Tagore described her as Nritya Samragini (empress of dance), after watching her perform at age 16. Sitara Devi is known for performing some outstanding dance sequences in Hindi movies such as Usha Haran (1940), Roti (1943), Nagina (1951), Hulchul (1951), Vatan (1954) , Anjali (1957) and Mother India ( 1957), where she performed a Holi dance dressed as a boy. Her breathtaking snake dance in the film Anjali, which was directed by Chetan Anand, was perhaps the inspiration behind Waheeda Rehman's scintillating snake dance in the film Guide(1965).
(Song: Snake dance (Naag Nritya) in Anjali (1957))

2. Cuckoo
Cuckoo Moray , the Anglo-Indian dancer was the queen of film dancing in Hindi cinema of the 1940s and 1950s. Cuckoo was known as the "rubber girl" of Hindi cinema. She made her screen debut in the film Arab Ka Sitara in 1946. Her dance number in his film Anokhi Ada (1948) established her as the lead dancer of the era . Andaz (1949), a romantic drama starring Nargis, Dilip Kumar, and Raj Kapoor, gave the dancer an opportunity to display her acting skills. She also appeared in Mehboob Khan's 1952 film Aan, her only film in colour.
(Song: Tu Kahe Agar in Andaz (1949))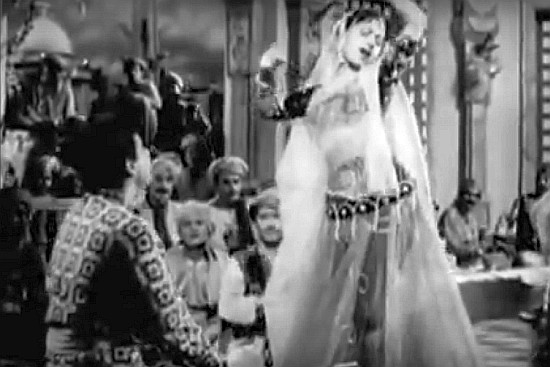 3.Kumkum
Kumkum, born Zaibunnissa, was discovered by Guru Dutt, who gave Kumkum her first ever song, "Kabhi aar , kabhi paar laga teere nazar" in Aar Paar (1957). Trained in Kathak by the Pandit Shambhu Maharaj, Kumkum showed her dancing prowess in the song, "Madhuban main Radhika nache re" , in the film Kohinoor (1960), among several other hit film songs. She has also acted as lead heroine opposite Kishore Kumar in Mr.X in Bombay, Rajendra Kumar in Mother India (1957) and Dharmendra in Lalkaar (1972) .
(Song: Madhuban Main Radhika Nache Rey in Kohinoor (1960))
4. Minoo Mumtaz
Minoo Mumtaz (born Malikunnisa Ali ) was the sister of comedian Mehmood. She was christened "Minoo" by actress Meena Kumari who was related to their family. Minoo Mumtaz appeared in many Hindi films of the 1950s and 1960s, mostly as a dancer and character actress, including Sahib ,Bibi aur Ghulam (1962), and Jahan Ara(1964).
(Song: Saqiya Aaj Mujhe neend nahi aayegi in Sahib, Bibi aur Ghulam (1962))

5. Helen
Born Helen Jairag Richardson, Helen was a Burmese girl who daringly escaped the Japanese occupation of Myanmar with her family. They reached Bombay in 1943, where dancer Cuckoo helped Helen get roles as a chorus dancer in films such as Awara (1951). Helen got her big break with "Mera Naam Chin Chin Choo" in Howrah Bridge (1958). She never looked back. By far the most successful dancer in Hindi films with a dancing career spanning four decades, Helen later started appearing in supporting roles in films. There will truly never be another " H bomb" (title of Jerry Pinto's book on Helen)

(Song: Iss Duniya Main Jeena Hai Toh in Gumnaam (1965))
6. Aruna Irani
This talented actress has acted in over 300 Hindi and Gujarati films, and has done lead roles in films such as Bombay to Goa (1972) where she starred opposite Amitabh Bachchan. Her acting and super hit dance numbers in Caravan (1971) and Bobby (1973) (where she plays the confidante' of young lover Rishi Kapoor) are remembered till this day for her carefree dancing style and facial expressions. She now produces TV serials.
(Song: Ay phansa! in Bobby (1973))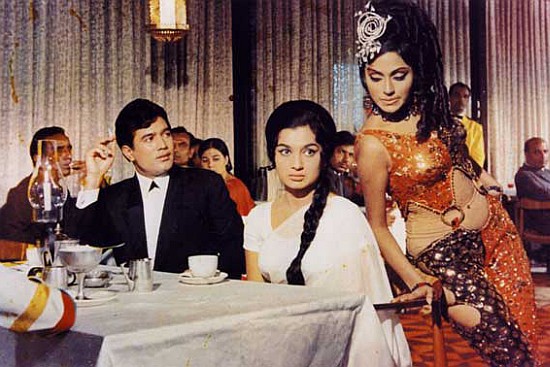 7. Bindu
A talented dancer, Bindu Desai was relied upon by directors such as Hrishikesh Mukherjee to play the bold , intelligent and attractive counterfoil to the homely heroine Jaya Bhaduri in Abhimaan (1973) and the shy student Tanuja in Imtihan (1974) . She is famous for her roles as the villain's moll Mona opposite Ajit in films such as Zanjeer (1973), and as Shabnam in Shakti Samanta's Kati Patang (1970) where she plays tormentor to the innocent widow played by Asha Parekh. Lately she has been seen playing supporting roles in films such as Main Hoon Na (2004).
(Song: Mera Naam Shabnam Hai in Kati Patang (1970))

8.Padma Khanna
This talented actress and dancer started training under Pandit Birju Maharaj at the tender age of 7. Best remembered for her role as Amitabh Bachchan's second wife in the film Saudagar (1973), Padma Khanna entertained viewers of Hindi, Bhojpuri and Gujarati films from the 1960s to the 1980s.Later she started acting in TV serials.
(Song: Husn Kay lakhon Rang in Johny Mera Naam (1970) )
9. Prema Narayan
Prema Narayan came to Hindi films after winning the Femina Miss India contest in 1971. She was appreciated as a leading lady, as a dancer of folk as well as Western style numbers; also for supporting roles in Amanush (1975) and Barsaat Ki Ek Raat (1981).
(Song: Manchali O Manchali in Barsaat Ki Ek Raat (1981))

10. Kalpana Iyer
A former runner up in Miss India contest (1978) and finalist in Miss World contest, Kalpana Iyer was the top dancer in the films of the 1980s. Kalpana Iyer delivered some super hit disco dance numbers in films such as Rambha Ho in Armaan (1982) and Hari Om Hari in Pyara Dushman (1980).
(Song: Rambha Ho in Armaan (1982))

Other honorable mentions include Jayshree T, Meena T, Bela Bose, Sheela Vaz, Madhumati and Faryal.
---
Nirupama Kotru is posted as Commissioner of Income Tax at Delhi. She was formerly Director (Films) in Ministry of Information & Broadcasting. Views are her own.