The Ponzi Network
As West Bengal chief minister Mamata Banerjee returned from her high profile Singapore trip, she was be greeted with some gloomy news. Investigations into the chit fund scam, which are now on in full swing, are leading to the doorsteps of many of her party people, including top ministers and bureaucrats. The country's central investigating agency, CBI, last week, has been interrogating people suspected to be involved with the ponzi scheme and among them is the state textile minister Shyama Prasad Mukherjee, who allegedly sold his loss-making cement factory to a buyer who inexplicably bought it at more than three times the market price. That buyer was none other than ponzi scheme boss, Sudipto Sen. The CBI also made its first arrest in connection with the chit fund scam (Sudipto Sen and Trinamool Rajya Sabha member Kunal Ghosh had been arrested before the CBI probe began but the central agency took them into their custody after the Supreme Court directed it to carry out the investigations). East Bengal football team's Debabrata Sarkar, who allegedly is close to top TMC leaders, was arrested. 
Away From It All

But happy pictures and reports emanating from Singapore seemed to suggest that the unfortunate events unfolding in Bengal were not really worrying the Trinamool chief that much. A jubilant Mamata boasted about having made a breakthrough with Singaporean investors in terms of a number of memorandums of understandings (MoUs) and posed for photographs with her smiling entourage and members of the Indian community there. There was also some singing and dancing with Bengali pop hero Deb taking centre- stage. "For some reason she does not seem to be at all tense about what's going on as far as the chit fund scam is concerned," a close party member said to Outlook. "But let me tell you, things are not looking very good at all for the party," he further confided.
Just An Employee

Incidentally, film director Aparna Sen was also questioned by the CBI. Sen had edited a bi-monthly magazine called Paroma owned by Sudipto Sen's company. But it shut down around the time that the chit fund scam broke last year. Sen said that she was only an employee and did not deal with the finances at all.

Grand Delusions
I had skimmed through journalist Indrajit Hazra's book on Calcutta, Grand Delusions when it first came out earlier this year. Since then, I had kept it on the top of a pile of books on my desk which I wanted to re-read. I found it intriguing. It's as though he is walking through the ancient city with a flickering candle that lights up nooks and crannies making you want to see more. And in this flickering light we get glimpses into the minds of its eccentric citizens (the geo-centric man who informs NASA that the sun goes around the earth once in a year, only to receive polite a snub from them), we get privileged access to private moments in the city's public spaces (the eyes of the waiters at a stuffy club following the "crotch area" as the jean-clad journalist asks where the bathroom is) and we get so drawn into the mazelike twists and turns where past merges into present and personal story blends easily into impersonal history, that it's hard to extricate ourselves. And we don't really want to. It's a book I can read and reread.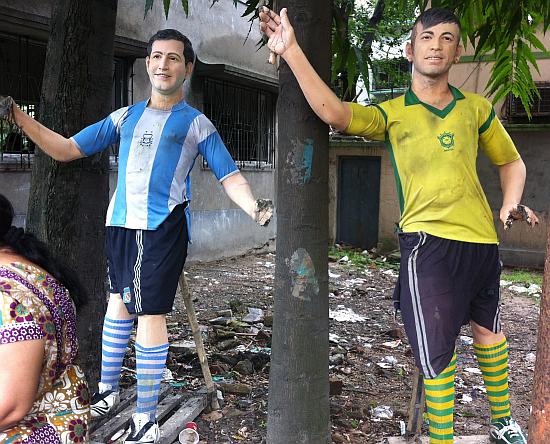 Football Fever
It's been more than a month since Germany snatched the soccer World Cup, but Calcutta seems still to be in the grips of football fever. Passersby on a sidewalk on Prince Anwar Shah Road, near a busy south Calcutta crossing have noted with some bemusement two mannequins standing side by side, wearing the jerseys of the Argentina and Brazil teams. Messi or what?

Tail Piece
Written behind a truck: "Orey pet…tor jonno matha het."  [O Stomach! Because of you, my head's bowed]