The Scars of Terror
A 35-year-old woman was beheaded in front of her four small children (the eldest one was only 10) in a village in Meghalaya's Tura district. A terrorist group known as Garo National Liberation Army (GNLA) which is demanding a separate land for the people of the Garo tribe claimed responsibility for the grotesque crime. The shocking news reminded me of a visit to the remote region of this border district in July 2011, when the Indian government initiated a free-trade economic programme with neighbouring Bangladesh. We were doing a story on this 'Border Haat' or Border Market. The hill folk of Tura seemed friendly and peaceful. Though we could not communicate with most of them because we did not understand each other's languages, the men and women smiled so much that you came back with the sense that this was one place where people lived happily. Who would have known that they live under this sort of a threat? The terrorists claimed that the woman was a police informer, and denied the police claims that she had been killed resisting rape. What shocks and saddens me is that we cannot protect those who risk their lives to protect us from terrorist groups. The centre has sent 1000 paramilitary personnel to the area. But I shudder to think of the permanent psychological scars that the incident would have etched on the tender minds of the woman's young children, as she was shot brutally in front of them, at point blank range with a barrage of AK-47 bullets that almost blew her head to pieces. The newspapers carried photos of all of them (the littlest one seemed to be just a toddler) with their father at her grave. The police have evacuated the family from their village, saying they remained under constant threats and pressure from the GNLA to give a press statement in favour of the outfit.
Advertisement opens in new window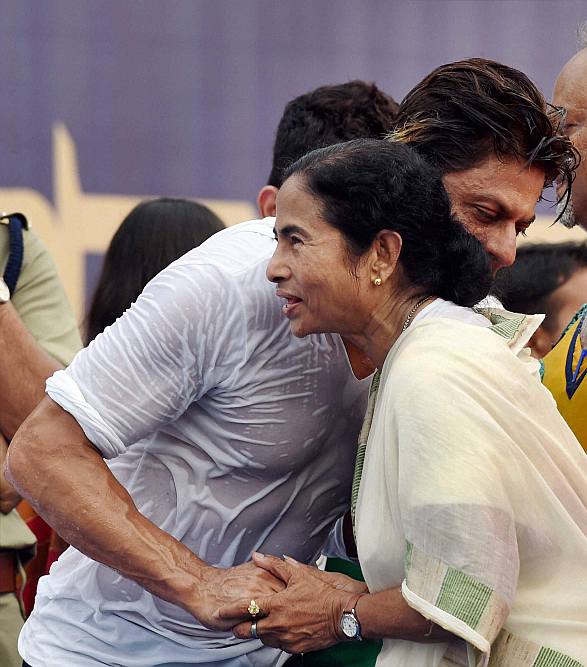 Kolkata's Real Knights
Kolkata Knight Riders and its Knight in Shining Armour Shah Rukh Khan were the talk of the town this week after the team snatched the IPL trophy. As always Shah Rukh attracted virtually the whole of Calcutta's humanity to Eden Gardens where the team was being felicitated which not surprisingly became a bit of a headache for the police. In fact, when the agitated crowed which could not gain entry into the grounds tried to gatecrash it in order to get a glimpse of their hero, the law keepers themselves had to come to the rescue Knight-in-shining-armour-style, mounted on horses, and disperse the crowd in order to prevent a near-stampede. But the heated scenes unfolding outside notwithstanding, inside Shah Rukh made everything seem thanda-thanda-cool-cool when he curtseyed to Bengal chief minister Mamata Bannerjee, taking her hand chivalrously and planting a kiss on it by way of saying goodbye before leaving.
Shuffling Her Cards
In the meantime West Bengal has a new education minister. Partha Chatterjee. Yes, the former commerce and industries minister, who is a close aide of Mamata has replaced Bratya Basu, the thespian who had joined the Poriborton movement and was rewarded by Didi for so doing when she gave him the all-important portfolio. But that was three years ago. Now Mamata is in reshuffle mode. She has also stripped East Midnapore MP Suvendu Adhikari of the Youth Trinamool Congress leadership and handed it over to a new Trinamool entrant, who defected to the party from Congress. Suvendu Adhikari and his father Sisir Adhikari, it is alleged, were becoming veritable power centres of their own in their own turfs and their wings supposedly needed to be clipped. In fact, Partha found himself having to address the grievances from Suvendu's supporters who sought a meeting with him. Though initially he said yes, later he backed out allegedly fearing that Didi would get angry if he spoke to the Suvendu supporters. Whatever the case maybe, as the new education minister, this is hardly the task he was expecting to land in his new position.
Advertisement opens in new window
Same Family, Different Politics
The latest to join the same-family-different-politics category are Barry O'brien and his wife Denise. Younger brother of Trinamool Congress MP Derek O'brien, Barry, who is also a prolific quiz master like his brother has joined the BJP this week along with his wife. Though neither brother has commented on his sibling's choice of politics, theirs is not the only example from Calcutta. Even Trinamool MP Sougata Roy's brother Tathagata is a BJP member. All's fair in love, war and politics, it would seem.
Bangalee's Ball-Game
Written behind an auto
Cricket hok ba football...Bangalee chol...mathey chol
(whether it's Cricket or Football...Bangalee...Let's go..Let's get out there and play)