Some of the books in Hindi films appear as textbooks, best exemplified by textbooks of the two most coveted academic streams in India.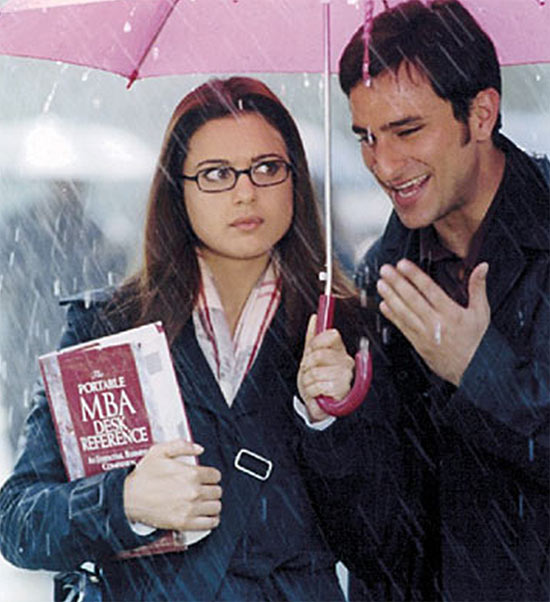 In Kal Ho Naa Ho, Naina (Preity Zinta) stood fashionably close to the Bull statue near the New York Stock Exchange, clutching a copy of Portable MBA Desk Reference before rushing off to an evening class.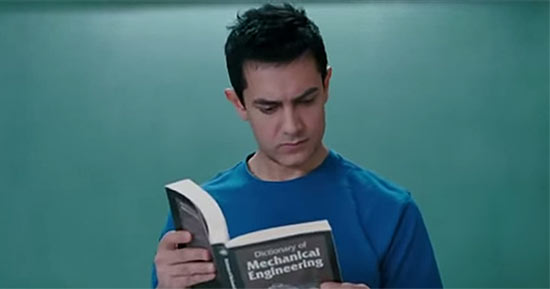 In 3 Idiots, we covered the other Holy Grail of education in India. Rancho (Aamir Khan) popped open the Dictionary of Mechanical Engineering as he posed a tough question to his batch-mates and—more importantly—to his teachers. But no, the question did not come from the book.
Other books appear fleetingly, perhaps with a view to provide an interesting facet around the characters.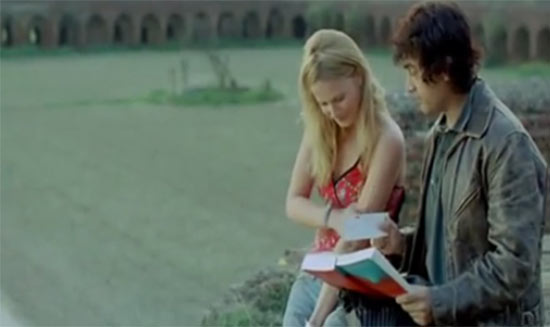 Thus, in Rang De Basanti, DJ (Aamir Khan) and Sue (Alice Patten) are shown sharing a tender moment amidst the ruins going through Gregory David Roberts' bestseller Shantaram, whose hero also happens to be a foreigner, much like Sue.
In Main Hoon Na, the eccentric headmaster (Boman Irani) is shown reading a story about yet another headmaster in yet another boarding school trying to stop an unlikely hero from getting killed by a mega-villain and his cohorts.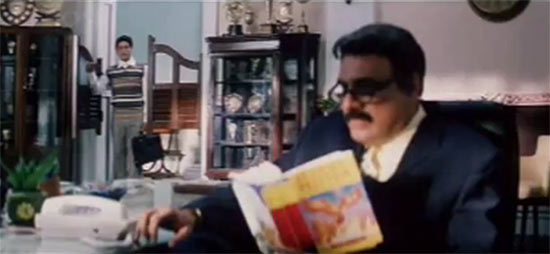 In many ways, thus we could see Main Hoon Na as the story of Harry Potter and the Order of the Phoenix.
In Zindagi Na Milegi Dobara, Kabir (Abhay Deol) is the "sensitive guy" with a quirky sense of humour, getting married to a girl who is, let's say, nothing like him.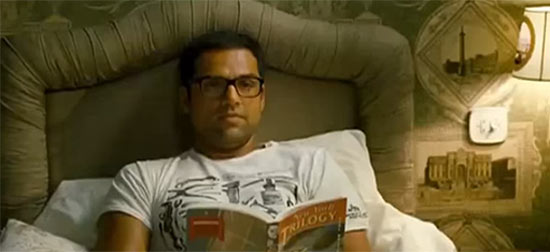 The book he's shown reading is Paul Aster's The New York Trilogy, a collection of three interlocking detective stories with many layers—a genre called metafiction. Suitably intellectual escapism for someone who seemed to be caught in a boring construction job and a difficult fiancée, perhaps.
In Jaane Tu Yaa Jaane Na, Ratna Pathak Shah plays Savitri Rathore, an activist, who is always getting into squabbles with corrupt Inspector Waghmare over human rights issues. She happens to be a loving, single mother, raising her son to become a peaceful and law-abiding citizen. Her intellectual standing is made clear when she is shown flopped on a couch reading Naomi Wolf's The Beauty Myth.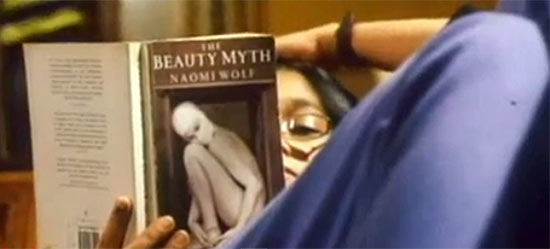 As soon as her son (Imran Khan) enters the room, she floors us all with a brilliant line that shows her relationship with him: "Honthon pe seeti, chaal mein uchhaal, maajraa kya hain?" And within a minute of discussing her son's love life, she is at the police station to harangue Waghmare. The book is considered a classic of feminist literature in which the author argues how the obsession with physical perfection has trapped the modern woman. Perfect for the casually chic activist and feminist mom.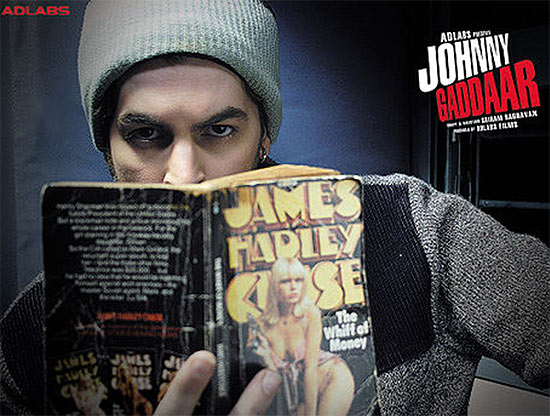 Or take Johnny Gaddaar, Sriram Raghavan's masterful tribute to Vijay Anand and James Hadley Chase. As five shady partners try to pull off a drug deal, we have a double-cross situation because one of them (Neil Nitin Mukesh) is in love with the wife (Rimi Sen) of another. In an obvious tribute, Neil Nitin Mukesh is prominenntly shown reading a (what else?) Hadley Chase novel, A Whiff of Money.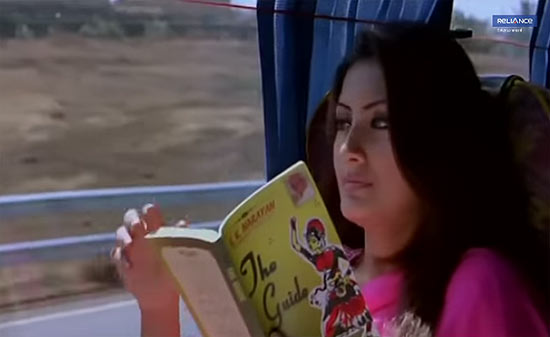 The other book in the film is less noticeable, but significant nevertheless. Rimi Sen—while travelling in a bus— was seen reading RK Narayan's The Guide. The extramarital theme is common both to the film and the book, and to top it all Guide was directed by Vijay Anand. Just by the way, A Whiff of Money—published in 1966—had nothing in common with the movie's plot of betrayal. It was the typical greed-and-punishment story of a Secret Service agent out to recover pornographic films apparently featuring a VIP.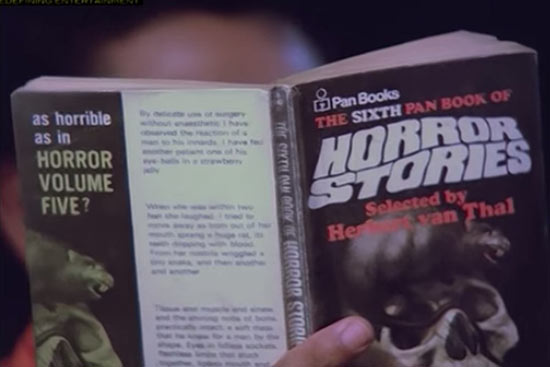 Or take another instance. An eloping couple get onto a train, one of those spacious wooden bogeys from olden times. As the girl goes to the washroom to change, a third person, Amrish Puri, gets in and pulls out a paperback with a dramatic cover. He is reading The Sixth Pan Book of Horror Stories (selected by Herbert van Thal). And the film is Jaani Dushman (1979). The girl's companion is intrigued enough by the choice of the book and proceeds to question Puri about ghosts (bhoot-pret) and their defining characteristics. Meanwhile, the girl comes out of the washroom in all her bridal finery, which is the cue for Amrish Puri to turn into one hairy monster! The book in question was published in 1969, has a creditable rating on book review sites and is part of a seemingly unending series of books, each carrying 20 gory and ghostly stories.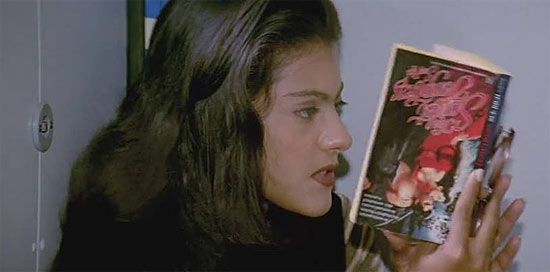 Paperbacks are the ideal companion for train journeys. If not thrillers, romantic novels seem to be the best bet for passing the hours, while zipping through Europe. Or so Simran (Kajol) thinks, when she books a tour on Eurail in Dilwale Dulhania Le Jayenge. But she almost misses her train and is stuck in the hold area with an obnoxious young Indian (Shah Rukh Khan) whose flirting is a crazy mix of chit-chat, tuneless singing and, of course, getting too close to her. Simran tries her best to ignore him by seemingly burying her nose in The Scarlet Temptress by Sue Rich. Except there is one problem—she is so hassled that she's got the book upside down! Published in 1991, the book seems to be a romantic tale set in the colonial times about a 'sultry' heroine and a 'bold and dashing' hero. Now where have I heard that before?
And finally, we come to a classic scene which has a (now) classic book featuring in it. In the opening scenes of Aradhana, Sharmila Tagore is shown happily perched on a window seat of the Darjeeling toy train as Rajesh Khanna sings in a jeep being driven alongside the train. She pretends to be completely nonchalant by hiding behind an Alistair Maclean paperback—a typical spy tale called When Eight Bells Toll. One of the earliest examples of a book being flaunted for a considerable period in a Hindi film (that too a massive hit), this title has often featured in quiz questions and heated discussions on Bollywood chat boards.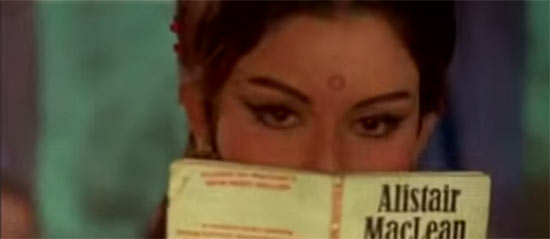 First published in 1966, it was the story of a British Secret Service officer who was sent to investigate the hijacking of gold-carrying ships. It was made into a film in 1971, starring Anthony Hopkins as the male lead.
---

Diptakirti Chaudhuri is a salesman by day and writer by night. He has just finished writing Bollybook: The Big Book of Hindi Movie Trivia, which can be pre-ordered from here
Post Script: The following comments have been compiled from different readers who responded on Twitter: