Dr Afroz Taj, associate professor in the department of Asian studies at the University of North Carolina in Chapel Hill, USA, came to the U.S. in 1981 as a student and stayed on to teach a host of courses related to South Asia. He has set up online Hindi and Urdu learning tools using the grant of one million dollars from the United States department of education, the first of its kind to promote a South Asian language in the U.S. Besides, he also anchors a radio show, Geet Bazaar, on Channel FM in North Carolina in a bid to perpetuate Indian culture. He speaks to Outlook correspondent Abhijit Mazumdar in New Delhi.
Abhijit Mazumdar: How did this unique concept to have an online tool to learn Hindi and Urdu evolve?
Dr Afroz Taj: In 1995 I was appointed to teach Hindi and Urdu under a joint collaboration of the University of North Carolina with the North Carolina State University and Duke University in USA. This collaboration was funded through a federal grant to the South Asia Consortium for teaching foreign languages. I taught for a total eight years— Hindi and Urdu for five years and advanced Hindi for another three years. It was then I envisaged a plan to develop an online tool to teach Hindi and Urdu.
Did the U.S. department of education have any condition for funding your plan?
They wanted the online tools to be made available to everyone for free. They also wanted that there would be no profit made out of it. The plan allocated $500,000 for Hindi and as much for Urdu. It is the largest grant from the U.S. government for any South Asian language.
Tell us a bit about the Hindi and Urdu portals?
A Door Into Hindi comprises tutorials on Hindi while Darvazah has chapters in Urdu. Each tool has 24 progressively advanced tutorials comprising videos, animations, jokes, each aimed at drawing the learner closer to the language. Each video lasts 15-20 minutes, while the accompanying text describes the grammar, synonyms, among other issues related to what was shown in the video.
Are the online tutorials interactive?
Yes, they are. Whenever one does not understand what has been said he has several options to choose from, including having a person explain the meaning and context of the words or phrases used or listening to similar examples based on the problem or looking up animations.
Is it possible to alter the online tools?
No one can amend or alter the online tools, though they can be accessed by everyone across the world.
How many have benefitted from the online tools?
It would be difficult to put a number to it, but I guess it would be in millions from across the globe, including those of South Asian descent now residing in other parts of the world. Also, the online tools are part of university syllabi in many universities in the U.S. The book Teach Yourself Hindi by Rupert Snell, which is considered as the Bible for learning Hindi in the U.S. and Europe has a reference to my online tools. I have synchronized the online tutorials in accordance with the chapters in Snell's book.
What's one big advantage the online tutorials offer to students?
Students do not have to buy expensive books. The book makes learning free and also full of fun using Bollywood movie clips, jokes, among other things. This makes learning languages effortless, and cuts down on time too.
Do you use old or new Bollywood movies in your tutorials?
Most of the time old movies have been used, because such movies have a dignity and purity of language. Learning is facilitated by watching such videos as to impart articulate speech. Similarly, the songs used in these tutorials are of a generation gone by, because diction is clean and it is easier to follow words in them in comparison with new Bollywood numbers which comprise more of music and less of words.
How many years did it take you to design the online tools?
It took me three years each for Hindi and Urdu tools. Basically, I designed the Hindi tool first after which I used the template to design the Urdu tool.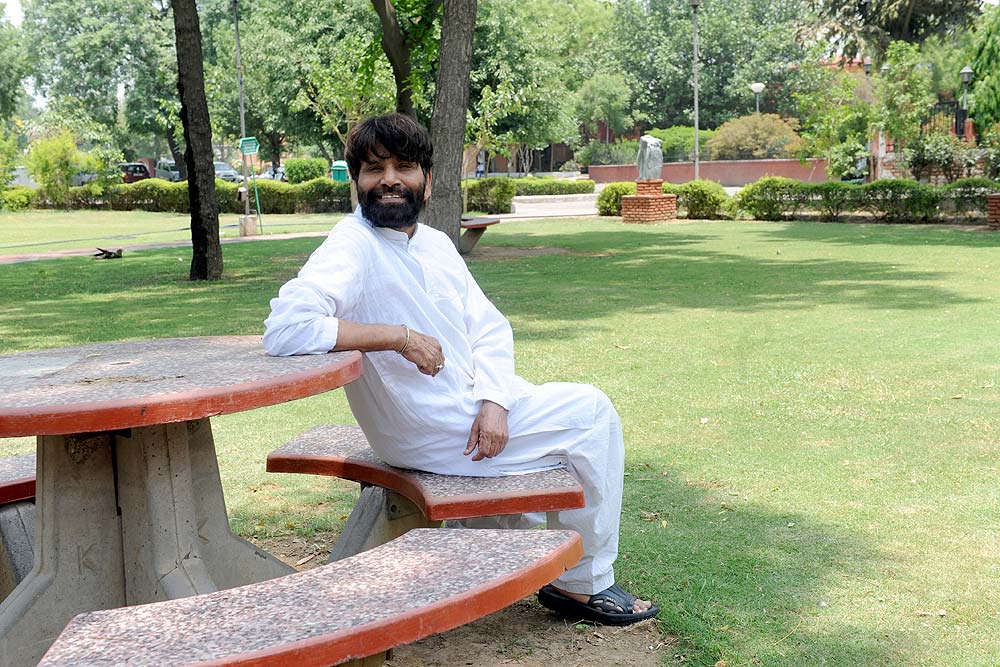 You have a PhD in Indian poetic drama. What drew you to languages?
In the U.S. one does not need to have a PhD to teach languages. I love teaching Urdu and Hindi. Among the various courses I teach are Bollywood Cinema, South Asian Media, South Asian culture and literature, and a seminar on South Asian media.
How do you introduce Hindi and Urdu to your students in class?
Hindi and Urdu combined are the second-most spoken languages in the world. Like English, it is an Indo European language. In my first class, I draw parallel between words in English and Hindi-Urdu, for instance, "naam" and "name" carry the same meaning, while sounding similar. Same applies to "song" and "sangeet."
Do many of your students take up languages as a career?
Many have done so over the past many years. My student Torrey Goad until recently held a senior position in the U.S. embassy at New Delhi. Others have returned to India for employment, while many more have got India postings with international organizations, including the World Bank. One of them returned to India to get married! Many students at the University of North Carolina in Chapel Hill who are researching South Asia-related topics study Hindi and Urdu to facilitate their research and travel to South Asia.
Besides being a teacher, you also host a show on FM radio in USA?
Every Sunday I anchor a show called Geet Bazaar on 88.1 FM in North Carolina. My focus remains perpetuating Indian culture among the expatriate community. My show plays out songs, bhajans and other kinds of Indian music on demand. Also, interviews of South Asians of eminence living or visiting North Carolina are also broadcast. People from as far away as Delhi request songs dedicated to their loved ones living in North Carolina.
What is the difference between youth of India origin brought up in the U.S. and other Indians living there?
Why only the U.S., even the elite and the rich in India care less for their culture. We use our radio programme to promote India culture. I tell my listeners that Hindi is important across the world, and one should not neglect it. To lure my youth listeners, I begin speaking in English, only to quickly move on to Hindi for the rest of the program.
---
For in-depth, objective and more importantly balanced journalism, Click here to subscribe to Outlook Magazine
---