Lyca Productions has announced that it is to produce the sequel to director P Vasu's 'Chandramukhi', which had Rajinikanth and Nayanthara playing the lead.
---
The pandemic hastened the OTT boom by several years, and offered hungry new talent from outside the establishment an opportunity to shine
---
In Hindi cinema alone, we discovered a new, talented crop of filmmakers who created such lovely pieces of content like web series 'Gullak', 'The Scam', 'Paatal Lok', and even movies like 'Sharmaji Nakeem' and 'Kaun Pravin...
---
Have southern films outsmarted Bollywood? Pushpa's chin-wipe has cast a spell across the world, as Tamil, Telugu, Kannada and Malayalam films sweep aside Bollywood's carefully manicured reputations, budgets and delusions...
---
There are as many 'South' film industries as there are 'Madrasi' languages. And they are winning the pan-India market with lavish extravaganzas.
---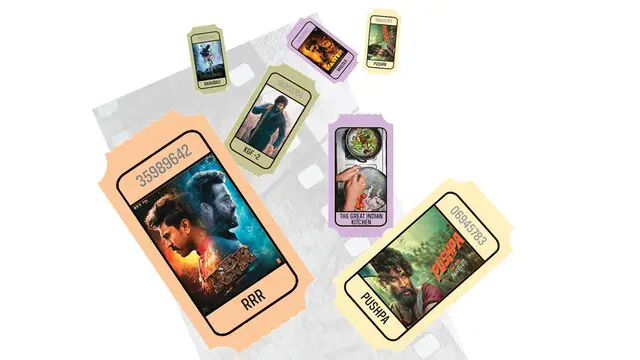 The South Indian cinema eco­system is taking on interesting subjects and putting them out in new, creative ways. Is this making Bollywood feel insecure?
---
One reason behind the soaring box office success of the Telugu film industry is its fiery female star cast
---
Increasingly angry and anarchic, a new spate of Tamil films are embracing—even asserting—their inherent Ambedkarite politics in ways that are both revolutionary and rewarding
---