Several parts of the city received rains on Sunday morning which brought the minimum temperature down to 24.3 degrees Celsius, three notches below normal, it said.
---
The city on Monday had recorded a high of 43.7 degrees Celsius, four notches above the season's average. The MeT office has forecast a generally cloudy sky with light rain or drizzle later in the day.
---
Thundershowers, cloudy sky, gusty winds and light rainfall are predicted on the coming weekend. The maximum temperature at the Safdarjung Observatory may dip to 38 degrees Celsius by Saturday.
---
Weather experts have said Delhi would receive a fresh spell of rain from June 29. The monsoon's arrival in the national capital is likely to be declared on June 30 or July 1.
---
The Met Office predicted maximum temperatures to dip by two to three degrees Celsius in northwest India starting Tuesday. Between June 16 and June 22, the maximum temperatures are likely to remain "below-normal to...
---
A heat wave is declared when the maximum temperature is over 40 degrees Celsius and at least 4.5 notches above normal. A severe heatwave is declared if the departure from the normal temperature is by more than 6.4 notches,...
---
The relative humidity was 68 per cent at 8.30 am, according to the IMD. The weather department has predicted partly cloudy sky during the day. 
---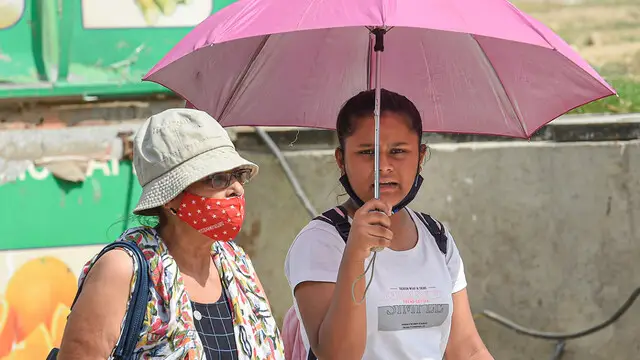 Chandigarh, the common capital of the two states, recorded a high of 43.6 degrees Celsius, according to the meteorological department. In Haryana, Hisar saw a high of 44.6 degrees Celsius, while Sirsa also recorded a high of...
---