Game Of Kings - The Creative And Colourful Chennai Hosts The 44th FIDE Chess Olympiad
The 44th FIDE Chess Olympiad is not confined to the Grandmasters excelling at the battle of the brains, the entire state of Tamil Nadu dresses up in imaginative and original adornments. The flyover looks like a chessboard, scuba divers dive into playing chess under the ocean, classical dancers, folk dancers and martial artists come together for a dance depiction of the game, or medical college students paint themselves like chess pieces.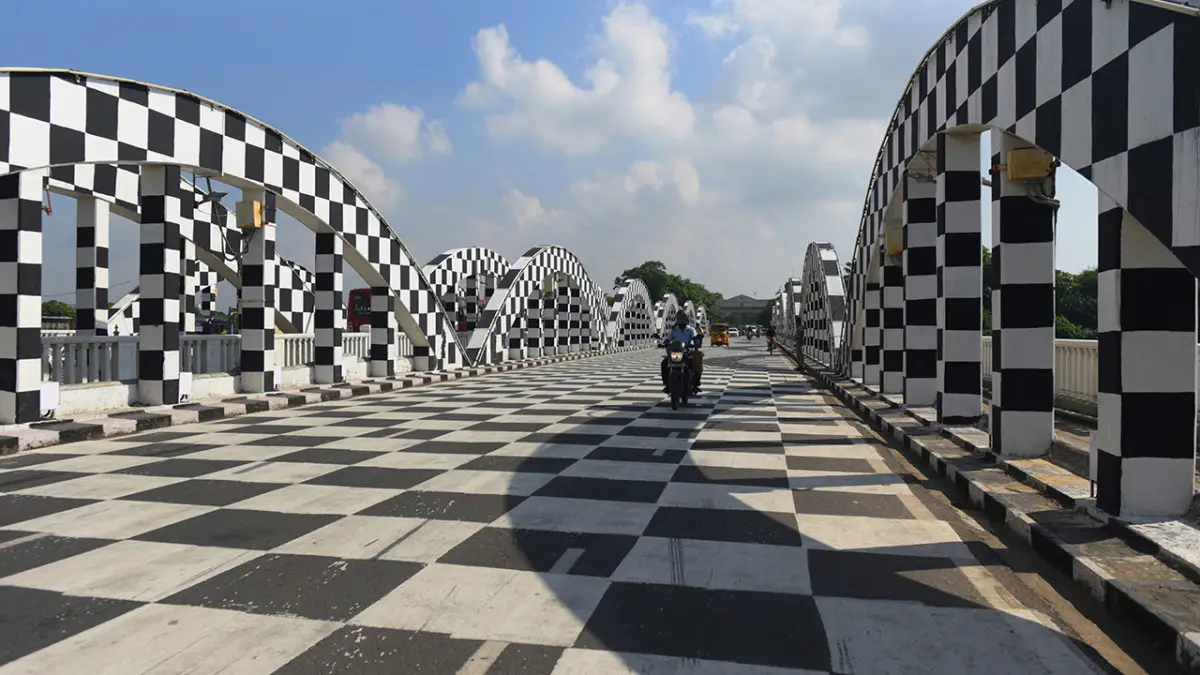 A man rides a scooter on Napier bridge, painted to resemble the squares on a chess board on the inaugural day of the 44th Chess Olympiad in Chennai. The Olympiad will run from July 28 to Aug. 10 at Poonjeri village in Mamallapuram.
Pedestrians walk past the mascot, Thambi, displayed near Marina beach on the inaugural day of the 44th Chess Olympiad in Chennai.
Tamil Nadu CM MK Stalin with Grandmaster Viswanathan Anand look on as action unfolds in the third round of the 44th Chess Olympiad at Mamallapuram, near Chennai.
Scuba divers play a game of chess underwater during the ongoing 44th International Chess Olympiad, near Neelankarai beach in Chennai.
Grandmaster Rameshbabu Praggnanandhaa in action during the 44th Chess Olympiad being hosted by India for the first time, at Mamallapuram near Chennai.
Even before the first move, gambit, the game begins in the players' heads. The pawns and other pieces wait.
Priyadarshini as the Black Queen, and Srinivas as the White King. Checkmate. The finale of the dance depiction curated by Kavitha Ramu calls for several interpretations and addresses various social issues.
War, chess, and dance all merge. The choreography cleverly mixes Bharatanatyam, folk dances 'Therukkoothu' and 'Poi-kaal kuthirai' with the native martial arts 'Malyutham' and 'Silambam'.'
The battle has no black and white. The dancers depict the art of war, chess moves featuring pawns, and the marital art 'Silambam'.