Fourth Of July Celebrations Across US
Fabulous firework displays were seen across the country as Americans celebrated the 4th of July weekend on Sunday to mark the United States' Independence Day.
Spectators gather along Williamsburg's waterfront, in the New York borough of Brooklyn, for the Macy's fireworks display as fireworks explode from barges on the East River to celebrate Independence Day in New York.
Spectators help raise a 36-foot American Flag during the Fourth at the Fort event at the Fort Pitt Museum in Pittsburgh.
A person watches and takes photos and video as a Zambelli fireworks show lights up the Independence Day sky over Pittsburgh and the North Shore.
Raymond Rush, 3, of Washington, watches the Greater Canonsburg Fourth of July celebration in Canonsburg, Pa.
Fireworks explode over Pittsburgh on Independence Day from Mount Washington.
Fireworks burst on the National Mall above the Lincoln Memorial, Washington Monument and the U.S. Capitol building during Independence Day celebrations in Washington.
US President Joe Biden and first lady Jill Biden are joined by members of the Biden family to watch fireworks during a Fourth of July celebration at the White House in Washington.
Kai'lee Cassidy spins in circles in the gentle sprinkle from a fire truck at Fun Fourth in Greensboro, N.C.
Kamakani Komohana Polynesian dancers head up Main Street during the 118th Huntington Beach 4th of July Parade in Huntington Beach, California.
Fireworks explode over the Washington Monument at the National Mall, during the Independence Day celebrations, in Washington.
Participants take to the bike path for Justin Rudd's Great American 4th of July Kids Bike Parade in Long Beach, California.
The American Made Rodeo Drill Team passes hundreds of spectators who lined Capitol Boulevard for the 34th Annual Tumwater Independence Day Parade in Tumwater, Washington.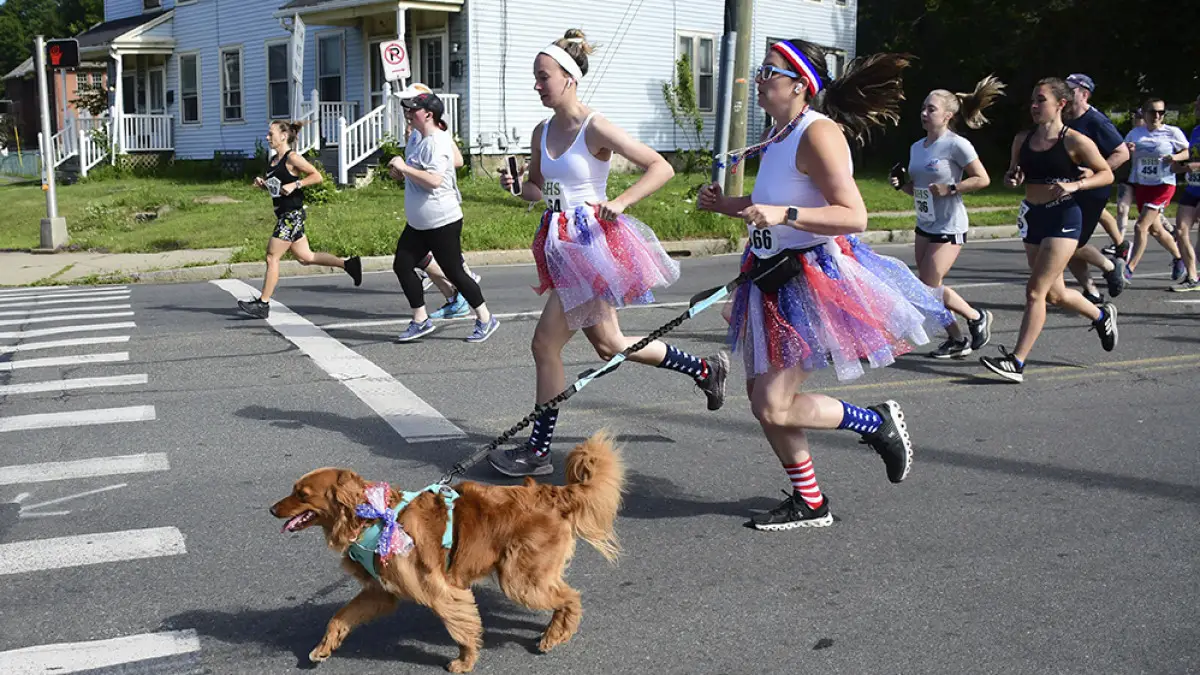 Runners take off down Wahconah Street in Pittsfield, shortly after the start of the Independence Day run, a 5K, in downtown Pittsfield, Mass. which returned after a two-year hiatus due to the pandemic.
Gideon Oji competes in the men's division of the Nathan's Famous Fourth of July hot dog eating contest in Coney Island in New York.