Prabhat Singh Chauhan is the official candidate of Bhartiya Janata Party from Panchmahal constituency but the above banner in Godhra can tell you who is actually fighting the election here. Moreover, to limit Modi just to Vadodara would not only be extremely stupid of me, but also unfair to the Chief Minister of the state and our Prime Minister in-waiting who first created a market and then sold the so-called 'development model' of Gujarat better than what McDonald's did for Burgers or De Beers did for a stone called diamond.
It reminds me of an advertisement I saw some years ago of a cough drop costing 50 paisa. The ad enumerated the contents of the cough drop and their benefits followed by the punchline – "itne paise main itnaich milega" which means, "for this money you will get only this much". It was funny, at least for the first time I heard it.
Advertisement opens in new window
But when someone uses this line to 'punch' below the belt, it hurts.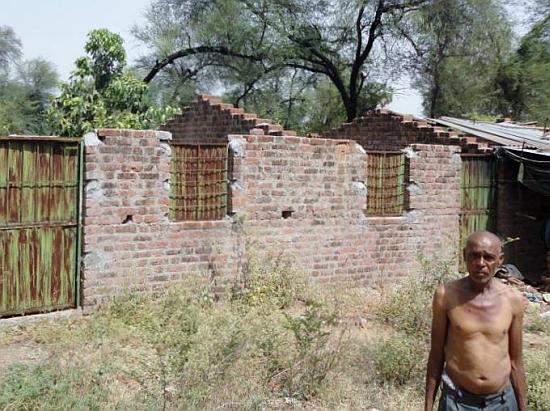 The residents of Hadabiya village are being tacitly told something similar to this punchline by their Sarpanch when they ask for a roof over the shabbily constructed four walls, which they call their home, under Indira Aawas Yojna/Sardar Patel Aawas Yojna. The former, a centrally funded housing scheme for Schedule castes (SC), Schedule Tribes (ST), Below Poverty Line (BPL) people etc, provides a financial assistance of Rs 70,000 while the latter, a state funded scheme for BPL people, landless labourers etc gives Rs 36,000 in three instalments.
First of all, how is it possible that the same thing (a house) can cost almost half when the state is funding for it? Either the central government is splurging or the state government doesn't know that it's year 2014.
The latest set of houses, constructed under the housing schemes, is already more than four to five months old, the villagers told me. The sun is unforgiving these summers and the merciless monsoon is around the corner but a roof is not in sight. I can't even imagine the frustration of having a home and yet not being able to live in it. Where they could, the residents have put a roof themselves.
Advertisement opens in new window
When do you think the houses would get roofs?" I asked. "Only after we'll die," Daambhai Mansinghbhai Nayak replied. Nayak is a labourer who works in others' fields. Now that the harvesting season is over, even that work is rare. A roofless house has been allotted to the wife of his deceased brother. He himself couldn't get one because he is not officially poor. His house, though, says a different story.
Despite an electricity pole right across the cemented road, not one out of the 15 odd houses has power since the inception of this extension of the main village five years ago. The main village, I was told, couldn't accommodate its burgeoning population and therefore some people were asked/opted to shift to this part.
"Don't you ask your Sarpanch to do something about it?" I asked.
"Of course we do and he reassures us to get it done every single time but doesn't do anything," Nayak replied. "And we know he won't do anything. After all, he is associated with the Bhartiya Janata Party (BJP) and knows that we vote for Congress," he added.
Advertisement opens in new window
"We don't give a damn if he (Sarpanch) dies today", said an angry young man in his early 20s who was very sceptical about the purpose of my visit. It took me a while to convince him that I indeed am a freelance journalist from Delhi travelling on a cycle to cover elections. Pipelines were laid in the village some time ago but not a single drop came out of them till date, he added once he opened up.
In due course of time, this compassionate sarpanch— Vikram— with such unbiased dedication to serve its people will rise to become a member of Legislative assembly (MLA) or may be even Parliament (MP). That's how the flower of democracy blossoms.
But just like any other crop, it requires inputs, viz. money and alcohol. More the inputs, richer the harvest. The unfortunate fact remains that for a lot of people elections are not an occasion to choose their representative, it's an auction where the highest bidder gets their vote.
Advertisement opens in new window
Which party has a better chance this time? I asked Bachubhai Parmar of Malao village who was collecting firewood for cooking at that time. "Both the parties are in the fray," he replied. "Whichever side offers money will get my vote," he added while lighting his bidi. I was amused at his candidness.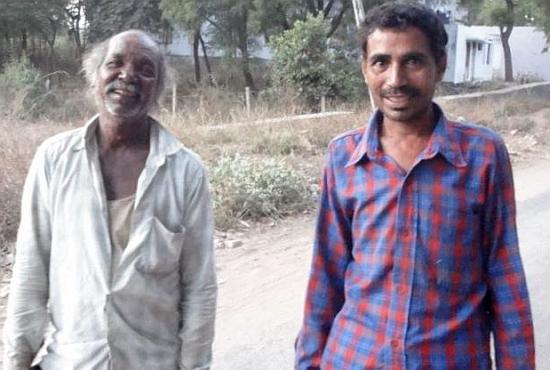 Shailesh and Daaya Bhai, who do farming on leased land or work as labourer, were even more specific. The 'XYZ' party which is likelier to win according to them is the one which gives them money and booze. Wait, isn't Gujarat a dry state? I asked innocently. They laughed in unison. I joined them. "Full chalta hai (it's available in plenty)," said Daaya Bhai when he could hold his laugh.
A college friend who now works in Ahmadabad told me that alcohol is home-delivered in Gujarat. There is a proper network in place having an unwritten 'memorandum of understanding' (MoU) duly signed with the police. He is having a tough time these elections— a bottle which was earlier available at Rs 950 has skyrocketed to Rs 1500. And they say they will control inflation!
Advertisement opens in new window
Dry State— such an awesome political masterstroke it is. Sure, when alcohol has so much power to alter an election outcome, why not control it? Simply ensure when the police should adhere to the MoU and when it should not. A perfect antidote to anti-incumbency.
I just wish people stop being so honest. Take the money, take the bottle of booze, take everything they have to offer, yet vote as per your choice. This whole castle of cards will crumble in no time. With secret ballot, nobody knows who you voted for after all.
But with the herd-mentality we Indians have, choice doesn't even make a guest appearance in the whole movie. Mela Bhai Rathwa of Kadatala village votes for BJP because it's an ancestral practice which he is entrusted to carry forward. Natwar Bhai, a farmer in Bhuki village prefers BJP over Congress just like someone prefers a T-shirt over a shirt. Munni Ben, who travels all the way from Halol to Pavagarh along with her daughter to sell home-made Cricket bats and wooden toys, will vote for BJP because, well, when everyone else is voting for the party, she better fall in line.
Advertisement opens in new window
Pavagarh, by the way, is a very famous tourist spot. It's a hill with a temple of goddess Kali at a height of 829m. The place attracts so many people on Sundays that it foiled my plan to enjoy a cable-car ride and have a bird's eye view of the area from the top.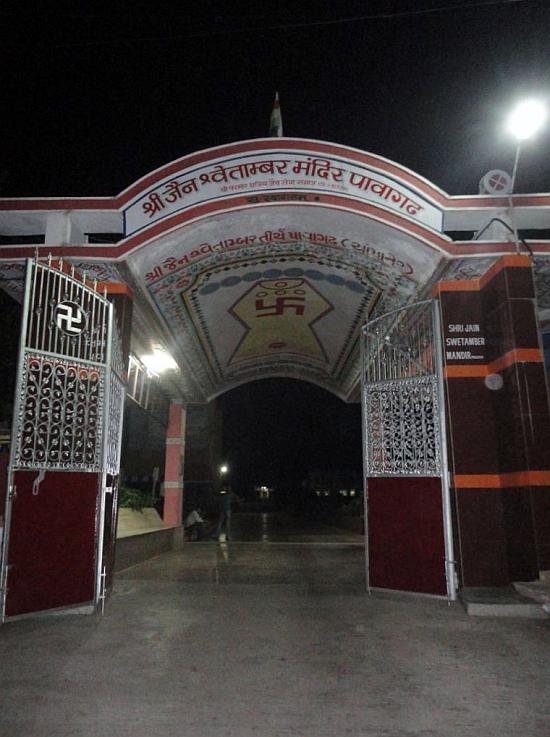 The place also has Jain temples and hence two Jain Dharmshalas. These are actually laboratories where racism and casteism is practiced in broad day light in the name of religion which now has an added shield of 'minority status'.
"We give rooms only to Jains," said the receptionist of this temple cum dharmshala.
"What if I am?"
"I can tell by your face that you are not a Jain."
He didn't bother to see my I-card. Their intolerance doesn't let them open their hearts and the doors of their religious centres for other 'impure' people. 'What's your religion?', 'What's your caste?', 'What type of Jain are you?' etc. are the kind of questions they ask you. I hung my head in shame and left seeing such degradation of a religion which has 'live and let others live' as one of the fundamental principles.
Your religion/caste decides a lot about you in this state e.g., your political opinion. An upper caste Hindu is out and out sold for Modi and will give 11 marks out of 10 for his phenomenal work. A lower caste Hindu believes that Modi works only for the upper-class and businessmen. For a Muslim, Modi's entire work— past, present or future— becomes zilch in front of the 2002 pogrom. Of course, it's a very broad classification and exceptions do exist.
For example, Siraj Bhai Aadam, owner of a Chicken shop in Wagjipur will vote for BJP. "I have to. After all it's in the state and seems to be coming in the centre as well," he says. He is also not too sure of Modi's involvement in the riots.
But Rahim Bhai of Gondara, in Godhra is not ambivalent at all. "None of us vote for Modi. How can we? He slit open the wombs of our women. Who can forget such atrocities even if 50 years pass by?" he said. Congress is the only option for him, at least in this election. He didn't rule out trying Aam Aadmi Party (AAP) in the future.
On the other hand, Balwant Fatehsingh Chauhan, a farmer in Rinchia village and a distant cousin of Prabhat Singh Chauhan (so he claims) says that BJP not only has given subsidised grains to BPL families but poor families not falling under BPL list as well. Every house, even if it's a lone structure standing three KM away from the main village, has been electrified. And I did see some houses matching his claims too.
But darkness persists in Savita ben's house bang on the road and flanked by electricity poles in Malao village. She just can't afford the installation and electricity-meter cost and only one connection can be issued on one BPL card which is with her son. He lives in a separate house 100 meters away but on papers, they are a family. It's my misfortune that I couldn't understand much of what she said in Gujarati on why she can't be issued a BPL card.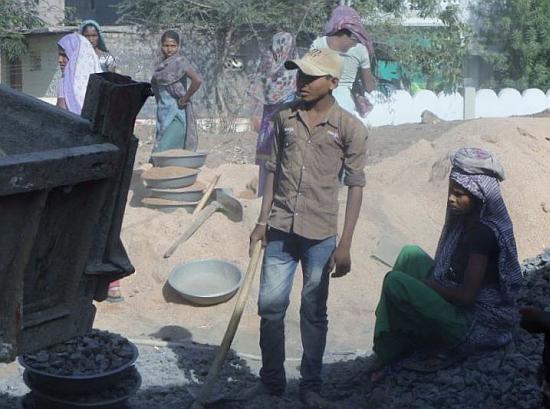 Broadly speaking, roads in the state are of good quality. I also understand that Modi is not a super-human (although his bhakts claim him to be one) and hence expecting every single road to be perfect is unfair. But I also didn't expect a child would be employed in a government road project near Adadara. He didn't know his age but my hunch says that he was in his early teens.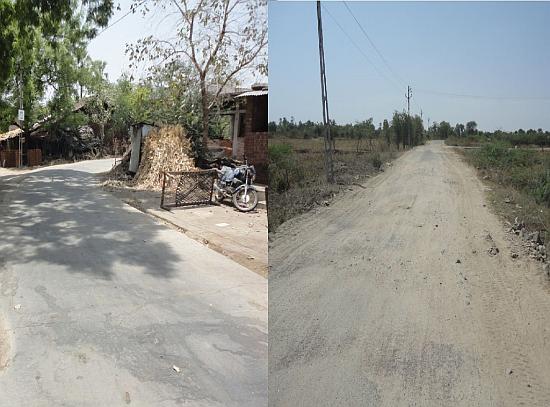 I also observed a general trend in the quality of roads: if an outsider is not expected to see it, ignore it. The smaller—or remoter— the village is, the unluckier it gets. I am sure no scheme under which these roads are made prescribes any such discrimination.
This reminds me of a quote by Author H. Jackson: "Our character is what we do when we think no one is looking."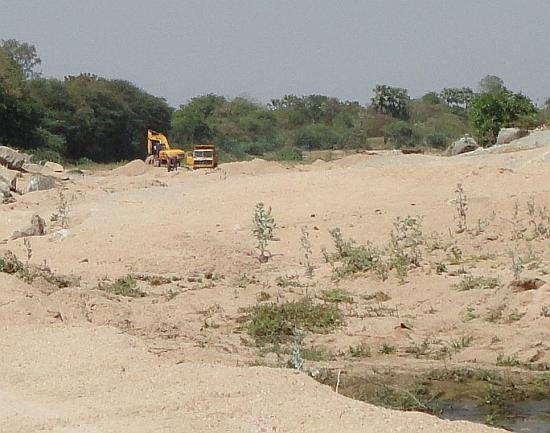 Which leads me to Goma River where sand is mined from its basin in broad daylight (as well as in the dark) assuming that no one is looking. The contractor is none other than the son of the MP, Prabhat Singh Chauhan. I tried to confirm with the National Green Tribunal (NGT) if any new permission has been given to anyone to mine sand from Goma river basin in Panchmahal district after it banned sand mining all over India. I haven't got a reply yet. Dr G.K. Pandey, Expert Member, NGT refused to comment.
Bhagwan Jadhav, a self-declared illegal sand-miner explained the business during the 20 minutes I hitch-hiked on his tractor-trolley loaded with wet sand. For every five trucks that are loaded, only one gets reflected in the government records for which you pay the royalty, he said. Or mining in the day might be happening with the permit and in the night, without it, he surmised.
I have already started feeling quite gloomy writing this article and can go on for another 500 words. But let me end with this beautiful photograph which I was lucky to click.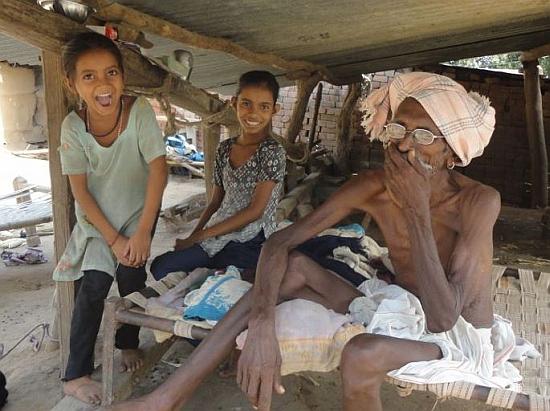 The grand-daughters of Melabhai Bhilubhai Rathwa of Kadatala village were just too thrilled to see me on my cycle. The younger one studies in class I while the elder is in Class VI. They just couldn't hold their laughter when I requested to click the picture.
Seeing them was as refreshing as a dip in Narmada river canal which I took before I entered Vadodara.