Dispatches from the Wall Corner: A Journey Through Indian Cinema
By Baradwaj Rangan
Rs 699 / 610 Pages Tranquebar
Bappi Lahiri is seated in front of me, outsized sunglasses framing an outsized head on an outsized neck, hinting at either a baby-faced chainsaw-murderer in a Coen Brothers movie or a benign Buddha, smiling and waving away the world's worries. But to hear the singer-musician speak, he'd rather be thought of as Paul the Octopus, whose predictions during the FIFA World Cup were awaited with as much breathlessness as the royal announcement about when Kate and William would finally get hitched. Lahiri is certain that India will win the ICC World Cup, and his confidence springs from his exhortatory album Come On India, in which he belts out the sentiment, 'Aankhon mein hai bas ek sapna, haathon mein hoga World Cup apna.' He has a dream, a singular dream, that we will win the trophy shaped like a golden globe held up by three silver columns. It makes sense that Bappi Lahiri has his eye on that trophy. There is, after all, all that glittering metal.
When England and India locked horns in that historic tie, Lahiri was on stage, performing Come On India, and he feels it's his energy, his positive energy, that brought about this result. About why that energy did not envelop the team and fashion a full win, he is cheerfully unruffled, back to being the benign Buddha. 'The important thing is that India is equal. India did not lose.' He talks a little more cricket. 'I am scared about South Africa, Australia and Sri Lanka. But my team is Number One.' And then he moves on to music, which allows him to drop into the conversation the entirely unexpected phrase "Jimmy Jimmy country." Like Sholay, he says, Disco Dancer is a milestone in Indian cinema. 'Aaj tak no Indian films have had such popular songs.' And he steers the talk towards the steppes. 'When I landed in Kazakhstan and Uzbekistan, all the taxi drivers would ask me: "Are you from Jimmy Jimmy country?"' The reference, of course, is to the chartbuster from Disco Dancer that, nearly three decades later, found itself on the soundtrack of the Adam Sandler comedy You Don't Mess with the Zohan. 'That, to me, is bigger than Oscar and Grammy.'
And now Grammy has come calling, appointing him a judge for the World Music section for the 2012 awards. He talks of composing for twelve silver jubilees in a single year and brings back memories of an era where entire generations of families would throng to the theatres to watch new releases. He speaks of having spent forty years in cinema, with 461 films bearing his imprint as music director. These facts come tumbling out from the corner of the armchair where he is perched, leaning slightly forward, as if rattling off his own records is his idea of edge-of-the-seat entertainment. This is a man easy to mock, with his blue sports jacket and its halfway-down zipper revealing a smooth chest dappled with gold, and with the black scarf he wears like a garland, as if worshipping his own awesomeness, deity and devotee in one portly package. But there is something disarming about his energetic pronouncements about his accomplishments and the childlike pleasure he takes in them.
It is very likely that a great many would-be mockers have walked away charmed.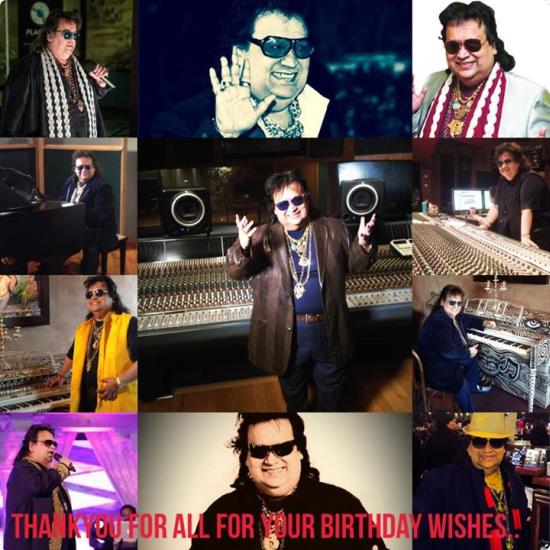 Courtesy: Facebook
Every piece of jewellery on his person carries a bit of history, and like a war veteran giving a sense of his traumas through his wounds, Lahiri gives a guided tour of his career through the chains around his neck. The "Hare Krishna Hare Ram" medallion is a gift from his mother, after his first superhit song, Jalta hai jiya from Zakhmee, climbed to No. 1 on the Binaca charts. The Balaji locket around his throat is an indication that the Lord of Tirupati protects his voice. The Ganpati locket is a gift from his wife, as is the big B locket, which is just a locket shaped like the alphabet. Hanuman, doubtless, bestows other boons, as do the bracelets from Vatican City, Ajmer Sharif and the Golden Temple. The gold watch encrusted with diamonds appears to be the sole style statement, woefully bereft of significance except for what it probably cost. 'I am blingbling Bappi-da,' he crows. 'Gold is lucky for me.' A thought arises about airport metal detectors, but he waves it aside. 'I have never removed these in any airport. They know Bappi Lahiri very well.'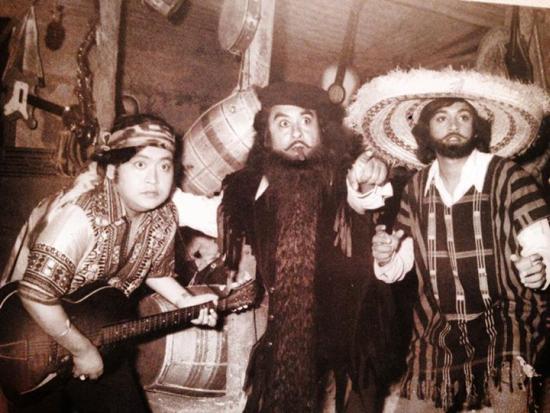 In younger days (from L to R): Bappi Lahiri, Kishore Kumar, Amit Kumaar. Screenshot from Bhadti Ka Naam Dhadi
As does the India below the Vindhyas. Lahiri has had a long association with filmmakers like Raghavendra Rao and T Rama Rao. With Durai, he recalls Pet Pyaar Aur Paap (the Hindi remake of Pasi), with AVM Productions, Jeene Ki Arzoo (subtly summarised as "snake ban jaata hai"), and with K Balachander, something called Dilon Ka Rishta, with Rahul Roy and Anu Agarwal. The latter does not sound likely at all, but he insists that it was made and that it was shelved. Lahiri's memory is like that—it comes and goes, or perhaps it's just a warm-happy cocoon of what he believes to be true. No amount of arguing, for instance, will budge him from the position that Shaarabi was made in 1987, not 1984, as records and other people's memories point out.
Long before he was crowned disco king, he was a meticulous melodist, and the mention of two irreproachable Yesudas numbers—Zid na karo (Lahu Ke Do Rang) and Maana Ho Tum (Toote Khilone)—dredges up another memory, of listening to a Malayalam song and insisting that he wanted this voice, "this deep male voice".
But that Bappi Lahiri lies forgotten, like most of the movies he's made music for. He's known today as the man who brought disco to Bollywood (or, depending on the generational viewpoint you bring to bear on the issue, the man who single-handedly reduced the Hindi film song from a complex symbiosis of tune and rhythm to a throbbing set of beats). Lahiri himself has no qualms accepting his place in music history. 'I am a disco king,' he remarks. 'I am the godfather of disco.' His narration of how that came to be is easily the evening's highlight. When Ravikant Nagaich, with Suraksha, set out to distil the essence of James Bond into Gunmaster G-9, he told Lahiri that he was making a different kind of film with a different kind of hero and that he wanted a different kind of music. That music reached Lahiri's ears in a nightclub in Chicago, during his first world tour. 'I heard Saturday Night Fever and I felt it was something new.' He asked the DJ what this music was, and he was told—somewhat bafflingly—it was called disco, 'because it was played on an LP disc.' There probably isn't any point in pressing for an answer to the question 'where did the O come from then?'
That minor issue of memory apart, Lahiri was inspired by the beat—"not the song"—and he composed Mausam hai gaane ka in a room at the Chola Sheraton in Chennai. In other words, the disco wave that swept the country was birthed in our own backyard.
—6 March 2011
---
Check out our Bappi Lahiri Archive
---
For in-depth, objective and more importantly balanced journalism, Click here to subscribe to Outlook Magazine
---