Russian Soldiers Redeploying Away From Kyiv Leave Behind 'Catastrophe'
Russian soldiers redeploying away from Ukrainian capital Kyiv and towards the Donbas region in the country's east have left behind a catastrophe, including landmines, their equipment and corpses, said President Volodymyr Zelenskyy. Earlier, the Russians had announced a reduction of military activities near Kyiv and in the northern city of Chernihiv but they have since redeployed to the east instead of retreating.
A Ukrainian soldier looks at a damaged bridge in Bucha, on the outskirts of Kyiv, Ukraine.
A woman walks next to a dead Russian soldier in Bucha, in the outskirts of Kyiv, Ukraine.
A girl inside a train reacts as she says goodbye to relatives at the train station in Odesa, before she and members of her family escape the war in Ukraine to Polan.
A Ukrainian army soldier injured in combat against Russian forces undergoes surgery at a military hospital in Zaporizhzhia, Ukraine.
A dog runs by a Russian tank destroyed during fighting two days ago, in the village of Dmytrivka close to Kyiv, Ukraine.
People hold portraits of Ukrainian President Volodymyr Zelenskyy during an anti-war rally in front of the Palace of Culture and Science in Warsaw, Poland.
Refugees walk after fleeing the war from neighboring Ukraine at the border crossing in Medyka, southeastern Poland.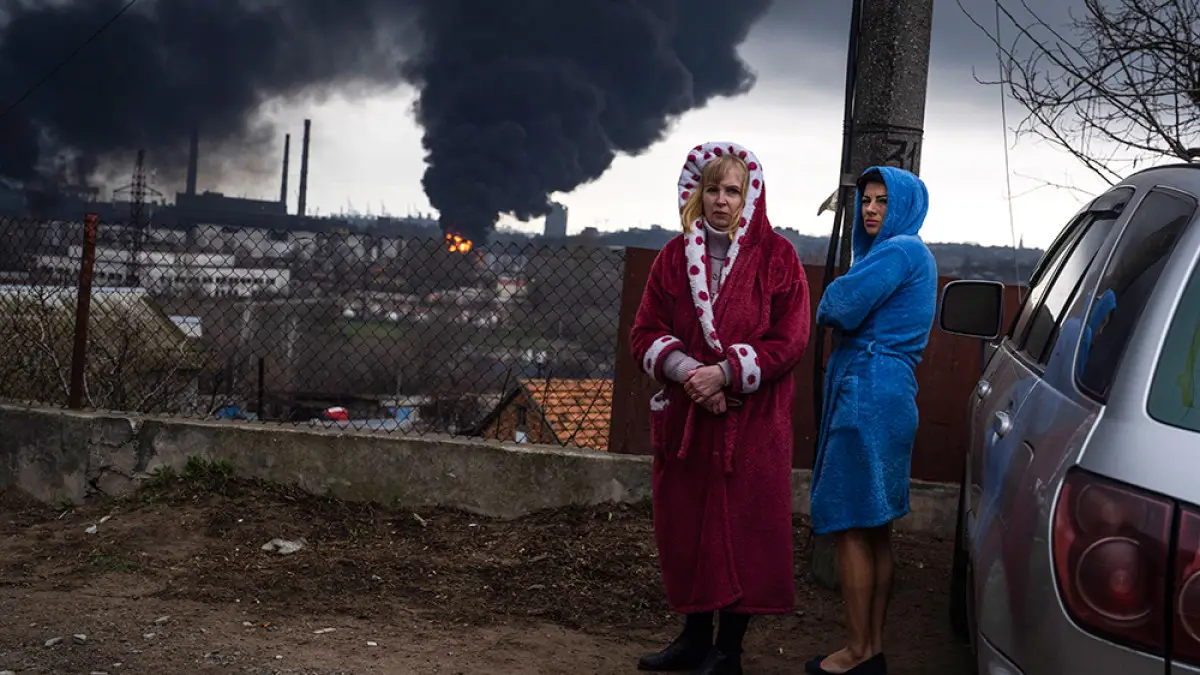 Women stay next to a car as smoke rises in the air in the background after shelling in Odesa, Ukraine.
People watch as smoke rises in the air after shelling in Odesa, Ukraine.
A Ukrainian serviceman secures the retreat of fellow soldiers who checked bodies lying on the street for booby traps in the formerly Russian-occupied Kyiv suburb of Bucha, Ukraine.