Calcutta Corner
Since the Bengali words for both "industry" and "art" are "shilpo" and since Deb is an artist— a film artist— he is perfectly suitable for a meet of "shilpo-potis" or industrialists in Singapore, according to Mamata di
Courting Controversy
Bengal chief minister Mamata Banerjee has courted fresh controversy. What now? Well, she went off to Singapore on a purported 'industrial' visit with a goal to attract industry to the state. Nothing wrong with that (especially considering that industrialists at home are not exactly lining up to invest in the state) except that instead of taking her industry minister Amit Mitra along as protocol would suggest, she got actor Deb to accompany her on her trip. To quash the media uproar this decision caused—an uproar which centred around the question "What is the justification for letting a film star tag along?"— Mamata made it clear that she doesn't like to limit the word "industry" to mean only "wood, steel and cement". In fact, she pointed out, in Bengali the words for both "industry" and "art" are "shilpo" and since Deb is an artist— a film artist— he is perfectly justified in tagging along for the meet of "shilpo-potis" or industrialists.
Advertisement opens in new window
Losing His Mind
Amit Mitra found himself in the middle of a different controversy altogether. When, on a visit to Calcutta, industrialist Ratan Tata, whose small car factory was driven out of Bengal by a Trinamool agitation during the CPIM rule, lamented the state of the industry in Bengal, Mitra retorted by accusing Tata of having "lost his mind." The industry minister's exact words for the industrialist was, in Bengali, "onar moti-bhrom hoyechey" The remark generated much media frenzy with one newspaper printing a caricature of Mitra wearing the psychiatrist's white coat and a word bubble with the diagnosis "he's lost his mind". There was also a deluge of photographs splashed across newspaper front pages showing a large number of industries and factories lying ruined or in varying states of ruin across the landscape of the state, possibly to demonstrate how incorrect the diagnosis was.

Here Comes the Sun...
The CPIM is trying to make hay while Trinamool continues to spread its sunshine around. In fact, the CPIM is trying to do it quite literally. Insiders claim that the party has decided to promote Surya Kanta Mishra, whose name means the Sun, as the face of the party in the countdown to the Assembly Elections less than two years away. Mishra, who is currently the leader of the Opposition in the Bengal Assembly is considered decisive and articulate and commands the respect of his party.

No to No
Advertisement opens in new window
The one glimmer of hope for Calcutta was when the state government clamped down on Taxi drivers who refused passengers. But cab drivers have decided to take to the streets demanding their right to say "No" and this week taxis went off the roads. But transport minister Madan Mitra who has embarked on a no holds-barred combat against the practice is unrelenting.
Tail Piece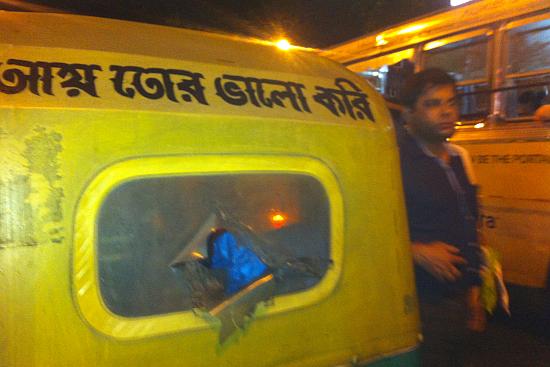 Written behind an auto: "aay tor bhaalo korii" (come let me do good to you)