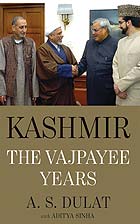 Former Research & Analysis Wing chief Amarjit Singh Dulat's book, Kashmir: The Vajpayee Years, hit the headlines for his revelations on the hijacking of flight IC-814 and other issues. In a wide-ranging interview with Bula Devi, the 75-year-old former spy recalls the missed opportunities in Kashmir and India-Pakistan relations.
Hizbul Mujahideen leader Majid Dar surfaced in Srinagar, ostensibly via Dubai, in July 2000. Was it the first real attempt at resolving the Kashmir issue after militancy? What went wrong? Did you go to Dubai for talks?
No, I did not go to Dubai and nothing went wrong. In fact, it was a great operation, whoever conducted it. We learnt that Majid Dar was interested in coming to India. He was the Hizb chief; (Syed) Salahuddin was just for name's sake. We...