Scene 1: Alia Bhatt squeals, "Prithviraj Chavan," when asked to "name the president of India" in the quiz in Koffee with Karan, only a second after Varun Dhavan has anointed "Manmohan Singh" the president. While Varun escapes with little damage, poor Alia becomes an icon of dumbness for weeks.
Scene 2: An innocent-looking Alia surpasses expectations as she tightly holds her kidnapper Randeep Hooda, as he breaks down inconsolably in Imtiaz Ali's Highway. Her performance as a child abuse survivor finding inner freedom with her kidnapper set her apart as an actress to watch out for. She is 20.
Alia, now all of 22, inhabits the essence of both scenarios. She is also that rare star who can laugh at herself. The cute neophyte who could not answer a simple question pretty much silenced her critics with a generous dose of self-deprecation with the All India Bakchod video Genius of the Year, loosely titled on her debut film, Student of the Year.
So is Alia an Indian version of pretty dumb blonde or is she the next big star backed by both lineage and talent? Or is she a product of effective brand and image management, something attributed to Aishwarya Rai for her impeccable public persona? While answers may differ depending on stakeholders, there is no disagreement about her talent and courage as an actress.
"She always sees the bigger picture first and then has fun with the role or the shoot. She is very bright and always gets the point," says Vikas Bahl, director of the woman-centric hit Queen. Bahl is now directing Alia in upcoming romcom Shaandaar and had earlier made a video on women's safety with her, where, in a utopian setting, she gets a lift from five gruff-looking boys after her car breaks down on a deserted road.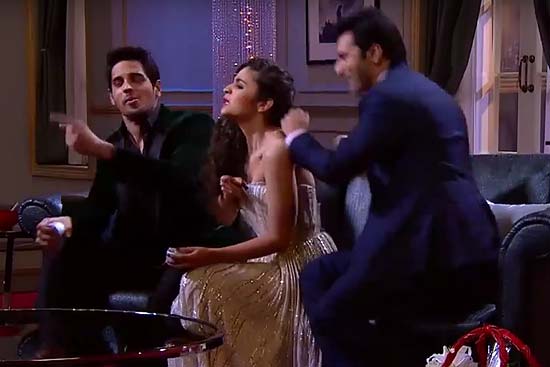 Shaandaar is making news for many reasons—not least because it is Bahl's next after the acclaimed Queen. Secondly, because it brings Shahid Kapoor (after his momentous outing in Haider) and Alia together. At the press conference, packed with fans and production teams apart from journalists, Alia is a clear winner. "This character made me explore this fantasy, a quirky side which I always wanted to, which I do only in my room. I became the character..." she chirpily starts, immediately adding, "I want to say one thing to everyone who is here. Alia in Shaandaar is very very intelligent. Please don't mess with her. She gets all the facts right. So don't ask her any questions. Don't ask me any questions either...." she giggles naughtily, pre-empting the unspoken, as Karan Johar, Shahid Kapoor and Vikas Bahl enjoy the ensuing uproar amidst the audience.
Roundly lampooned for a faux pas on Koffee with Karan, Alia had the spirit to laugh along in AIB's video Genius of the Year.
With Karan Johar, known for his wicked sense of humour, himself guiding you through your career, including a deal with Dharma Productions, a partnership with him to curate foreign TV shows on Colors Infinity, as well as indulgent outings on his chat show, Alia hasn't felt the need to bank on her illustrious family yet. Perhaps it is her upbringing that has helped her step out of her comfort zone and weigh herself against the lightest of weights. She has already launched an apparel line last year with online shopping company Jabong, a move most actresses make after spending considerable time on the charts.
"She is unnervingly mature and so, so still. She has carved out a place for herself and is the architect of her destiny. But she is also not a member of her own fan club, and knows she hasn't scratched the surface of her potential. She has grown up around the teachings of U.G. Krishnamoorti," says a doting Mahesh Bhatt. Within Bhatt's own character—he's known for his forthrightness, someone who doesn't think twice before taking a stand on issues, however impolitic, in a notoriously incestuous industry—may lie the answers to his daughter's spirit.
Bhatt, who has an image of a 'serious' man, confounded viewers by starring in the AIB video—a sporting gesture. "We went to her with just that one line of what if you went to a mental gym. There was absolutely no agenda of PR, image-building or whatsoever. We were amused by the reaction. It is just that she took the joke in the right spirit; she is very talented," says Ashish Shakya of AIB.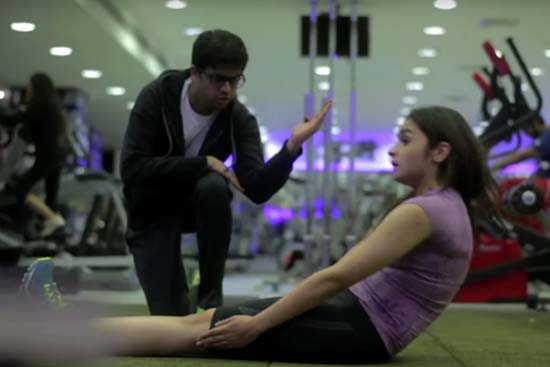 The video did its provocative work well. While Shahrukh Khan and Saif Ali Khan were perhaps the only ones who set award shows alight with their unabashedly goofy humour, it was Alia's AIB turn that truly announced the arrival of the GenY breed, thus blowing a whiff of young and wacky Hollywood. Ashish, too, speaks of a new generation that has grown up with the internet, treats faux pas as embarrassingly funny, and, chuckling still, moves on.
"It's hard to find people in life who have the courage and confidence to laugh along when the joke is on them. The way she embraced social media criticism endeared her to all of us. Quite a masterstroke, that," says Ajay Bahl, director of the dark BA Pass.
"She has made the right moves and taken the right steps. She is also the chip of the same block as the iconoclastic Mahesh and Pooja Bhatt. Moreover, the old filmi crap doesn't bother the new generation now. In the 1990s it was impossible for us to do a show on Channel V and get actors to poke fun at themselves...it was impossible! Also remember now the stars do not need the media. They are in constant touch with their fans through social networking. They don't worry about their foibles," says Minty Tejpal, film-writer and advertising professional.
But what holds Alia in good stead, apart from a background in movies and studied insouciance, is oodles of talent. She has already sung playback and has alternated between commercial masala films and slightly edgy ones.
GenY stars like Alia, Arjun, Ranveer etc break norms, have a good laugh at themselves and lighten up the tone.
"The song Mein tenu samjhavan ki she sang for Humpty Sharma was rendered with so much emotion and feeling, even though she is not a singer in a classical sense. Personally that moved me a lot. Talking about her future films, I have heard from very reliable and knowled­g­e­able sources that she is just outstanding in Udta Punjab. Believe me, she is going to be a bright star on the horizon for years to come," says Ajay Bahl.
When asked if her choice of films till date was conscious, Alia's response is measured. "I would like to do as many different roles as possible and I believe variety is the spice of life. I don't want to do the same role over and over but I have been fortunate to get the opportunity to choose from so many different characters. It is a conscious decision but I also have been very lucky. The different roles I have gotten, I have taken up," she says.

Alia with filmmaker father Mahesh Bhatt. Where would she fit in the lineage?
Her co-star Shahid adds an anecdote. "We were trying to make Udta Punjab for a year, and nobody wanted to do it because it's a dark film and it's pretty out there in its content. When I told Alia that there was a role which I thought was one of the finest for a female actor, within two days she said she wanted to do it. Very very brave on her part. There are very few actresses who like to step out of their skin and not worry about looking good.... So I am very proud of her. She has been making some great choices."
Mahesh Bhatt says she knows she doesn't have to fit. "The sign of a growing and thinking actor is displaying the courage to go into unchartered spaces. No matter how great a model, if you stick to that it becomes your cage. A person is unique and distinct when they are true to their core. There is absolutely no need to fit into any model."
It is stars like Alia, Irrfan, Arjun Kapoor and Ranveer Singh—who are breaking the norms by doing different films and yet having a good laugh at themselves along the way with AIB roasts and videos—who set the trend and lighten up the tone. "Bollywood is the biggest cultural landmark. So if they open up, comedy will grow in India," says Ashish Shakya.
Even as the pedigreed talent traipses her way through what looks like a fabulous career, her PR teams fiercely guard her from the media, warding off any query about an interview with counter queries: "Are you putting her on the cover; who else are you featuring; she is out of India and we can't tell you when she will be back...." Of course, when she gets back to a public forum, there is no stopping the frenetically irrepressible Alia—from jumping to Shahid's defence on questions about his marriage, telling funny stories about Pankaj Kapoor and herbal remedy and clicking selfies with fans at the event to speaking about the bone-chilling cold in Poland and bikini scenes.
Alia shall decide if she wants to live up to what a Bhatt is perceived to be in Bollywood: irreverent, occasionally philosophical, outspoken, standing up for issues like communal harmony, the way her half-sister Pooja, cousin Emran Hashmi and father have. Or will she be an adorable prima donna, stuck in the number one and size zero contests, accessible through Twitter before movie relea­ses—a role she presently inhabits so effortlessly. It would be interesting if a few dark-grey shades from her gritty roles impel her to look at life other than from a roller-skater. But there is time yet for that.
---
By Prachi Pinglay-Plumber in Mumbai