"Sivajisaab is the genetic code embedded in every Tamil actor," wrote actor Kamalahaasan in an obit for thespian Sivaji Ganesan in Outlook in 2001. After 50 years in the film industry, the same could be said for Kamal, 55, too. He may not have the phenomenal box-office success that contemporary Rajnikanth has but no actor in Kollywood has pushed the envelope like him.
In an industry where every actor is bestowed a title, Kamal's is 'Ulaganayagan', one who rules the world, which he does in many ways. With chameleon-like ease, he's got under the skin of many a diverse character—a ventriloquist in Avargal, a serial killer in Sigappu Rojakkal, an obsessive lover in Guna, a blind violinist in Raja Paarvai, an autistic savant in Swathi Muthyam, an amnesiac in Vetri Vizha, a woman in Avvai Shanmughi.... In an age where an actor earns plaudits for doing a double role, Kamal's oeuvre boasts not just that (Indru Chandru, Punnagai Mannan, Kuruthipunal and Aalavandhan, for which he went bald and put on 10 kg), but even triple roles (including as a dwarf in Apoorva Sahodarargal), four different roles (Michael Madana Kama Raja) and 10 roles (outdoing his guru Sivaji who did nine in Navratri) in Dashavataram—his "most challenging because it was physically exhausting".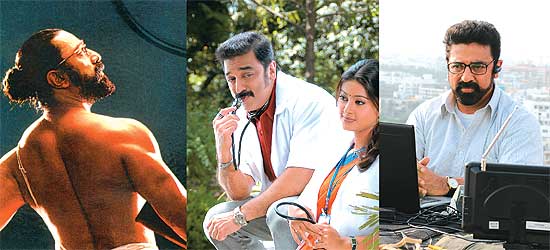 Hey Ram (2000), With Sneha in Vasoolraja MBBS ('05); Unnaipol Oruvan ('09)
Kamal started acting at age four, his first role as Sivaji's son in Kulathur Kannamma winning him a national award. Since then he's worn several hats: actor, screenwriter, producer, director, lyricist, playback singer and choreographer. He has over 200 films in Tamil, Telugu, Malayalam and Hindi, has won four national awards, a Padmashri and innumerable other awards. Seven of his films have been sent for the foreign language film category in the Oscars, including Hey Ram, which he directed under his production banner, Rajkamal International.
So is the man bigger than the actor? "Self-indulgent" is how writer Raji Cherian describes Kamal. "He's a very 'I, me, myself' kind of actor. Rajni can oscillate between a serious role like Dalapathy and stereotypical ones as in Sivaji. But once Kamal moved from his loverboy image, he is not accepted in something he has done before. He has to move on," she says.
After his stint as a child star, Kamal went back to school but dropped out in high school. He became a choreographer before acting in Arangetram (1973). Describing his second avatar at 19, he says, "As a villain, I was called in when there was a rape required. I went from rape to comedy to loser to hero." But by then Malayalam cinema had accepted him as a hero. By age 26, he'd done 100 films and even got cash registers ringing in Bollywood with the hugely popular Ek Duje ke Liye (1981).
But we digress. Kamal got his first commercial success in 1977 with 16 Vayathinile, which also starred Sridevi and Rajni. In their 17 films together, Kamal was always the hero and Rajni almost always the villain. Meanwhile, his restless spirit was moving from drama to comedy to even a silent film, Pushpak.
Much is made of the so-called Rajni-Kamal rivalry and how they haven't shared screen space for so many years. Kamal had once flippantly said that a single producer could not afford them. But at the recent extravaganza to celebrate his golden innings, Rajni did reveal this: "Kamal told me the film industry would label me a 'baddie' and advised me to seek my own path. It seemed harsh then, but Kamal also said we must share producers so that more films can be made." And Kamal's take on the so-called rivalry: "We play along but my relationship with Rajni is unique. Such bonhomie has never existed in the annals of Indian cinema."
The warmth spilled over at the celebrations where colleagues from all over the South came together to sing his paeans. So there was Rajni and Vijay, Mohanlal and Mammootty from Kerala, Venkatesh from the Telugu industry, A.R. Rahman, directors Balachandar, Balu Mahendra, A.R. Murugadoss, the list goes on. Kamal's leading ladies were there in full force too, among them Gautami, Revathi, Rohini, Tabu and Meena. As an emotional Kamal put it, "My coactors have been an integral part of my learning experience."
That said, our thespian has the reputation of being a ladies' man. Long before kissing became kosher, he had "been there, done that". In fact, the joke goes that he's smooched all his heroines onscreen. For a long time, women audiences were a trifle disapproving of it all. It didn't help that his personal life was colourful too—he married an older woman, Vani Ganapathy, had a love-child with actress Sarika, then had a messy divorce with Vani, married Sarika and had two daughters, Shruti and Akshara, then divorced her and is now living with Gautami.
Industry sources also say Kamal still hasn't learnt the intricacies of film finance. There are even whispers about bounced cheques. An industry insider close to him says now might be a good time for Kamal "to take stock, add another facet to his creativity". He has an ongoing legal battle with Pyramid Saimira over money and an unfinished film, Marmayogi, still in the cans. Then there's the epic Marudanayagan which Queen Elizabeth launched in '97 but has not still taken off. Kamal says he's "hell-bent on doing it. I am addicted to completing projects".
It's perhaps the subject matter too that makes many of his films controversial. Virumandi and Thevar Magan were opposed on caste lines, Vassool Raja (Munnabhai MBBS remade) by the medical fraternity, Dasavatharam had the Vaishnavites up in arms. The latest is over Unnaipol Oruvan (remake of A Wednesday) in which he plays Naseeruddin Shah's role. A life convict in the Coimbatore blast case, S.A. Basha, has accused Kamal of "justifying" the killing of terrorists.
So, as his golden anniversary runs on, the inevitable question every Tamil star is faced with. Why isn't he in politics? There are guessing games galore about Rajni throwing his hat in, but Kamal somehow has skipped on that too. "My thing is beating all cliches," he says, "I have beaten this one too." That said, he does show up for all film industry-organised protests, be it the Hogenakkal dam project or the Lankan Tamil crisis. Last November, he cancelled his birthday celebrations, saying: "An individual's birthday loses meaning when genocide is practised in our neighbouring island with renewed vigour."
His not-so-well-known avatar is urging people to pay taxes and as a veteran anti-AIDS campaigner. "I feel more privileged being brand ambassador for this project than endorsing brands," he says while reciting a poem he wrote at a girls' college two years ago after extracting a pledge from the students that HIV-positive sufferers would never be discriminated against.
But Kamal is not one to rest on his laurels. "My first thought when they suddenly popped this number 50 at me, was "Oh, I've wasted so much time.... I simply want to do more." Restless as ever, that sums up Kamalahaasan the man and actor.