Twist In The Plot
In Kya Hua Tera Vaada, saas helps bahu chalk out plan to win philandering husband back
In Diya Aur Bati Hum, the bahu of an uneducated halwai family in Pushkar is hell-bent on becoming an IPS officer
In Na Bole Tum Na Maine Kuch Kaha, hero crime reporter woos widowed mother of two
***
"If a divorced man can remarry, why can't a woman? I will get my divorcee daughter-in-law remarried," vows a mother-in-law before a room full of wedding guests. If this was playing on a TV screen near you on Monday, maybe Tuesday arrived with: "I don't love any woman, neither can I ever do that." That's a husband blurting out to his wife that he loves a man. Before the week is over, you will have seen and heard enough to know that now 'ghar ghar ki kahani' on Hindi entertainment channels comes with a twist.
Not that conniving mothers-in-law, sacrificial daughters-in-law, chocolate-boy heroes and their conspiring families have been booted out. But now, they have to contend with their progressive, relatable and far more interesting avatars. Widows, divorcees and women with careers play bahus and betis, while middle-aged men partner them and drive male-centric stories. Their lives are moving out of kitchens to bedrooms; from metros to small towns, with provocative social and moral edges. Their homes are convincing urban set-ups, their make-up minimal, their concerns rooted in the reality of our times.
Shailaja Bajpai, media critic and consulting editor, The Indian Express, says, "The portrayal of women today is one of the biggest positives. We are seeing women in professional areas, whether in Parichay (lawyer) or Kya Hua Tera Vaada (corporate diva). Also, the girl, whom we have always seen portrayed as a burden, is now the one looking after the family."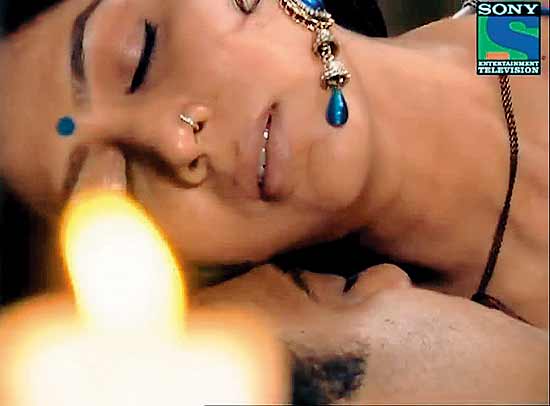 Mr and Mrs Kapoor get it on in Bade Achhe...
Enter Sakshi Tanwar, the quintessential bahu of the great Indian parivar. Unveiled by none other than K-serial queen Ekta Kapoor, Sakshi is still a bahu and a beti. But Parvati of Kahani Ghar Ghar Ki has made way for Priya of Bade Achhe Lagte Hain (Sony), and how! A middle-class girl, single till her early 30s, Priya discovers the joys of conjugal life on an equal footing with her husband. She doesn't go to bed dressed for a wedding, can give as good as she gets, and takes on conspiracies by the horns. Another wife, Mona, on Kya Hua Tera Vaada, has lost her husband Pradeep to his boss, Anushka, but won't give up without a fight. "It's a mature love story, where love goes out of the window because priorities change," the actress, Mona Singh, says.
On Star Plus's Diya Aur Bati Hum, daughter-in-law Sandhya is determined to be an IPS officer. Zee's Indira aka "Hitler Didi" is an assertive working girl whose income keeps her large family going, and Krishna Raj is Afsar Bitiya, a block development officer zooming past naysayers in her sarkari car. On Punar Vivaah, Aarti is a divorced mother who remarries at the insistence of, yes, her mother-in-law. It was just the opportunity actress Kratika Sengar was looking for after her feisty role in and as Jhansi ki Rani. "Aarti is a strong woman. I had no reservations about playing a divorcee so early in my career," she says.

Still from Na Bole Tum..
Sukesh Motwani, Zee's fiction programming head, says that while Tara was a pathbreaker of a heroine in the '90s, Aarti is no less. "There is still a perception that a woman divorcee is to blame for her failed marriage, and the stigma is greater if she has kids. Here, the husband is at fault, and she moves on to a new life."
The men, meanwhile, are asserting rights of their own—the right to be portly, balding, on the other side of 40....
Megha, on Colors's Na Bole Tum Na Maine Kuch Kaha, a young widow who supports her children with a magazine job, also considers a second shot at love. Jilted Balika Vadhu Anandi, now the village sarpanch, too sees a second marriage on the cards. Sony's new offering, Byah Hamari Bahu Ka, in fact, piqued curiosity with promos of in-laws seemingly bent on getting their bahu remarried. Soaps are, at last, Bajpai says, reinforcing the "right of a woman to her sexuality, to get married, to have a job and also, her ability to look after her family".
The men, meanwhile, are asserting rights of their own—the right to be portly, balding, on the other side of 40, and yes, to be real. Priya's "Mr Kapoor" is a businessman of 40, who takes jokes about his girth as lightly as his extra kilos. Mona's husband Pradeep is a white-collar office-goer, Parvarrish's Lucky Singh Ahluwalia is a balding, poorly educated real estate broker, and the introverted Ashutosh in Kuch To Log Kahenge is a doctor in his 40s, married to his former intern, nearly 20 years his junior. "It was a risk we took," recalls Sneha Ramani, business head, Sony. "They weren't typical six-pack guys in their 20s. But they worked, because the audience was fatigued with what was being dished out."
Samir Soni, who plays the brooding Kunal Chopra in Parichay on Colors, says, "It's not like we haven't had strong male characters earlier, but they were not central protagonists." He feels the transition of male characters from flat to three-dimensional ones was long overdue: "I can really relate to my character."
It is how most soap stars feel today. Apara Mehta, who played the saas in Kyon Ki Saas Bhi Kabhi Bahu Thi, feels her role as Mona's supportive mother-in-law is her "most different and relatable" yet. 'Saas', clearly, isn't a four-letter word anymore: Shobha in Punar Vivaah gets Aarti remarried and stands by her, choosing her over her own son.
The image makeover has physical manifestations too. Apara, for one, wears her hair short, dresses in cotton salwar suits and barely-there baubles and has traded her big bindi for a speck on the forehead. "I took time to adjust to my look, but it was very relieving. I was tired of playing roles that were 50 years behind. Even if shows focused on serious issues earlier, they would get lost amidst the saris and make-up. And now here I am, reading the script before the shot, cutting out the melodrama and trying to be as natural as possible," she says.
Techniques on the production front are going natural too. Rohit Raj Goyal, director of Diya Aur Bati Hum, says, "If a scene requires multiple takes these days we don't mind, because camera tricks can't replace facial expressions. Jerky panning or sudden close-ups, changing colour to express shock or jealousy, don't work anymore."
Sony's Crime Patrol Dastak, being a crime show, had plenty of room for exaggerated camera effects. But the hugely popular show has studiously kept sensationalism out, preferring true-to-life depictions, honest performances and a taut script instead. S. Subramanian, writer and series director, explains, "The show is about crime signals, how they manifest themselves...not the details of the crime, but delving into the minds of perpetrators, social realities."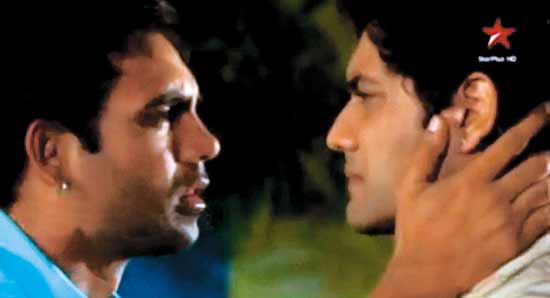 Uncomfortable social realities like homosexuality are now the stuff of prime-time, like in Maryada...Lekin Kab Tak.
Social realities, even if they make for uncomfortable dinner table conversation, are now the stuff of prime-time. Be it corruption (Na Bole Tum and Life OK's Sach Ka Samna Season 2 Bhrastachar ke Khilaf), domestic violence (Life OK's Dil Se Dua Saubhagyavati Bhavo, the story of a wife tortured by her psychotic husband has a tie-up with the Bell Bajao Campaign), illegitimate relationships, homosexuality (Maryada Lekin Kab Tak), abortion when a pregnancy gets in the way of a career (Bade Achhe Lagte Hain), or simply the daily travails of emis and bringing up children (Parvarrish), they are all concerns protagonists are dealing with. In the heartland, too, as in the metros. Lucknow, Allahabad, Ujjain, Bhopal, Indore, Bhagalpur, or a small town in Himachal, these are all backdrops where such issues are playing out. As Ajit Thakur, GM, Life OK, explains, "The idea is to reach out to that large part of India that fears it'll get left behind in the growth story."
If relationships—extramarital, post-marital or pre-marital—are pivotal to plots today, they are not consummated by implication, but dwelt on, hyped up and even played out over an entire episode (Mr and Mrs Kapoor had 20 minutes of air-time and the blessings of the nation in Bade Achhe).
Yes, the telly is changing its vision. Star Plus speaks for the whole bouquet with its Rishta Wahi Soch Nayi tagline. But the line between 'wahi' and 'nayi' is still thin. So, a promising Bade Achhe still slips from mature romance into the evil stepmom-in-law track. Or Anushka of Kya Hua goes from sassy other woman to comical babysitter to her lover's kids. "It's as if the envelope can be pushed this far, and no further," says Bajpai. She feels the fault lies in trying to appeal to everyone, with a mix of everything. "Also, the format of soaps, playing for just over 20 minutes, is not conducive to layered or complex storytelling."
It is not for want of a receptive audience, though, maintains writer Anil Dharker. "TV plays safe...there's an assumption that we want to see conservative society with extremely conservative values. This is self-defeating. What the audience relates to is the emotional content, rather than stereotypes. If we change the stereotypes, the audience will still react warmly, provided the emotional content appeals. It's time TV took a leaf out of films." Adds Sudhir Sharma, series director and producer, Na Bole Tum, "The time is right to experiment with storytelling, themes and characters." So then, a little more reality on TV, and we'd get a much-needed break from the ubiquitous 'reality' TV. Until then, it's the almost-there soaps for us.