How A Rs 2,500 cr Scam Was Swung
Everyone had to be working in tandem: pliant governments, both here and abroad, and hungry cartels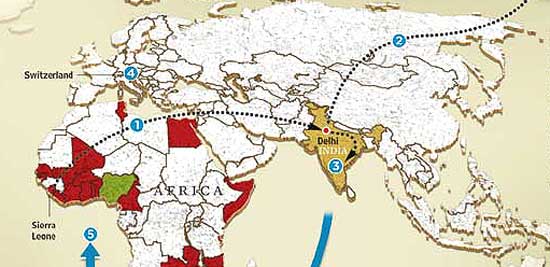 Click here for large image
***
A Few Good Questions
Why did Sierra Leone send a letter demanding that rice be sent through specific Indian companies?
What was the criteria for choosing the 21 countries, since some of them are rice-exporting countries themselves?
Why didn't the government route the procurement of rice through FCI and transport it through Shipping Corporation of India?
If the rice was allowed to be exported on humanitarian grounds, why was it sold at market rates by private companies?

***
"Prices were much lower than officially quoted ones due to the ban. Most rice was PDS rice sold by AP for Rs 2 a kg."
—Naresh Goyal, South India Rice Exporters Asscn
"(Naming private companies) is interference in Indian commerce, creating monopoly purchases."
—Vijay Setia, All India Rice Exporters Asscn
"If this was for humanitarian aid, why didn't the government use FCI or the Shipping Corporation?"
—Vishnu Kumar, Exporter
"(Sending rice to South Africa) is ironic as they have a constitutional guarantee on right to food."
—Biraj Patnaik, P'al Advisor, SC food commssr
***