The last time Sushma Swaraj contested from Vidisha, in 2009, she'd won with a margin of over 3.5 lakh votes. The Cong candidate's papers had been rejected.
This time she faces as strong contender, Laxman Singh of the Congress, who is the brother of senior Congress leader and former CM Digvijay Singh
An interesting aspect of her campaign is that she makes hardly any mention of the BJP's prime ministerial candidate. Instead, she highlights MP CM Chouhan.
***
For years, Vidisha has been electing stalwarts—among them Atal Behari Vajpayee, Shivraj Singh Chouhan and Sushma Swaraj—but for all that, the constituency has poor roads, no good schools, no hospitals. Villagers have to travel an average 30 km across rough terrain to reach a hospital. Many villages do not have schools; in those that do, classes run no higher than Std viii. For secondary and higher secondary classes, children have to go to Goharganj, some 20 km away, says Prem Narayan, a farmer who lives with his family of six in Badwani, a tribal village of some 2,000 people, mostly Gonds. The village is hardly 75 km from Bhopal, but it could be ages away, given the scrabbled terrain, the bad roads, the backwardness.
Everyone blames corruption. "The government has allotted money, but nothing reaches the poor," says Gaya Prasad, also of Badwani. "It goes only to those who can bribe officials, not to the poor. So loans for building homes go to those who already have homes, while the homeless watch helplessly."
This time, the electoral battle for this constituency is between Sushma Swaraj of the BJP and Laxman Singh of the Congress, a powerful candidate who also draws strength from his brother Digvijay Singh, a former chief minister and a senior Congress leader. Laxman Singh's nephew Jaiwardhan Singh (a son of Digvijay Singh) is the local MLA and is ready to pounce on Sushma, who he says has neglected the constituency for long: he calls her "hawa-hawai". As for chief minister Shivraj Singh Chouhan, who has put his weight behind Sushma, Jaiwardhan punctures his "son of a farmer" self-image, saying he never bothered to compensate farmers of the region who lost their crop to unseasonal rain and hailstorms. "Even the farmers who lost their soyabean crop, which was some time back, have not received financial support," he says. Uncle and nephew never tire of saying it's going to be very tough for Sushma. "Not because Laxman Singh is a big leader—I'm not," says her opponent. "It will be tough for her because Congress workers are charged and working hard to defeat the BJP."
He's been put in a bit of a spot by his brother, though. Digvijay had commented recently that Sushma would make for a better prime ministerial candidate than Narendra Modi. Even Congress workers were raising questions about this. "Digvijay Singh is not asking people to vote for Sushma Swaraj. He just said that in a light-hearted way. He had also said that the Congress would pose a very tough challenge for Sushma," he says. On the question of being an outsider himself, he defends himself by saying, "Vidisha is not a new place for me. In fact, it is Sushma who has not visited the constituency often after she won from here in 2009," he says. Sushma had had an easy win from this constituency in the 2009 Lok Sabha elections after the Congress candidate Raj­kumar Patel's nomination papers had been rejected on some technical grounds. She had gathered up a stunning margin of 3.89 lakh votes. Stung by the last-minute embarrassment, the Congress had expelled Raj­kumar Patel, whom state Congress leaders accused of having struck a deal with the rival party.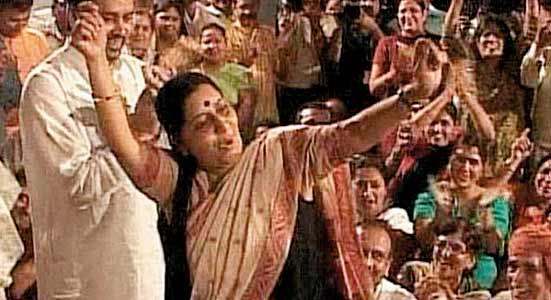 "But what happened last time will not be repeated this time," says a senior Con­­g­ress leader. "Sushma will now know what an election really means." Laxman Singh, who officially returned to the Congress last year, had launched his political career from the Raghogarh municipality in 1987. He was elected MLA twice from Raghogarh and has represented it five times in Parliament, four times from the Cong­ress and once from the BJP. He had quit the Congress in 2004 to join the rival party, from which he was expelled in 2010.
Vidisha had had to face elections in 2006 too, necessitated by Chouhan vacating the seat after he was elected chief minister in 2005. He had retained the seat for five general elections, winning the last time with a record margin of over 2.5 lakh votes. In the 2006 elections in Vidisha, state public health engineering minister Rampal Singh was fielded as the BJP candidate and emerged victorious, defeating his nearest Congress rival Rajshri Singh by over 85,000 votes. While the BJP bagged 2.58 lakh votes, the Congress was second with 1.73 lakh votes and the BSP had to contend with 1.37 lakh votes. The Samajwadi Party came in fourth.
There was an opinion in Congress circles that former CM Digvijay Singh should take on Sushma in Vidisha. Leader of Opposition of Madhya Pradesh assembly, Satyadev Katare, and the Congress state unit had requested the party high command to nominate the senior Congressman: the argument was that Digvijay should have agreed to contest from Vidisha the same way veteran BJP leader Vijayaraje Scindia had contested against former prime minister Indira Gandhi from Rae Bareli in 1980 and Sushma had fought against Congress president Sonia Gandhi from Bellary in 2004, says a senior Congress leader. But Digvijay ignored those pleas and impressed upon the party to field his brother Laxman Singh instead.
In another interesting remark which could ruffle some feathers in the BJP ahead of the general elections, Madhya Pradesh tourism minister Surendra Patwa said that Sushma could well be the future deputy prime minister if the BJP came to power at the Centre. Patwa, who represents the Bhojpur seat in the Madhya Pradesh assembly, which is part of the Vidisha parliamentary constituency, had made similar remarks at an election rally at Obaidullahganj, also in Raisen district.
Introducing Sushma as the next probable deputy prime minister to voters, the minister said his remarks were only a reflection of the feelings of BJP workers in the constituency, which has elected biggies like Vajpayee and Chouhan.
But the most interesting thing one can observe—at the campaign speeches and meetings with party workers—is that Sushma does not mention her party's prime ministerial candidate, Narendra Modi, or his 'Mission 272', that is the party's aim to get a two-thirds majority in Parliament. Instead, she talks of 'Mission 29', a reference to the number of Lok Sabha constituencies in Madhya Pradesh, where she shifted her political base a few years ago. Sushma also does not name her rival Laxman Singh either. In the hoardings that provide the backdrop to her gatherings, Chouhan gets the same prominence as her. Vajpayee, Rajnath Singh, Modi and state BJP chief Narendra Tomar get equal space, which is less than what she and Chou­han occupy. Perhaps an indication of the troubles and the swirling currents within the party. But these are things Sushma will worry about only when she has won from Vidisha, which now seems to call for some work. It definitely won't be the cakewalk—rather, walkover—it was last time.